Colin Kaepernick's Jersey Is Now Hanging In MoMA
As part of a new exhibition about fashion opening October 1.
---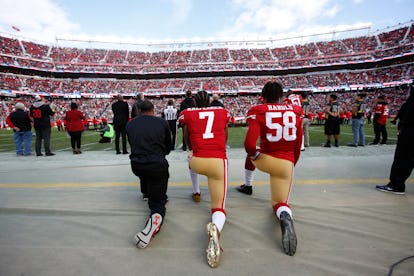 Photo by Michael Zagaris/San Francisco 49ers/Getty Images
The protest that Colin Kaepernick started when he began first sitting and then later taking a knee during the national anthem before NFL games last fall long ago transcended him as an individual. And now, following a weekend that saw Donald Trump attack NFL players with profane name-calling on Twitter and the players' televised protests in response, Kaepernick's San Francisco 49ers jersey should acquire even more symbolism and weight when it's exhibited in the halls of the Museum of Modern Art in New York, in a new exhibition that opens October 1.
Kaepernick's replica jersey from his 49ers tenure—the team that, by the way, reportedly planned to cut him before he opted out of his contract this summer—will be featured alongside those of Pele and Michael Jordan in "Items: Is Modern Fashion?", a sweeping survey of clothes as modern design. Curated by Paola Antonelli, MoMA's senior curator of architecture and design and director of R&D, MoMA's first fashion exhibition in 73 years can be a little didactic and at times rather inward-looking—it seems to grapple a great deal with the question of, How does MoMA put on a fashion exhibition? (which may be why the institution hasn't put one on in nearly three-quarters of a century)—but it does seek to examine the political and social implications of the garments we wear.
Like, say, the Breton stripe shirt, which receives a lot of attention in the show, Kaepernick's replica jersey has become a shorthand way to show identity—it became the NFL's highest-showing replica jersey at one point last year, despite the fact that he was a backup quarterback. And more than ever before, identity drives jersey sales: Pittsburgh Steelers offensive lineman Alejandro Villanueva, an otherwise completely anonymous athlete, now has the number one-selling shirt in the NFL, after Trump's Twitter base praised him for standing for the national anthem in full view of the cameras while his teammates stayed in the locker room. (This despite the fact that Villanueva has since apologized, saying that it was not an intentional gesture and that he felt "embarrassed.")
While framed in the MoMA exhibition within part of a conversation about the evolution of replica sports jerseys as a clothing item worn increasingly off the field and outside of the stadium, Kaepernick's jersey does stand out among the rest of the show for its striking timeliness. Originally added to the show around a year ago, when his jersey sales first took off, now it comes with an extra layer of history. Colin Kaepernick the football player, meanwhile, still doesn't have a job.
Related: What to Expect From MoMA's First Fashion Exhibition In 73 Years
See W's most popular videos: