Eau Dot Com
Two new online fragrance brands take the try-at-home Warby Parker model to the world of scent.
---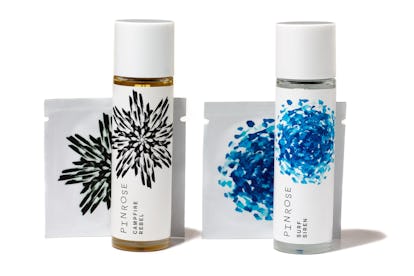 "The fragrance culture makes it seem like perfume is this mysterious liquid," says Owen Gee, the CEO of Commodity, a new Los Angeles perfume label. "We want to be a lot more open, with a really simple shopping experience." To that end, Gee, along with four cofounders, created 10 scents for men and 10 for women, with straightforward names (Moss, Paper, Wool), and is using a Warby Parker–esque shop-online-and-try-at-home model to sell them. A $9 deposit gets you 10 tiny samples—which you may test-drive for 10 days—and then can be used toward the purchase of a full-size bottle for $108 or a trio of travel spritzes for $48.
It's an approach that's definitely catching on. Operating on similar principles, last month Erika Shumate and Christine Luby launched Pinrose, a collection of 10 women's scents. After filling out an online questionnaire that asks you to choose from one of three soundtracks that best matches your typical mood and to reveal your current perfume of choice, you're sent three free samples. If you like one enough to buy it, a bottle will run you $50; it comes with its own online playlist and a Pinterest inspiration board. Social media is also a key ingredient at Commodity: The initial funds for the company were raised via Kickstarter, and there are plans to use feedback from Instagram and online voting to help develop new fragrances.
Still, fragrance snobs shouldn't be put off by the prospect of mass appeal. Pinrose's collection includes such sophisticated and complex blends as the vanilla-and-cedarwood Sugar Bandit and the whiskey-tinged-oud Campfire Rebel. Commodity's brews are both expensive-smelling and easy to wear—in short, very L.A. Rain, for example, is a lemon, jasmine, and musk blend, and Oak mixes nutmeg, patchouli, and amber. The best part: When it comes to choosing between them, there's no big rush.