THE RADICALIZATION OF MIMI
Comrade Carey: The Meaning Behind Mariah Carey's Newest Meme
After her comments regarding poverty in our society, Mariah Carey has found herself the source of inspiration behind yet another meme.
---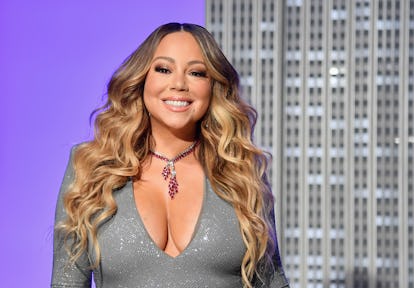 Courtesy of Getty
It's been just over a week since Mariah Carey released her first memoir, The Meaning of Mariah Carey, to critical acclaim. The artist recounts details from her award-winning career, her tumultuous childhood in the '70s and '80s, and her experiences with racism within her family and the industry, as a biracial daughter of divorced parents. She also, in self-aware fashion, makes mention of the pop culture moments for which she has been at times responsible and at other times unwittingly drawn into, including some of the Internet's most longstanding memes.
Over the years, Carey has become a source of inspiration behind many memes, from the classic "I don't know her " to "moments" to just about anything regarding the hatred of overhead lighting. She is very online, and she knows it. So, just after the birth of her memoir, in true Mimi fashion, another meme was born: Comrade Carey.
It all started when the musician was included in V magazine's "Thought Leaders" issue, in which she explained why she wrote her memoir, and her support for the organizing powers of the Black Lives Matter movement. "One of the very reasons I wrote my memoir was to 'emancipate' my racial identity—it has been a source of misunderstanding and near-debilitating pain," she wrote. "For me, it's also been about class and abandonment. Identity politics are so personal and so pervasive—it's not just what you look like, it's about how you're able to—or unable to—move through the world."
"We've been socialized to believe that poverty is a personal failure rather than our systems failing us," she continued.
Her quote about the systems reinforced by capitalism, and how they did not support her and her family while growing up, nor do they continue to support those who are in dire need of access to healthcare and affordable housing, was extracted by a stan account on Twitter called Mariah Carey Charts. This tweet, of course, sparked an interest by Carey's fans among those who have never listened to her, and was quickly spun into a meme.
Tweets calling her "Comrade Carey," riffing on her album titles with "the emancipation of the working class" and "the radicalization of Mimi" (both parodies of her 2005 album The Emancipation of Mimi), and quips about Karl Marx made the cut.
It's not the first time a musician has surprised fans with a slightly radical expression of their politics. At the beginning of quarantine, Britney Spears shared a message from Mimi Zhu about community and wealth redistribution with some rose emojis, a symbol often used by the Democratic Socialists of America. Although, that have raised some eyebrows for other reasons.
Carey, on the other hand, continues to share some salient comments on America's crumbling infrastructures, as they relate to her background. "My upbringing was unconventional, to say the least. We had little structure and little money, and little social support to feel grounded," Carey wrote for V. "There are times I cannot believe I was a little girl who lived in shacks, who always felt unsafe, under-cared for, lonely, and perpetually scared. There is a villainization of those who have unmet needs, whether that is access to health care (including mental health care), financial aid, affordable housing, let alone the opportunity to laugh and find joy beyond work."
Related: Mariah Carey Would Never Cancel a Holiday, Not Even Thanksgiving