Condola Rashad: Juliet and Beyond
The actress and singer's latest role has caught our attention.
---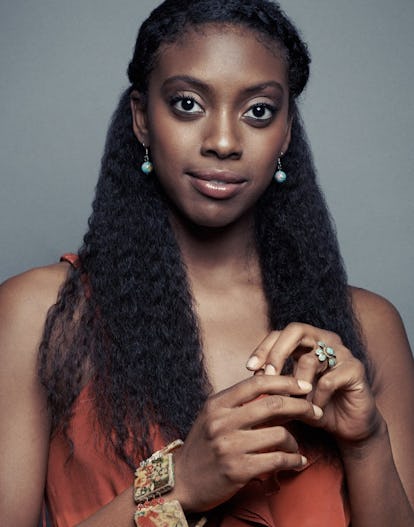 Condola Rashad
Condola Rashad would like to thank a certain Hollywood agent for kick-starting her New York theater career, which has so far resulted in two Tony nominations at the tender age of 26. In 2008, Rashad had just graduated from the California Institute of the Arts. A New York native (she is the daughter of actress Phylicia Rashad and TV broadcaster Ahmad Rashad), she was considering moving back East to pursue stage work, but the aforementioned agent had other ideas. "He said, 'The reason you need to stay in Los Angeles is ethnicity is so hot right now,'" recalls Rashad, curled up on a sofa in her dressing room at the Richard Rodgers Theatre, where she is currently starring in Romeo and Juliet. "And I was like, 'I'm buying my ticket right now. Thank you for that, I'm going home.'"
Rashad's roll on New York's floorboards has been nothing short of charmed ever since. In 2009, she had her off-Broadway breakout as a Congolese rape victim in the critically-acclaimed Ruined and then scored those Tony nominations for 2012's Stick Fly (as a wise-cracking housekeeper working for a wealthy family) and this year's revival of Horton Foote's A Trip to Bountiful.
This month, Rashad has taken on perhaps her most ambitious role yet, as Juliet opposite Orlando Bloom's Romeo in the much-anticipated staging of the play by David Leveaux (it opens September 19). Sticking close to the original text, the production earned early buzz for its interracial casting (the Montagues are white; the Capulets are black) and of course, its injection of movie star wattage—something Rashad has handled with grace. At an early preview performance one female audience member hissed "That bitch!" when Rashad went to kiss Bloom onstage. Says Rashad: "Those girls are young. I don't take it personally…when I was 14. I was in love with him, too!"
Despite her parentage, Rashad didn't have an overly precocious industry upbringing. Her mom insisted her daughter participate in normal kid stuff like the soccer team and high school musicals. Music was her first love; she studied classical piano for ten years. And later this fall, with her band Condola and the Stoop Kids, she'll release her self-described "indie-electro-rock-soul" debut album The Letter Nine, for which she wrote the lyrics and sings lead vocals. As for Hollywood, well, she's not opposed. But after years on the stage doing work actors a decade older would envy, Rashad is understandably a bit choosy. "I want do film, but I want to do the right film, something challenging," she says. "I want to push the envelope everywhere."