Gracious Living
Cornelia Guest, the daughter of legendary hostess C.Z. Guest and herself an expert entertainer, recalls her mother's lessons in hospitality. As told to Vanessa Lawrence.
---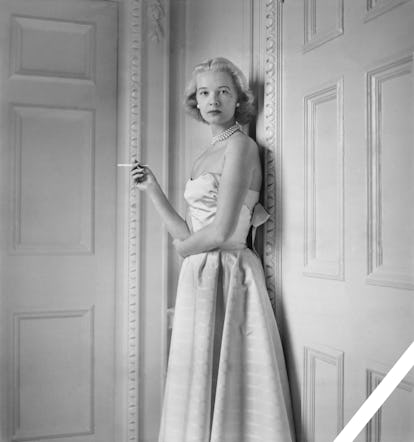 When I was little—you're going to laugh at this—I was brought downstairs during dinner parties at our family estate, Templeton [in Old Westbury, New York], and I was made to curtsy. I remember seeing these huge extravagant tables, and back then [1960s] entertaining was much more formal: The flowers were magnificent, and everyone was dressed so beautifully. I would come down, curtsy—and back up I went. Always in a smocked dress—I hated those dresses more than anything in life! All the other girls wore Florence Eiseman dresses.
My parents would do both formal dinners and informal lunches. I love big buffets, and that's something I learned from my mother. We would have a buffet for Sunday lunch and at Thanksgiving. Otherwise, there was always a first course of consommé, then a fish course, a meat course, salad, cheese, and then dessert. And my mother never used a florist in her life—the flowers always came straight from our gardens. There were ashtrays and cigarettes on all the tables; I don't smoke, but I still do that now. I think it's horrible when people have to get up to go smoke a cigarette. And when my mother entertained, she would have someone call all the female attendees and say, "Mrs. Guest is wearing a long dress." Or a short dress. People were informed. Andy Warhol, Reinaldo and Carolina Herrera, Oscar de la Renta, Yves Saint Laurent, and Lynn Wyatt were all frequent guests.
My mother didn't serve a thing herself, and she didn't know how to cook. We had wonderful people who worked for us and were so proud of what they did. Our butler taught me how to clean silver. And I loved being in the kitchen, helping set fires, learning how to set a table. My mother couldn't stand that I was in the kitchen, but it was my favorite place to be! And I now have my own catering company, so clearly it stuck.
Toward the end of my mother's life [C.Z. Guest died in 2003], I would take over the hostess duties. I had a house in Florida, and she would come down, and we would spend the winters together and have parties on Sunday nights. She used to laugh because I would wear a pair of sharkskin shorts, a T-shirt, and flip-flops. I still looked nice—it's not as though I were wearing cutoffs! I believe entertaining is from the heart. It's about people having fun. You want them to leave and say, "God, that was a magical evening."
C.Z. Guest in 1952. Photograph courtesy of Getty Images.
Betsy Bloomingdale in her garden, 1973. Photograph courtesy of Horst /Condé Nast Archive.

Horst /Condé Nast Archive
Pauline de Rothschild in 1950. Photograph courtesy of Horst /Condé Nast Archive.
Sue Mengers at home. Photograph courtesy of ICM.
Lynn Wyatt in 1996. Photograph courtesy of Phyllis Hand.
Deeda Blair in 1975. Photograph courtesy of Getty Images.
Dodie Rosekrans in 1963. Photograph courtesy of Getty Images.
Babe Paley at home, 1959. Photograph courtesy of Camera Press/Snowdon/Redux.
Marie-Hélène de Rothschild with Salvador Dalí and Yul Brynner, 1973. Photograph courtesy of Tips Images.