Inside Craig Robins and Jackie Soffer's New York Apartment, a Testament to Living Together in Style
For the real estate and design power couple, living well is a question of give and take.
---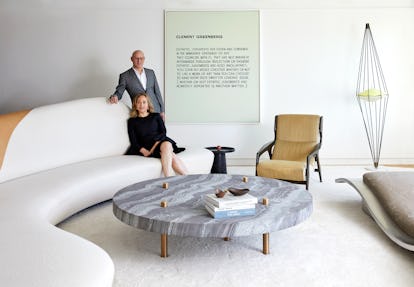 Photograph by Martien Mulder.
Craig Robins and Jackie Soffer have a lot in common. Both are scions of major Miami real estate families who have become magnates in their own right, grew up in the same neighborhood, have three children each, and share a passion for contemporary art. But, according to Robins, it wasn't their similarities that brought them together. "We met the old-fashioned way," says the 55-year-old founder of Design Miami, the annual furniture-and-objet-focused fair that runs alongside Art Basel in both Miami and Switzerland. "She sued me."
The court case, which Robins, seated at a stainless steel Maria ­Pergay Saturn table in the couple's New York City apartment, describes as "a long story," had something to do with private-jet fees and was quickly settled. "Once Jackie and I met," he explains, "we didn't want to fight anymore."
At least not in court. As they give a tour of their art-filled duplex, which Robins bought 20 years ago, pre-Jackie, and the pair, who married in 2015, recently enlarged and reconfigured, it becomes clear that they have plenty of other things to disagree about, albeit affectionately. Two skilled negotiators—she runs, among other properties, the Aventura Mall, one of the largest shopping centers in the country, and he almost single-handedly transformed a run-down Miami neighborhood into the Design ­District, one of the city's hottest retail spots—they seem to have adopted a highly flirtatious form of sparring as their own personal love language. "I don't like these chairs," Soffer says, as her husband eases himself into one of the Tokujin Yoshioka paper loungers in the living room. It emits a disconcerting crinkle sound that makes you hold your breath, fearing an imminent collapse. "Nobody ever wants to sit in them. You can't drink wine in them because if you spill it you, like, ruin the chair. But he likes them. They are… interesting."
That's more than she can say about the David Hammons assemblage—composed of disembodied chicken feet, black lace, and wire—that hangs just outside the master bedroom, upstairs. "Jackie and I really fought over this," Robins says, with more than a hint of glee. "She didn't want chicken bones in here, even though they're wearing beautiful lace gloves. She's a vegetarian."
"I like art that makes people happy," Soffer says, showing, as an example, videos of customers careening down the 93-foot-tall Carsten Höller slide she recently installed at Aventura Mall, where, thanks to her extensive art programs, shoppers can also experience, among other works, Louise Bourgeois's surrealistic "Eye Benches" and a bronze gorilla-themed fountain cum playground designed by the Haas Brothers. "It's thought-provoking stuff, but it makes you smile. I don't like overly sexual or violent art—that's not something that appeals to me. I don't like those women doing… whatever," she says of a series of nude, homoerotic Marlene Dumas drawings that hang in the bedroom.
They do, however, agree when it comes to decor. Like their primary residence, a waterfront Mediterranean Deco–style manse in Miami's ultraposh Sunset Islands neighborhood, their Manhattan abode, which boasts killer treetop-level frontage on Central Park, is all white walls and plush, snow-hued carpets. "We prefer very simple, basic interiors that showcase the art and design," says Robins, who dates his art obsession back to the years he lived in Barcelona during college, immersed in Goya and Gaudí. "Jackie and I both really like to collect contemporary works but then to anchor them in history. So, for example, I was collecting a lot of young California artists, and then at some point I realized that every one of them was influenced by John Baldessari, so I started to collect Baldessari. Then, if you're a Baldessari collector, if you have the opportunity to own something by Marcel Duchamp"—in Robins's case, a version of the French conceptualist's masterwork 3 Standard Stoppages—"it really anchors the Baldessari. So I think that, for me, collecting things leads to, well, collecting other things."
Fortunately, the apartment expansion—in addition to making room for the couple's Brady Bunch–style brood, all of whom camped out there for 10 days during Hurricane Maria last year—also provided more space for their ever-growing trove. "It really became an opportunity to showcase some of our best pieces," says Robins, who, despite gifting more than 200 works to the Pérez Art Museum Miami over the past two years, has, in his words, "a lot" in storage.
Of course, it's hard to downsize when you collect art and also own one of the world's preeminent design fairs. "Pretty much everything that's in the apartment came through Design Miami," Robins says, pointing out the Maria Pergay Flying Carpet daybed, Martin Szekely coffee table, Marc Newson chairs, Jean Nouvel table, and slew of Giò Ponti pieces. One notable exception: the living room's oversize, sinuous Vladimir Kagan sofa, which was commissioned by the interior designer Julie Hillman and was one of the last pieces completed by the revered modernist before his death, in 2016.
Robins cofounded Design Miami in 2005, after several years of staging design-focused events in conjunction with Art Basel Miami Beach. "When the sex appeal of Miami combined with the solidity of Art Basel, it was this explosive kind of moment," he says. The fair not only bolstered Miami's international reputation but, according to Suzanne Demisch, one of the event's founding gallerists, also had an immense impact on the design world. "The first Design Miami opened up design to a whole new audience of collectors, showing them that living with these objects could be satisfying in the same way that living with art is, and demonstrating the potential dialogue between the two. Craig understood this very early on because he was already experiencing it in his own homes."
For young designers, meanwhile, Design Miami has proved an invaluable incubator and launching pad. "It's probably the single biggest entity outside of our gallery that has contributed to our success," says Simon Haas, one half of the Haas Brothers. "When we started out, people didn't know whether we were designers or artists. Design Miami allowed us to keep exploring that gray area."
In the process, Robins himself has evolved into one of the most powerful—and social—players on the design scene. He goes white-water rafting in Montana with the Haas Brothers, parties with ­Pharrell Williams—who considers Robins his design-world mentor—and was tight with the late Zaha Hadid, who insisted on designing his Miami bathroom. "Zaha and I were sitting together at dinner one night when Craig and I were in the process of redoing our Miami house," Soffer says, "and when I showed her photos of what I'd chosen for our bathroom, she said, 'That's a horrible bathtub! You can't get in or out of it!' The next day, Craig called me and said, 'Zaha phoned me, and she's so upset. You picked a horrible bathtub, so she's offering to design us one.' Then, a week or two later, she called and said she wanted to do the whole bathroom. So now we have this old Mediterranean house with this crazy Zaha Hadid bathroom." (For the record, Soffer bought the "horrible" tub anyway and installed it in her daughter's bathroom.)
According to Soffer, Robins is the driving force behind their nonstop social life. "I'm the kind of person who can be in bed at 9 p.m.," she says. "But we have people at our house all the time. I mean all the time. I'm always like, Are you kidding me? I don't know these people! But in the end, I like it. It's exposed my kids to artists, actors, business types. We had a princess over the other night."
A good marriage, Soffer points out, is all about compromise. She recently spent 11 days camping in the Grand Canyon so Robins, an avid kayaker, could get his fix. "It was 100 degrees at night," Soffer says. "I'm happy doing it for a couple of nights—the canyon is beautiful—but after a while, you're like, Okay, already! I get it!" And Robins, whom Soffer facetiously (and with a major eye roll) refers to as S.C.—short for Supreme Commander—insists he, too, makes sacrifices. "The chicken feet used to be inside the bedroom," he points out, "and, because she was complaining, I had them moved. I did it as a special surprise for her, actually." Who says chivalry is dead?