It Takes Two
…and then some. With help from friends, a pair of Chicago designers hit the scene.
---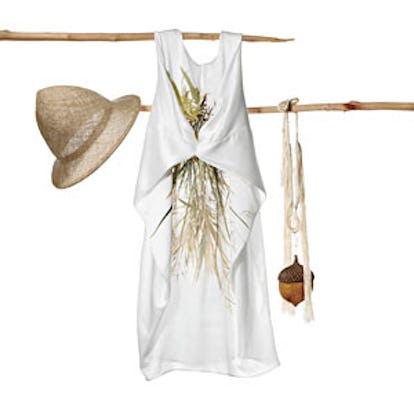 For their fall 2008 debut, Creatures of the Wind designers Shane Gabier and Christopher Peters were inspired by creepy Sixties communes. "I wouldn't say the Manson family specifically," says Gabier, "but, you know, that kind of undertone." For this spring's collection, the duo turned to pagan imagery. The theme for fall 2009, meanwhile, began withNASA's Golden Record, an audio-video time capsule launched into space in 1977 on the Voyager spacecraft. Among its contents: a greeting from Jimmy Carter, Morse code, cricket chirps, the first movement of Beethoven's Fifth Symphony and Chuck Berry's "Johnny B. Goode."
Creatures of the Wind's cotton batiste blouse-cum-shirtdress with fringe vest by Matteah Baim.
Given such influences, it's no surprise that in their tiny Chicago studio—the basement of the house the couple shares on West LeMoyne Street—you won't find any portraits of old-time Hollywood muses, no pouting Veruschkas or far-flung Saint-Tropez–meets–St. Barths wanderlust, the stuff of which countless fashion collections are made. "We're not going for glamour," Gabier, 35, remarks. Rather, their designs eschew slicked-up femme fatale gloss in favor of a mood more folksy and unassuming—homey frocks with a fringe overlay; a high-collar blouse that doubles as a shirtdress—with extra intrigue in the details, such as origami-esque folds. The line is stylish in a rustic, charming way. "There is," says Peters, 25, "a kind of outsider quality we like."
But then, the two are based in a city that's not exactly a fashion hot spot. And despite the sartorial limelight cast upon Chicago by First Lady Michelle Obama, whose patronage of Maria Pinto elevated the local designer to household-name status, Gabier notes that the city's fashion scene is still lacking. "You have to work twice as much for barely the same recognition," he says. "It's hard to say there's any sort of fashion community here. There are people doing things."
He alludes to the artists' clique that revolves around the famed School of the Art Institute of Chicago. The designers' ties to the institution are extensive. Both are alums, and Gabier is a professor in the fashion department. Moreover, the pair met when Peters was a student there. Each season they cultivate their network of friends to delightful advantage, with one terrific collaboration after another. The spring lineup, for example, sees no fewer than four creative contributors. Eia Radosavljevic, who teaches at the school, made the hats (a pointy raffia design described by Peters as a squashed witch's hat), while fellow graduate Stephen Eichhorn—known for his hand-cut plant-theme collages—created the prints, and Ryan Davies the acorn-shaped jewelry.
But perhaps the most intriguing of the current collaborations is with singer Matteah Baim, who was working on an album in Chicago last year and connected with Gabier and Peters at an art show. "Her music evokes the same kind of feeling that I like to create," says Gabier of the melancholy, ethereal vibe of Baim's tunes. "I've been listening to her for years." When he found out the singer also dabbled in design (she once worked for Imitation of Christ), he enlisted her to help with spring. Baim's is the hand behind miles of macramé, the raw silk cording that cascades down dresses and tops, further punctuating the homespun sensibility. "It makes the whole collection a lot richer when we have these other contributors," says Gabier. "It's another way we can express our point."
Peters and Gabier each bring something distinct to the design table as well. Gabier has the more impressive fashion CV: He cut his teeth working in the Antwerp studios of Belgian designers Jurgi Persoons and Dirk Schönberger. And, after returning to Chicago from Europe in 2000, he briefly had his own line, which closed in 2007. Peters graduated in 2008, and still holds his job as the assistant men's buyer at Hejfina, one of Creatures' retail accounts along with Scout in L.A. and Stand Up Comedy in Portland, Oregon. His fresh eye is the yin to Gabier's yang. "I pull him toward being much more experimental," explains Peters. "I'm very loose in the way I make patterns. Shane is more structured."
The two differ even when it comes to the root of the label's name, which has zilch to do with the Windy City. For Peters the moniker evokes a 1984 Japanese anime film, Nausicaä of the Valley of the Wind. For Gabier it's a wistful torch song. His reference? The Nina Simone cover of Johnny Mathis's "Wild Is the Wind." "I'm drawn to moodier things," he remarks.
The pair maintain that, differences and all, the combination works. "We're a couple, so we have a very intimate relationship," says Gabier. "We play off each other." Adds Peters with a laugh: "No one ever gets full say in any garment."