The 8 Ways Cristiano Ronaldo Loves Himself: Holding Up a Backlit Mirror For a Champion of Male Vanity
Somehow, Ronaldo will find a way to take his shirt off in the World Cup match vs. Uruguay on Saturday.
---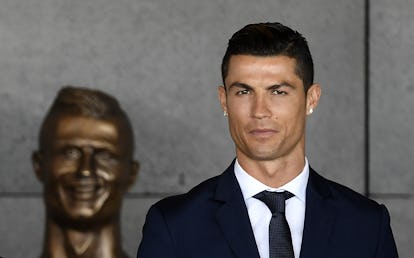 FRANCISCO LEONG/AFP/Getty Images
At 33 years old, this World Cup may very well be Cristiano Ronaldo's last. While there will inevitably come a day when he isn't adding to his extensive trophy selfie collection, his male vanity will live on forever. In his accolade-amassing career, Ronaldo has earned a reputation for never turning down an opportunity to take his shirt off and, relatedly, never questioning his self-confidence. Remember the time in 2011 when he said, "[People are envious of me] because I'm rich, handsome, and a great player. There's no other explanation." Then, there was the 2012 World Cup when, after being asked by the Spanish newspaper Marca why he's viewed as a "villain," Ronaldo said, "It is because I am handsome, rich, and a great player. Because I am envied. I have no other explanation." He followed that up by giving his take on which players he's most impressed by: "Myself, in the mirror," he said.
But that's practically humble when you consider the time in 2014 he compared himself to God, telling the Spanish newspaper Mundo Deportivo he was "made to be the best." "There are people out there who hate me and who say I'm arrogant, vain and whatever," he said. "That's all part of my success.… We cannot live being obsessed with what other people think about us. It's impossible to live like that. Not even God managed to please the entire world."
Ronaldo, on the other hand, has managed to please 131 million people—at least enough so for them to follow him on Instagram, where he is the second-most-followed person on the social media app, per Newsweek. On his account, Ronaldo tests the limits of his vanity in such laughable ways, it makes you think he's in on the joke. Maybe he truly is that vain. Maybe he's just trolling us all. Maybe it's a little of both. Here, an examination of all the ways Ronaldo loves himself.
The Trophy Selfies
When Ronaldo wins a trophy, he doesn't just share a picture on Instagram. He shares an entire photo shoot of himself with the trophy on Instagram, posting a series of snaps that are barely differentiable. When he won his fifth Champions League recently, Ronaldo didn't post one picture with the trophy. He posted four—and each one hit his followers' feeds with trophy emojis next to it, just in case they needed a little reminder where to focus their attention.
Using His Phone as a Mirror Mid-Match
Ronaldo likes his reflection so much he can't even avoid it during a match. Earlier this year when his club team Real Madrid was up against Deportivo de La Coruña, Ronaldo was kicked in the face while scoring his second goal of the game. Instead of pausing to receive medical attention, he whipped out his phone and proceeded to assess the damage in selfie mode.
Watching Himself on Video
If there is one thing Ronaldo likes better than selfie mode, it's watching himself mid-game. Ronaldo's opponent Bruno Hernandez confirmed that, revealing, "Cristiano Ronaldo is one of the biggest players in the world. I never imagined that one day I would be marking him. It was exciting. What I also saw differently is that he kept staring [at] himself in the big screen the whole time." Not to mention, Ronaldo was also caught two years ago watching videos of himself playing while his team was actually playing against Manchester City.
The Statue
Last spring, Ronaldo's vanity backfired when a bust of the famed soccer player ended up becoming the butt of a viral joke. After his statue by sculptor Emanuel Santos was revealed, Twitter went wild with memes. While Ronaldo never commented on the embarrassing tribute—which was eventually replaced with a more realistic statue by another artist—Santos did, providing a sound bite that only could have come from an artist tasked with capturing Ronaldo. "Not even Jesus pleased everyone," Santos boldly said.
The Thirst Traps
If there's one thing Ronaldo excels at—outside of soccer, of course—it's posting thirst traps. His favorite kind? Topless photos mid-sunbathing. He's not even coy about it, either, leaving captions like, "Just relax and enjoy the view??." We get it.
The Thigh Cleavage
Thigh cleavage is as much a staple of Ronaldo's Instagram as topless photos are. He achieves this by hiking up his shorts as high as possible and flexing his quads. The final step? Adding captions like "winners" and "fresh?."
His "Interior Design"
For someone who loves to flaunt his material possessions, Ronaldo's home is surprisingly minimal—in the fact that his decor consists of one thing: his likeness. One glimpse he gave of his home, posing with his girlfriend, Argentinian model Georgina Rodriguez, showed a wall of photos of himself. In another, he posed with his son while laying across a "Cristiano Ronaldo" blanket on his bed—that he was shilling, of course—next to framed photos of himself.
Then there's his couch blanket.
His Workouts
Ronaldo doesn't just post photos from his training sessions, he reviews them—100 percent on the Tomatometer, obviously: Or "?," as he captioned his pushup.
In his home gym, Ronaldo is much more creative with his workout regimens. Who else has this kind of system down for weight training and parenting at the same time?