Cruz Beckham Is Either The Next Justin Bieber or Willow Smith
Either way, Posh and Becks' 11-year-old son seems intent on pursuing a singing career.
---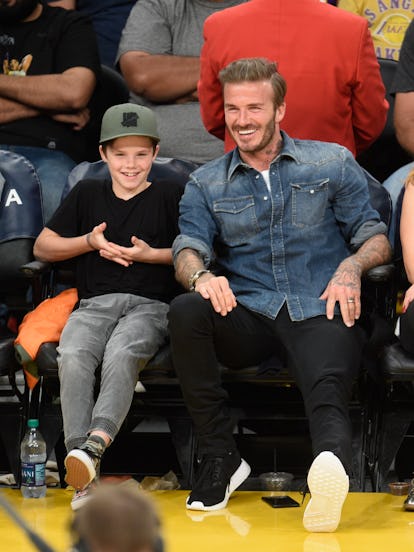 GC Images
Does the world truly need another Justin Bieber? That remains unseen, but various would-be teen heartthrobs have certainly tried. Remember Cody Simpson, the Australian singer who once dated Gigi Hadid (as well as Kylie Jenner, at least briefly)? Maybe not, because he never actually placed on any American charts. What about Austin Mahone, the would-be teen pop star who was signed to Lil Wayne's Young Money Entertainment? He also briefly held proto-Bieber status. Shawn Mendes currently seems to be having a bit more success than all the other would-be Bieber 2.0s, but he's not a perfect match: he plays the guitar, but doesn't dance.
Maybe what all those wanna-Biebers lacked was the shortcut to notoriety that being born to famous parents brings?
Maybe they just needed the guidance of Bieber's actual manager, Scooter Bruan?
Whatever the case may be, Cruz Beckham now has both.
Yes, Beckham, as in the youngest son of Victoria and David Beckham. He's reportedly interested in jump starting a pop career despite being just 11 years old.
The lil' scion first publically signaled his interest in music by uploading a cover of the song "Home to Mama" last month. Incidentally, the cover is actually a duet with aforementioned Simpson. The song also happens to be a Justin Bieber album cut. Posh promptly tweeted it out, and then Bieber himself co-signed the cover.
Fast forward a couple of weeks, and then all the sudden TMZ is reporting that Bieber's manager Scooter Braun has now signed the youngest male Beckham as his latest client. "Braun's a family pal and we're told the Beckhams trust him. Translation: They know Scooter won't throw Cruz to the music business wolves," reported TMZ.
Things certainly seem to, well, cruising for Cruz, and now, just a day after news of the signing, he's released his first official single in the form a Christmas song, "If Every Day Was Christmas." Everyday probably does seem like Christmas when you have world famous parents and doors just suddenly seem to open for you.
You can buy the song on iTunes (all proceeds benefit Make Some Noise, a foundation that helps disadvantaged youth in the UK). However, David Beckham previewed the song by posting an Instagram video of Cruz hearing the finished result for the first time.
If Beckham does actually make it big as a pop star, it wouldn't be the first time a pre-teen child of celebrity couple hit it big on the charts. Willow Smith was just nine-year-olds when she recorded "Whip My Hair," and that song climbed all the way to number 11 on the AMERICAN charts.
So lil' Cruz Beckham would not be the first young male singer guided by Scooter Braun to hit it big. Nor would he be the first still-a-child scion. He would, however, be the first person with the last name Beckham to have a successful solo career.
We'll see if that pans out.