Listening to Static
NYC-based duo Cults battles the sophomore slump with a new album
---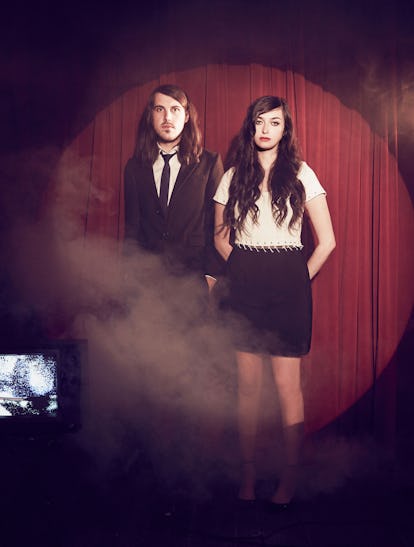 Before Cults' Brian Oblivion and Madeline Follin even began writing the follow-up to their self-titled debut, they had a vision—the flickering, black and white static snowstorm of a broken television. "We had the rough idea of this album playing like you're channel surfing," says Oblivion, taking a break from construction on a set piece for the band's upcoming tour.
Static became the thematic focus of their second album of the same name, out October 15; it's a journey through film-inspired sounds—think Sci-Fi fantasy and high-drama Western—mixed with the familiar '60s-leaning touchstones of their first record. Follin's vocals are at once vulnerable and powerful, especially on songs like the doo-wop love tune "Always Forever" and the spooky "So Far." Oblivion, who writes all of the band's instrumentation, builds a bed of spacey organs and textured drums behind the lyrics.
Cults embody a musical partnership so complimentary that it's surprising to learn that the pair, once a couple, split ways romantically before embarking on their second album. Instead of creating intra-band drama, however, "it made everything a lot easier," Follin says with a laugh.
And for Cults, it's all about ease. "We just make this music because we like it," Oblivion says. That's reason enough for us.
Photos: Listening to Static
"We don't have delusions of grandeur," says Oblivion (pictured at left).
"We wanted [Static] to be more of a live record because we just wrote all of [the first record] on a laptop, basically," says Follin (pictured at left).