Katy Perry-Approved Singer CYN Dresses "To Be the Center Of Attention"
"On stage, I dress to be the center of attention. Off stage, I also dress to be the center of attention, but effortlessly."
---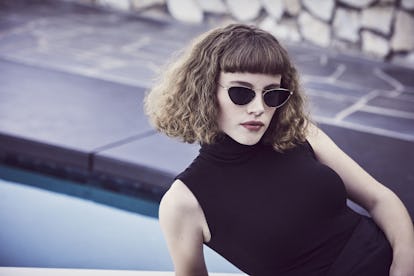 Oliver Peoples, "In Conversation" photographed by Matthew Brookes
In the past year, Cynthia Nabozny—better known by her stage name CYN—has has gone from a suburban-dweller in Michigan into the breakout star of Katy Perry's record label. It was just last July when Perry discovered the now-24-year-old singer and signed her to her Unsub Records. Since then, CYN has released a string of singles in anticipation of her debut album, and scored some major fashion cred along the way thanks to her penchant for a statement lip and a mix of vintage glam and futuristic grunge in her ensembles. She recently performed at a Chanel bash in Los Angeles, and now stars in Oliver Peoples' new project, "In Conversation," which highlights eight creative talents across the globe, bringing them together to talk about creativity and what inspires them. Here, CYN breaks down what's behind her personal style.
How would you describe your personal style? I would describe my personal styling as something aiming to be timeless, sophisticated, and just a tad quirky. I love wearing turtlenecks and button up shirts paired with a fresh sneaker and always a statement lip.
How does your style on stage differ from off? On stage, I dress to be the center of attention. Off stage, I also dress to be the center of attention, but effortlessly. I think that an undemanding, simple outfit can be just as head turning as the opposite.
How does fashion influence your music, whether through your performance or otherwise? Sometimes when I'm wearing certain looks, I feel like I can only be listening to certain songs—which of course, is only my opinion and doesn't need to apply to everyone. For example, when I'm wearing a baby pink sundress, writing a song for a club scene or about pessimistic love wouldn't be my first choice. I think a baby pink sundress might move me to write something on acoustic guitar about new love or happy endings.
What are some of your favorite pieces in your closet? My favorite pieces in my closet are my black standard turtleneck, my Agolde denim, and my Fila sneakers. Pairing my Oliver Peoples glasses with any of these looks automatically bumps up the level of sophistication.
What is the last fashion item you purchased? I recently purchased a dainty gold chain with a gold "C" charm on it. I've been obsessed with gold these days.
Who do you think has great style and why? If I believe someone has great style, it's probably because they don't care much for trends and know how to balance practical fashion choices with statement pieces.
Who do you think are some of the best dressed musicians and why? Mick Jagger, because I love a good suit. And Audrey Hepburn—even though she wasn't a musician—because she's… Audrey Hepburn.
How do you factor in accessories into your outfit? Does it come first or last? I usually only buy a pair of sunglasses that can go with nearly every outfit, so it's factored in last. I like to just be able to grab them as I'm walking out the door. The pair I wear to the beach is certainly different than the pair I wear to brunch, though.
What is your favorite style of sunglasses? I have a pair of Oliver Peoples black Dore sunglasses that I wear constantly.
What are you some of your favorite outfits that you've worn? Recently, I attended a Fendi party and I wore a blue Latex long skirt by Solace London with a black turtle neck, a red puffy down jacket by Magda Butrym, paired with a red Pierre Hardy purse, and a red lip.
Related: How Model Paloma Elsesser Uses Instagram to Talk About Everything From Fashion and Cars to Body Image and Mental Health