Dakota Johnson Remains Unfazed By Her Grandma Tippi Hedren's 14 Lions and Tigers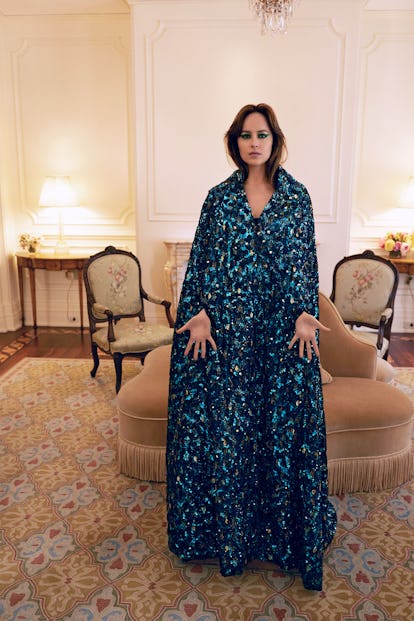 Photograph by Luca Guadagnino; Styled by Sara Moonves.
When you descend from Hollywood royalty, the way Dakota Johnson does from her grandmother Tippi Hedren, the 90-year-old Hitchcock muse and Gucci campaign model, there's probably not much about your family history that could faze you. Not even if your grandma lives with and interacts with several exotic animals on a regular basis.
During a virtual appearance on The Graham Norton Show to promote her summer rom-com The High Note, in which she co-stars alongside Tracee Ellis Ross, Johnson spoke about her grandmother's big cat reserve.
According to Johnson, Hedren lives with "13 or 14 lions and tigers," which is a major reduction from the original 60 big cats that used to live with the actress at her reserve where she has been rescuing the animals since the '70s.
The talk show host then pulled up a picture of Hedren in her kitchen while a tiger pokes its head through the window to illustrate Johnson's point about the big cats that used to roam around the house. Norton also showed some photos that were featured in an iconic Life magazine shoot in 1971, including a picture of Johnson's mother, Melanie Griffith, jumping in the family's pool while a lion pulls her leg into its mouth.
Johnson laughed and nonchalantly explained, "She didn't lose the leg."
When Norton asked Johnson if she was brought up around the cats as a child, she admitted that she was, but by the time she was born in 1989, "they were all in huge compounds and it was a lot safer, and it wasn't as totally psycho as it was when they first started."
According to the Life profile that featured the Hedren-Marshall family, that lion weighed 400 pounds and was named Neil. Hedren later wrote a memoir in 1988 and admitted that allowing big cats to roam free around the house was "stupid beyond belief." She also recounted the story of how she and her then-husband Noel Marshall created their 1981 film Roar, which co-starred Hedren, Marshall, Griffith, and some of their other children, and took roughly 11 years to complete.
During filming, Griffith left production, telling her mother she didn't want to "come out of this with half a face," but when she eventually returned to set, she was eventually mauled by a big cat and required reconstructive surgery. Griffith's incident was only one of 70 injuries that occurred on set of the film that Hedren's former stepson (who also appeared in the film) later condemned.
Hedren later said she found it "amazing no one was killed" during the process of making Roar, but continues to rescue big cats and live with them on the Shambala Preserve in Acton, California to this day.
Related: Before Tiger King, Tippi Hedren was the Tiger Queen of Hollywood