Damien Hirst Would Just Like His Phone Back
The artist who's claimed "all [his] ideas are stolen" hasn't gotten over the theft.
---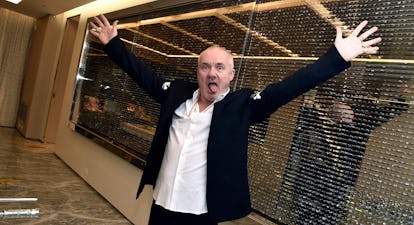 David Becker/WireImage via Getty Imag
Twenty-twenty has been a year marked by change. But even amidst a pandemic, at least one thing has stayed constant: Damien Hirst continues to be… well, Damien Hirst. This week, the U.K.'s richest artist set his sights on a boy who allegedly stole his phone by publicly sharing CCTV footage of his face.
"This young kid," he captioned the CCTV footage on his Instagram Stories, "pretended to be begging and showing me a bit of paper while he swiped my phone!" Of course, the fact that he was able to share the footage with his 721,000 followers meant he quickly got a replacement, or at the very least had access to another's phone. The post quickly made the rounds of his native country's notorious tabloids. "Art-ful dodger!" declared The Daily Mail.
Perhaps Hirst was acting out of good will, warning other Londoners of a phone thief on the loose. (His recounting of the events began "gotta be careful these days," and noted that he "[felt] like a dick.") But it wouldn't be the first time Hirst has gotten precious about his belongings, nor gotten riled up by the youth. In 2009, he forced a 16-year-old graffiti artist to hand over his works featuring images of For the Love of God, a Hirst diamond skull that cost £14 million to make. (Along with the £200 the artist, Cartrain, made from the works.) Their feud continued on into the next year, when Cartrain stole a pack of pencils from a Hirst installation; he was later arrested for £500,000 worth of theft.
Though, Hirst, an avowed bad boy and former enfant terrible, is also a longtime proponent of artistic swiping. "When I started at Goldsmiths that was the best thing really," he told the artist Sir Peter Blake in 2018. "You realize that you do not have to be original. They said: 'Don't borrow ideas, steal them.'" (For what it's worth, he was also twice arrested for shoplifting in his youth.)
In fact, Hirst is arguably the U.K.'s richest artist precisely because of that approach. Many of his most expensive and well known pieces bear resemblance to works by other artists, like the diamond-encrusted skulls first made by his former friend John LeKay. Hirst has dismissed accusations of plagiarism as "ridiculous," but he's also openly acknowledged his thievery. "All my ideas are stolen anyway," he continued in his conversation with Blake. "Even the spots. I'm thinking whether I stole them from Larry Poons or someone else."
Related: Dan Colen and Damien Hirst Opt for the Most Obvious, NSFW Way to Show They're Still Bad Boys