Food for Thought
Formlessfinder and Blue Hill's Dan Barber partner on a surprising pop-up.
---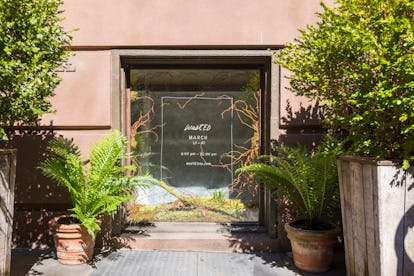 Chef Dan Barber of Blue Hill, who arguably introduced New York to the farm-to-table experience, is changing the dinner table conversation yet again this spring with an environmentally conscious pop-up in collaboration with design firm Formlessfinder. Housed in Barber's intimate Greenwich Village restaurant, wastED attempts to bring his eco philosophy to its logical conclusion—trash-to-table. The concept might sound unappetizing, but together Barber and Formlessfinder have converted discarded materials into a feast for the eyes as well as the stomach. Formlessfinder designers Julian Rose and Garrett Ricciardi appropriated materials like mushroom and corn waste in order to create the minimalist banquet tables that occupy Blue Hill's subterranean space. Walls made out of Remay, a transparent fabric used to cover crops, partially hide the existing restaurant. Barber compliments Formlessfinder's recycled interiors with an evolving menu of small plates which draws upon overlooked ingredients like offal and vegetable trimmings. A marriage between disciplines, wastED demonstrates that one man's trash can be transformed into something to savor.
wastED runs until March 31st, get reservation information at wastedny.com.