"Dangerous Liaisons" Actress Elena Kampouris Has Gotten More Action Onscreen and Onstage Than In Real Life
The debut Broadway actress and My Big Fat Greek Wedding 2 star is learning on the fly.
---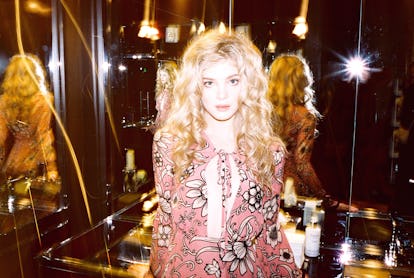 Any actress making her Broadway debut could be forgiven a healthy helping of nerves. Elena Kampouris, who stars in the current revival of Dangerous Liaisons at the Booth Theater, can add to that challenge: she is also tackling theater for the first time. Ever.
"I'd never been on a stage until our first opening preview," says the doll-faced Kampouris, 19, who until now is perhaps best known for her breakout in this spring's movie My Big Fat Greek Wedding 2. "During tech, [our movement coach] was like, 'Okay, walk upstage.' And I actually, like, walked up the stage and they're like, 'No!'" She laughs. "But I'm playing a really naïve character, so I'm just trying to tap into that."
Indeed, Kampouris's dramatic awakening — not to mention her angelic flowing tendrils and porcelain visage — lends itself nicely to Cecile, a virginal 15-year-old, formerly of a convent, who becomes sexual collateral damage in the sadistic games between the former lovers La Marquise de Merteuil (Janet McTeer) and Le Vicomte de Valmont (Liev Schreiber). And as if Kampouris required a further obstacle in her journey towards conquering the role, the production (and British director Josie Rourke) asked that she master an English accent — yet another first.
"The whole night before I auditioned, I listened to Keira Knightley interviews to get the accent down," says Kampouris, who went after the part with a kind of baptism-by-fire mentality. "If you have any q's about Keira Knightley, I know her entire life story at this point!"
The Christopher Hampton play Dangerous Liaisons, based on the 1782 novel by Pierre Choderlos de Laclos, focuses on the seductive destruction the 18th century French aristocrats Merteuil and Valmont wreak on the innocent denizens in their social circles. A game that started out of a mix of amusement and revenge quickly escalates, with sometimes fatal consequences, when Valmont falls for one of his victims, the pure Cecile de Volanges. Cecile's own undoing comes in a pivotal moment in which Valmont seduces her against her will, a scene that is depicted with a fair amount of graphic choreography (but no nudity) on stage.
"People always ask me, 'Is it rape? How would you characterize it?' She resisted in the beginning. That says it all. That's all the 'no' you need," says Kampouris, who juggles rather complex choreography in executing it. "There's a lot going on under [my] nightie. It takes a lot of concentration because there's cues for when I need to turn out, when I need to do this, the secret code language between [Schrieber] and me… we're always on the same page about my comfortability."
There is an irony to Kampouris acting out this scene eight times a week, one not lost on her. "It's funny because I've smooched a lot of people in the projects that I've worked on, yet I've never had an off-screen kiss or boyfriend before," she says. "I've had more experience in my work!"
The Greek-French daughter of a painter mother and a wine connoisseur father (he owns a wine shop), Kampouris was born in New York, but grew up in New Jersey, in what she describes as a no-holds-barred creative household. A movie buff who would stay up at night as a kindergartener watching James Bond film marathons — "the original ones," she notes — and who cites Rodney Dangerfield and the BeeGees as her cultural icons, Kampouris would force her brother and dog to dress up for her home-shot movies. As she puts it jokingly, "[My family] was like, 'Please go actually make money off of this! Because you're driving us crazy."
A sliver of a part in an episode of "Gossip Girl" when she was 14 — "five seconds, you miss me" — fed her acting bug. Since then, she has appeared in the 2014 Jason Reitman film Men, Women & Children, as well as the Amazon series "American Odyssey." Next up after Dangerous Liaisons is Pretty Near Perfect, a psychological drama about the pageant world. And next spring, she will star in the indie Before I Fall, a young adult drama in which she plays a suicidal teenager who is bullied at school. (Kampouris's mother drew the charcoal sketches for her character's notebook.)
Though on paper, it doesn't sound like the most relaxing of parts, Kampouris clearly relished letting go. "There's this scene at this party and I get to literally scream and go insane on this bully who's ruining my life. For me, that's a bit cathartic," she says, eyes widening with delight. "I got to do things you could never get away with in real life and tap into a really messed up character. Those to me are the most fun."