That's Amore
Once a lonely child raised in near isolation, Dani Shapiro finds the family she always longed for in far-off Positano.
---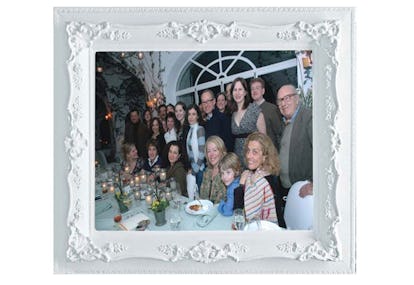 In almost every photograph of me as a little girl, I am alone. I was an only child, a lonely only child. I had few friends my age in my suburban New Jersey neighborhood, where I lived in a big, quiet house with my parents and a revolving door of nannies who never lasted more than a couple of months. My mother and father were on their second and third marriages, respectively. They were in their 40s when I was born, and out of step with younger families, who carted their gaggle of assorted kids to shared beach houses in the summer and on ski vacations out West in the winter.
Already a bit worn down by life, they were thrilled they had produced me, and I don't think it occurred to them that I might feel isolated.
I swore to myself that when I grew up, it would be different. I would have a boatload of kids. Or at least a few. I would live with my flock in a busy, noisy, preferably urban neighborhood, in a house where the door was always open, something delicious was always bubbling away on the stove, and the cacophony of kid sounds—thundering feet, shrieks of laughter—filled every moment of the day.
Well, that's not how it turned out.
I married in my mid-30s (just as my parents had) and produced only one child (just as my parents had). I tried mightily, but wasn't able to have another. My husband and I moved from a busy, urban neighborhood (I know, I know…just as my parents had) to rural Litchfield County, Connecticut, where we live in a big, quiet house on 10 acres in the middle of nowhere. There are no friends my son's age—he's now 11—within miles. I remember, when Jacob was three, looking out my home-office window at him kicking a ball with his nanny in our front meadow. Tears sprang to my eyes at the sight: my small, lonely boy playing with his babysitter.
A couple of years after that teary moment, my husband and I were asked to start a writers conference in Positano, Italy. We had met the owners of a family-run hotel at a dinner party in Connecticut, and they invited us to bring some writers (a group that has now grown to 30) to their seaside village for a week each March. This was exciting to us for many reasons—Positano! and not only Positano, but Le Sirenuse, one of the world's most beautiful hotels!—but we had no way of knowing that this conference and its participants would become our extended family, and an important part of our son's life. Instead of the beach communities and ski vacations I'd longed for as a child, we (quite accidentally) became part of a special, hard-to-get-to spot half a world away where Jacob has grown up feeling completely at home. I couldn't give Jacob a big family, but in Positano I could give him a big life. A rich, full childhood surrounded by friends and laughter.
"Bambino, you hold the spoon like so, and the fork like so," said our friend Antonio Sersale, owner of Le Sirenuse, taking my then six-year-old son by the hand and teaching him to eat his pasta al burro, the Italian way. The waiters, Robert and Roberto; the spa manager, Silvia; and the patriarch of the Sersale family, Franco, all greet him with enormous hugs and exclamations of joy when we arrive each year after the long trip from New York. Positano is a village of steep steps and winding, narrow streets, church piazzas, stray dogs, a thousand nooks and crannies. Jacob has the run of the place. The shop owners know him; more than that, they watch out for him. At Le Sirenuse he is like Eloise at the Plaza, ordering the sodas we don't let him drink at home and the small, perfect yogurts served each morning in glass jars in the hotel's sunny dining room overlooking the sea.
Then the students arrive, flying in from all over the United States and Europe. They range in age from 18 to 80 and have in common their creative ambition and desire for a community of writers. Some bring spouses or partners, and many bring kids. The other teachers bring their families too. We've had two-year-olds and we've had teenagers. The effect is of a great house party. There are few rules and no bedtime. We push the hotel's elegant furniture to the side, crank up the music, and Jacob stays up until one in the morning, dancing. Never, during the rest of the year, do we laugh quite as much. By the end of the conference, lifelong friendships have been made, and our family expands just a little bit more.
It wasn't what I'd had in mind, of course. Who could have imagined that my version of a shared beach rental would end up being a five-star hotel on the Amalfi Coast? That instead of s'mores and bonfires we'd have biscotti and side trips to Pompeii? I couldn't have dreamed it up, and each year during the farewell dinner I feel awe and amazement—gratitude for the good surprises life sometimes has in store, if only we don't hold on too tightly to our original plan.
If I squint just a bit, that farewell dinner is an amped-up scene straight out of my childhood fantasy. The hotel's dining room is lit with 500 candles; a mandolin player and a guitarist stroll up and down the long tables, serenading; there are forks clinking against glasses, as both adults and children toast. It's a great big Italian family. Not the family I was born into, but the family I have made.
You wouldn't know it to look at me, but there is always a moment on that final night when I gaze across the candlelit table at my son, at home amid the students and teachers and friends, and something comes over me, something like peace. I'm not giving him what I thought he needed—he's still an only child who lives for most of the year in a quiet rural town—but in those moments I think that maybe, just maybe, I'm giving him something more important: a sense that the word "family" can come to mean many things, not the least of which is the people we choose to love.
Dani Shapiro's most recent book is Devotion.