The Empress's New Clothes
Daphne Guinness's head-turning wardrobe is the object of a new exhibition at the Fashion Institute of Technology. But if you ask us, the style world's ultimate provocateur is even more striking au naturel.
---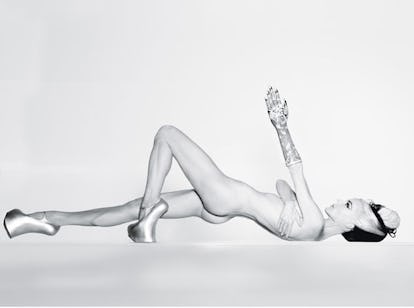 Whether lying veiled head to toe like a slain knight on his tomb or dressed in chopstick headgear and a rainbow-­hued kimono by Alexander McQueen, Daphne Guinness has long been one fearless fashionista. "I've always had a surfeit of imagination," Guinness says. "Whatever I do seems to have this unconventional twist. There has to be an element of chaos—I don't like things that are too perfect."
To the haute monde born as a Guinness brewery heiress and Mitford granddaughter, she wears haute couture as effortlessly as others wear jeans and a T-shirt. And yet, though a creature of fashion, Guinness is utterly her own creation, preferring not simply to wear the art pieces she assembles, but to curate her singular performance of them. You had only to see her get dressed for the Metropolitan Museum of Art's Costume Institute gala in May—in the window of Barneys New York's Madison Avenue store—to appreciate how she crafts an indelible image, the hallmark of true style. Dressed in a gold bodysuit made for her by her friend McQueen, her face and head wrapped in voile, her skunk-streaked hair piled high, she slithered across a wall to a dressing area, emerging moments later beplumed like some exotic bird, in a beige feathered McQueen gown by Sarah Burton. "David LaChapelle said to me the other day, 'Daphne, get used to it: You're a performance artist.' I think if you have something to say, then performance is in order," Guinness says. "If you don't have anything to say, just stay at home or look presentable. And with me, it's not all performance. It's very easy to for me to get into a normal, well-tailored suit and look like something from the Thirties. I don't think one has to get crazier and crazier."
This month Guinness unveils about 100 pieces from her wardrobe in "Daphne Guinness," an exhibition at the Fashion Institute of Technology. But she'd be the first to admit that it's not just clothes that make the woman. True, she is seen regularly in the most fabulous getups by the likes of McQueen, John Galliano, and Karl Lagerfeld, but here she appears only in the altogether and boldly proves the point. "If you're protected by your armored glove," she notes of the handmade diamond-­encrusted-and-chain-mail amulet she co­designed with jeweler Shaun Leane, "you don't really need anything else."
Hair by Deki Kazue; makeup by Hannah Murray using MAC Cosmetics at Julian Watson Agency; makeup assistant: Lettie Buchanan.