Darren Criss Is Engaged to Mia Swier
After seven and a half years, they're "goin for it."
---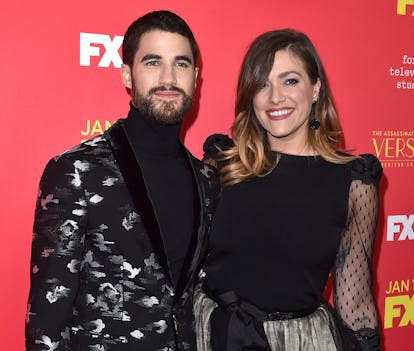 Photo by Axelle/Bauer-Griffin/FilmMagic
Well, it's a good day for love. In addition to the engagement of Ed Sheeran and Cherry Seaborn, Saturday morning has brought us word of the engagement of Darren Criss, star of Glee and {The Assassination of Gianni Versace](https://www.wmagazine.com/topic/american-crime-story), to longtime girlfriend Mia Swier. Criss announced the happy news on Instagram, posting a picture of himself and Swier posing in front of a chateau with the caption, "Mia and I have had seven and a half years of fun, wacky, wonderful, CRAZY adventures together. And I'm happy to announce that we're kicking those adventures up a notch. We're goin for it. To boldly go where neither of us have gone before. Engage. ???"
Cute, and also pretty geeky, in the best way.
Swier and Criss, both in their early 30s, have been together since long before Criss found fame on television, though it seems they've both been interested in the entertainment business for some time. According to People, Swier went to New York University's Steinhardt School of Media Studies and Television Production, and has worked for Fox and Showtime. They even channeled another famous pop culture couple this past Halloween, dressing as Romeo and Juliet as a knight and an angel in Romeo + Juliet (you know, the DiCaprio/Danes one).
No word yet on the where/when/how of the proposal, but we do know it's likely to be a very good year for Criss. Not only is he engaged, but American Crime Story has premiered to positive reviews. In the show, Criss plays Andrew Cunanan, the serial killer whose reign of terror ended when he shot designer Gianni Versace dead on the steps of his Miami home in 1997, and then killed himself.
So on that lovely note, congratulations to Darren and Mia!
Related: Darren Criss Still Sings and Dances in The Assassination of Gianni Versace, But to the Deranged Ballad of a Serial Killer
[#gallery: /galleries/5a5e86632e489b16c9d3693b]||||||