Darren Criss Still Sings and Dances in The Assassination of Gianni Versace, But to the Deranged Ballad of a Serial Killer
The Glee star looks like an angel in Ryan Murphy's new series, but he uses that innocence like a mask.
---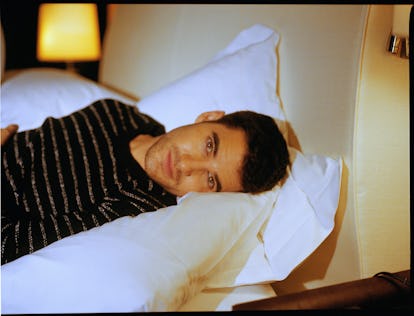 Within seconds of meeting Darren Criss, you can tell that his mother raised him right. He has a firm handshake, repeats everyone's name, and looks them right in the eye. He has the casual affability of a Cub Scout troop leader or someone sitting next to you in the back row of a SoulCycle class. He hands out compliments like full-sized candy bars. In a room full of people, waiting to take his picture and ask him questions, he seems most excited to talk to a fifth grader about the minutia of Harry Potter mythology.
This wouldn't be so odd except that all of these people are waiting to ask him questions about playing a serial killer. Criss's latest role is Andrew Cunanan, an openly-gay escort turned spree murderer whose last crime before he killed himself is the titular one in American Crime Story: The Assassination of Gianni Versace, which premiered on Wednesday night. Watching Criss bound around this hotel room would be normal for a 30-year-old actor on the rise if we all hadn't watched the second episode of the series, where he dances around a Miami hotel room in his underwear torturing a man to the point of suffocation while Phil Collins's "Easy Lover" blasts in the background.
But maybe Darren, the precocious star next door, and Andrew, the precocious killer next door, aren't so far apart after all. "Of the many things that break my heart about Andrew is that after this all came out, and friends and loved ones of his found out about it, they were mortified. They couldn't believe it," Criss says. "Andrew was a very bright, affable, lovable guy. He had so much promise, and you wonder a little, then, how does a kid with all this go down such a destructive path."
For those who weren't glued to the news in 1997, Cunanan shot the famous fashion designer Gianni Versace on the steps of his Miami mansion after being on the run from the FBI for months following a string of murders of gay men across the country. The journalist Maureen Orth's book Vulgar Favors, which the series is based on, calls it the "largest failed manhunt in U.S. history." The series starts with the daylight killing of Versace and moves backward through Cunanan's spree.
Criss was all of 10 years old when the Versace murder occurred, and doesn't have much recollection of it at the time it happened, he says. It wasn't until he was on a tour of Versace headquarters in Milan years later that he finally connected the dots. "A guide took me around all and showed me the architecture and design and all of Gianni's stuff," Criss says. "I remember him saying, 'Oh of course, this was after Gianni was murdered.' And I remember me clocking in. 'Oh yeah, that's right. That's right, Gianni was shot.' I don't know by who. I also separately remember vaguely, I couldn't even tell you how or why I knew this, but the guy that killed him was half-Filipino. Because as a half-Filipino kid, it's a thing that would stick out in your mind."
His unique genes might have been part of the reason why Ryan Murphy, the executive producer of the series, thought of Criss for the part. Murphy first gave Criss his big break when he was cast as Blaine Anderson on Glee. It would appear there's a trendlet of former song-and-dance teen stars graduating to serial killer roles, with Zac Efron signed up to play Ted Bundy and Disney Channel star Ross Lynch on screen as Jeffrey Dahmer.
"I really am allergic to the notion that playing somebody who did terrible things somehow elevates a career, or validates someone's ability, or qualifies somebody as a serious actor, although I think it does," Criss says of this serial killer mini-boom. "I spend the same amount of time and due diligence to fictional characters in a lighter world, like Glee, that I do a real person in a much darker world for Andrew Cunanan. I'm still putting the same amount of tokens in the machine, and I do the work, I read the script, and I am very much in tune with the common denominators between myself and that person."
Still, Criss says that inhabiting the role didn't affect him too much, and that months of playing grisly murder scenes didn't come home with him—at least not to a dangerous degree. "I had a dream, it was really hyper-violent, and I had offed several people, I don't even know who they were, it was abstract," he recalls. "But the dream was not about the violence or the homicide, so much as it was being on the run, on the lam. It was more tied to what was going on when we were shooting the show. And I woke up next to my girlfriend, and seeing her and being terrified, not because in my head I had killed anybody in my dream, but because I was like, 'Oh my god, she's gonna find out.'"
None of that was true, of course, and Criss left it all onscreen for us to pore over in the weeks to come. Just like the first season of American Crime Story had people reevaluating the OJ Simpson trial (include a complete acquittal and feminist reimagining of prosecutor Marcia Clark), there is bound to be some rethinking of Cunanan. That's something Criss, a wholesome boy from San Francisco, has already been doing for quite some time, despite Cunanan's darkness.
"I was less shocked and scared and disturbed by Andrew, and more just utterly heartbroken," Criss says, looking deep into your eyes like he's about to ask you out to a school dance. "The thing is so sad to me, and it's such a loss of promise and potential. He could have been a creator, and he decided to be a destroyer. It's just the worse crime of all."
Related: [How the Assassination of Gianni Versace Turned Out the Lights on Miami's Moment in the Sun](https://www.wmagazine.com/story/the-assassination-of-gianni-versace-miami-beach)__