A David Hockney Painting Sold at Auction for a Record-Breaking $90.3 Million
His Portrait of an Artist (Pool with Two Figures) went on the auction block Thursday.
---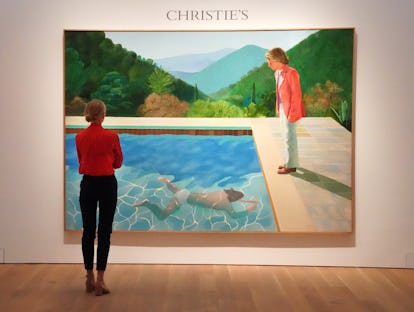 Timothy A. Clary/AFP/Getty Images
In the span of just under 10 minutes on Thursday, David Hockney made art auction history. Completely obliterating a record previously set by Jeff Koons, Hockney's 1972 painting, Portrait of an Artist (Pool with Two Figures), sold at Christie's in New York City for a massive $90.3 million. According to the auction house, that marks a new highest price paid for a piece of art by a living artist; the previous high was the $58.4 million garnered by Koons's Balloon Dog (Orange) in 2013.
The bidding war reportedly started at $18 million and quickly skyrocketed well past that, Koons's record, and the $80 million it was initially projected to earn. In the end, Portrait of an Artist (Pool with Two Figures) went to the highest bidder for an extremely impressive $90,312,500. "We rarely can say, 'This is the one opportunity to buy the best painting from the artist.' This is it," Ana Maria Celis, Christie's VP of post-war and contemporary art, said before the sale, according to The Guardian. The 7×10-foot acrylic painting was the biggest earner of the evening's collection of post-war and contemporary art, which drew in a total of $357,622,500.
Hockney, now 81, completed the painting in just a few weeks, per Christie's, as he rushed to finish it on time for it to be included in a show at N.Y.C.'s André Emmerich Gallery. In the final two weeks of work, the then-24-year-old artist reportedly clocked 18-hour days, and added the final brushstrokes only the night before the painting had to be shipped overseas from Hockney's native England to the U.S.
The painting, full of Hockney's signature vibrant blues and greens, depicts a fully clothed man standing at the edge of a swimming pool and peering into the water while another man, clad only in white briefs and captured mid-breaststroke, swims toward that side of the pool. According to The Guardian, the dry man is believed to be Peter Schlesinger, with whom Hockney had broken up only shortly before starting the painting, while it's been speculated that the swimmer could represent the man with whom Hockney moved on from Schlesinger, and that Hockney, as the titular artist, isn't actually pictured, but is watching the scene from outside the frame. As Ian Alteveer, curator of the Met's recent Hockney retrospective exhibition, told The New York Times, the work is "a farewell to the relationship, which had come to an end, and this grand statement about his interest in the psychology between two people that he's been trying to capture."
Related: David Hockney, Who's Now 80, Has Always Been a Style Icon
David Hockney, Who's Now 80, Has Always Been a Style Icon
David Hockney on the set of Ubu Roi' at the Royal Court Theatre, London, 1966.

Express Newspapers/Getty Images
David Hockney in a studio with his work, ca. 1967.

Tony Evans/Timelapse Library Ltd./Getty Images
David Hockney with one of his beloved dachshunds, date unknown.

Mikel Roberts/Getty Images
David Montgomery/Getty Images
David Hockney, date unknown.

Norman Parkinson Archive/Getty Images
David Hockney in the set of The Rake's Progress, which he designed for the Glyndebourne Opera Festival, 1975.

Graham Wood/Getty Images
David Hockney in front of one of his paintings in his studio, 1980.

Susan Wood/Getty Images
David Hockney in an oversized flower planter, 1980.

Susan Wood/Getty Images
David Hockney in Los Angeles, 1980s.

Anthony Barboza/Getty Images
David Hockney painting, 1985.

Corbis/Getty Images
David Hockney at his exhibition preview at Emmerich Gallery in New York, ca. 1986.

Rose Hartman/Getty Images
David Hockney in Los Angeles, 1987.

Anthony Barboza/Getty Images
David Hockney with one of his beloved dachschunds in Los Angeles, 1988.

Anthony Barboza/Getty Images
David Hockney at a Christie's reception for Billy Wilder's art collection in the Beverly Hills Hotel, 1989.

Ron Galella/Getty Images
David Hockney with his dogs on the terrace of his beach house in Malibu, 1991.

Paul Harris/Getty IMages
David Hockney at the exhibition "Flowers and Faces" in London, 1997.

Dave Benett/Getty Images
David Hockney in front of a giant poster at the 2016 Frankfurt Book Fair in Frankfurt, 2016.

Hannelore Foerster/Getty Images
David Hockney at a private viewing of his retrospective at the Tate Britain in London, February 2017.

David M. Benett/Getty Images