Dining with David Webb
W Magazine celebrated the brand's campaign with Inez & Vinoodh.
---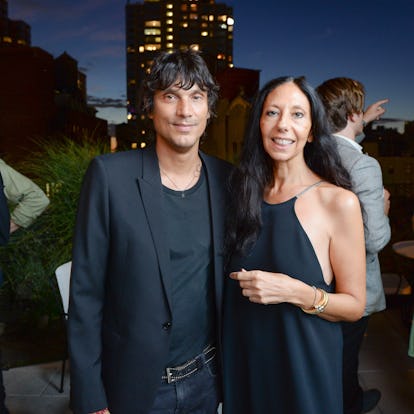 In the midst of the Spring 2015 fashion collections in New York, a time focused on the NEW and the NEXT THING, it is always nice to take a step back and appreciate the beauty of uncontestable longevity. Such was the scene at a dinner Sunday night that W Magazine editor-in-chief Stefano Tonchi and the photographers Inez and Vinoodh hosted to celebrate the latter's new campaign for iconic jewelry company David Webb. Entitled "Boldly Created. Boldly Worn" it features images of four women, Marina Rust, Sofia Sanchez Barrenechea, Daria Strokous and Asia Chow, wearing eye-catching pieces from David Webb.
Arriving at the rooftop of the NoMad hotel, guests were met with not only arresting views of the Empire State Building but a chic, tented dining area lit with wrought iron chandeliers and lanterns; wall four huge prints of the aforementioned women were diplayed like paintings in a museum.
"We wanted a classic beauty that would transcend time because obviously David Webb's company is the most unbelievable time warp, in its own bubble. So we felt it's important that the campaign expresses all these iconic elements but still pushes it into the now," explained Inez as she gazed at her handiwork. "It was such a dream to dive into that company and see all their archives and everything. And just the idea that if I wanted Jackie Kennedy's earrings from the '70s I can order them. Provided you can afford it. The hope was that [these images] would last for a long time, not just, oh this is 2014."
Rust had already seen her photograph earlier in the week when picking up baubles for the evening's festivities (including a hypnotic cat's eye chrysoberyl ring) and was no less enchanted the second time around.
"Of course I'm happy: I'm wearing Jackie Kennedy's earrings and I have the false eyelashes," she exclaimed, adding, "The ones I have on tonight are little bit askew because they were a collaboration between my daughter and myself."
As the crowd moved from cocktails to the candlelit tables, Eva Chow offered her own take on her daughter, Asia's, portrait.
"This photo takes my breath away. It's a really strong and gentle picture. And I think it's very David Webb, also, very new David Webb, presenting it in the most modern way possible," she observed. "This is a much more grown up look for [Asia] than I have ever seen. It brings a depth of her personality and intelligence forward. One always thinks their child is a baby until this kind of moment and I see this photo and she is certainly not a child. She's a person and there's so much behind that look. I'm so happy for her.
Photos: Dining with David Webb
Vinoodh Matadin and Inez van Lamsweerde. Photograph by BFAnyc.com.
Daria Strokous. Photograph by BFAnyc.com.
Eva Chow and Stefano Tonchi. Photograph by BFAnyc.com.
Marina Rust Connor. Photograph by BFAnyc.com.
Asia Chow and Dorian Grinspan. Photograph by BFAnyc.com.
Alexander Vreeland, Marjorie Gubelmann, and Trey Laird. Photograph by BFAnyc.com.
Alina Weber. Photograph by BFAnyc.com.
Tent at the NoMad. Photograph by BFAnyc.com.
Alexandre de Betak and Sofia Sanchez Barrenechea. Photograph by BFAnyc.com.
Max Snow, Vanessa Traina Snow, and Carlos Mota. Photograph by BFAnyc.com.