Scenes From an Italian Olive Harvest at the Estate of One of Europe's Hottest Interior Designers
Berlin-based Italian architect Davide Rizzo lets us into his grove in Abruzzo, Italy.
---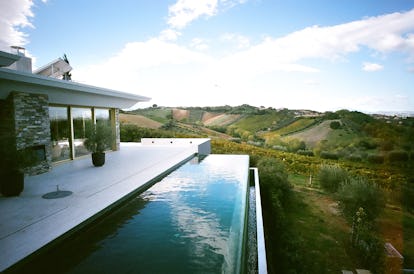 Photo by Maxime Ballesteros.
Milanese architect Davide Rizzo believes in energy. He maintains that his 24-acre property in Abruzzo, Italy was haunted by a ghost until a spiritual shaman chased it out. "When I bought the land in 2011, the olive trees and vineyard were completely dead," the Berlin-based interior designer said to me when I visited the property recently. "A couple months later, everything was alive and growing, it was incredible." Thanks to that sorcery, now Rizzo produces some of the purest olive oil around, which he harvests each year in late October.
Rizzo's grove is in Controguerra, a small town in Abruzzo, a wild, mountainous region that touches Italy's Adriatic coast. It's one of the most idyllic, fertile areas in Europe, known for its wine production (over 42 million cases a year) and, of course, olive oil, which the townspeople harvest annually in the fall, usually over the course of a few days. You can't help but be awed by Controguerra's lushness and vista—standing in the middle of Rizzo's olive grove, you can see both the Adriatic Sea and the snow-capped mountain ridges of Gran Sasso. Every October, Rizzo invites his friends to stay with him at his home for three days of Italian feasting and hardcore harvesting.
Olive harvesting is to Abruzzo what apple picking is to New England, a fall tradition and a social gathering. But Rizzo does it in his own way. Rather than starting at 7 a.m. like his neighbors, he begins later, around 10, because "coffee and cigarettes come first." After sharing breakfast with an eclectic mix of his guests and locals, the real work begins. Long vibrating rakes ascend into the branches to shake the olives free, which are then caught by nets spread along the ground. At sunset, the very full nets are folded up, and over a hundred kilo's worth of olives are poured into large green crates, and taken to a local factory to be pressed into oil.
The olive grove is located down a flight of stairs from the house Rizzo built from scratch in 2012, which he describes as a "1950s-inspired bungalow." Rizzo is one of Europe's most in-demand interior designers, with clients that range from Russian royalty to Alberta Ferretti and Shu Uemura; I wondered why he settled on such a sleepy province to build his third home (the first two are in Germany). "Abruzzo is very low key, everything is so simple here," he explained. "It's not pretending to be anything." His three-bedroom home works harmoniously with the landscape, blending in with muted earth tones and locally-sourced marble and wood.
Nonetheless, behind the heavy wooden front door there is still Rizzo's proclivity for marvelous oddities: a large pink ceramic octopus, a chili pepper-coated African mask from 1910 ("chilis are big in this area"), and a large corner light sourced from a 1940s film set, and more greet the eye. "I always look to add pops of color," he said, nodding at the green Murano glass lamps (the infinity pool outside even emits a green glow at night). While he confessed to being a total "flea market freak," he is also slowly assembling a formidable art collection, with recent acquisitions like Martin Kippenberger photos and drawings by Nathalie Du Pasquier.
But no decision is made without meditation, and Rizzo has over 25 years of experience to draw from. In the early 90's, Rizzo earned a degree in architecture in Switzerland, and then did a stint in set design in New York, at the Metropolitan Opera. A year later, he found himself in Tokyo working for an architecture firm, finally landing in Berlin in the late 90's. "The subculture and quality of life there in the 90's was beautiful," he recalled. "It was so real." He never left, and currently lives in the trendy area of Mitte.
Despite having his dream home, Rizzo admits he prefers to design for others ("building for yourself is the hardest," he lamented). His commissions include mansions, private planes, yachts, and even car interiors, sometimes all for one client. Rizzo works on 10 to 15 projects at a time, and has designed properties all over the world, from the Ukraine to Spain to Scandinavia. That work can be exhausting; Rizzo has traveled into Siberia to pick up a single wooden sculpture, flown to Portugal to save Azulejo tiles from the kitchen floor of a house only hours before its demolition, and once rode camel-back through Berber country to find the perfect carpets. His largest project to date is a 36-bedroom house in Hampstead, England, complete with tennis courts, swimming pools, and Justin Bieber and Elton John as neighbors.
If he could design anything, though? It would be an airport. "I spend way too much time in airports, and I think there are very few good ones."
Related: Inside a Stunning French Farmhouse Overflowing with Art