Then Coronavirus Came For Our Talk Shows
In the face of the coronavirus crisis, many daytime talk shows are doing away with a live studio audience.
---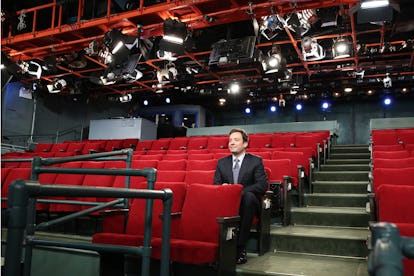 Photo courtesy of Getty Images.
You're working from home because of coronavirus concerns, and you decide to take a break with a little daytime television. Why not put on a talk show for background noise while you're stuck on the couch?
Well, you can expect that background noise to be a little less noisy for now; many daily talk shows are doing away with live audiences for the time being in an effort to limit contagion. This move comes as festivals like South by Southwest and Coachella have been cancelled or postponed due to the pandemic. (Others, like Cannes are still on for now.)
Good Morning America, Live with Kelly and Ryan, and The View have all banned audience members from coming into the studio. Today, The Wendy Williams Show followed suit, and even game shows like Wheel of Fortune and Jeopardy! are rethinking whether they can go on with the practice of bringing in a live studio audience to watch the action unfold.
According to The Hollywood Reporter, there will be no studio audience for Strahan, Sara, and Keke; Tamron Hall; Dr. Phil; or Rachael Ray. Several NBC shows, such as The Tonight Show With Jimmy Falllon, have yet to announce their plans, but Fallon has done without a live audience at least once before, when Hurricane Sandy shut down New York City. Saturday Night Live was already on hiatus until the end of the month, so that one is on standby for now too.
Wendy Williams shared her announcement about her studio's concerns on Instagram, insisting that her team will "continue to produce a daily live talk show and look forward to welcoming the studio audience back when the time is right."
Not every talk show host dances up and down the aisles like Ellen DeGeneres, but plenty of them do shake hands with attendees when the cameras aren't rolling and regularly hug their guests. Show tapings are also a big draw for tourists from around the world visiting New York and Hollywood, making the risk even more apparent.
But what is someone like Williams to do without her audience, whom she calls her cohosts—and rightfully so, because the reactions caught on camera are everything—to cheer her on, yell back "How you doin'?" and contribute to the overall amped up vibe of the show? Well for now, her studio employees and staff are going to fill the seats instead.
The Strahan, Sara, and Keke host Keke Palmer shared a video of the semi-empty ABC studio on her Instagram stories and said, "The crew is the heart of every production, in my eyes. We need our crew more than ever today."
On The View, which doesn't depend as much as Williams does on the audience but still needs them for background, Whoopi Goldberg decided to address the lack of bodies in the room, which was just awkward at best.
This just makes it even more clear how essential an audience is for filling the silence in between the charged jabs hosts sometimes take at one another—and reminds us that the best seat in the house is always the one at home.
And at the very least, we can thank Tyra Banks for pioneering such an avant-garde form of hosting, when she tried to end her feud with Naomi Campbell in front of an empty house for her syndicated daytime series, The Tyra Banks Show, in 2005.