December 2015/January 2016 Editor's Letter: The Standouts
W's editor-in-chief talks self-expression in the Art and Fashion issue.
---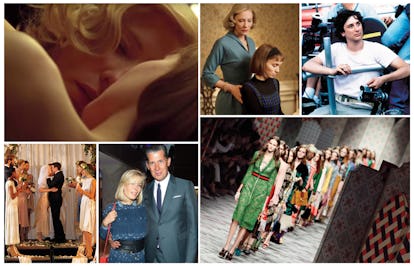 I'm not sure if it's a consequence of the social media revolution—and its attendant obsession with voyeurism and ­exhibitionism—but flaunting our differences in a very public way is at the center of the conversation today. From media sensations like Caitlyn Jenner to outspoken stars like Nicki Minaj, it's clear that individuality reigns supreme. When we started working on our annual Art and Fashion issue, we didn't have a precise unifying concept in mind, but as the stories started coming in, we realized they were all connected to the idea of self-expression.
Just consider Gucci's new creative director, Alessandro Michele, and the approach he's taking to redefine the historic brand. In both his personal look and in his work, Michele channels fluid gender roles, a romantic sensibility, and a curiosity of spirit that bring to mind a Renaissance man curating the perfect cabinet of curiosities. When the writer David Amsden followed Michele from the Gucci headquarters, in Milan, to the futuristic landscape of Shanghai for the opening of a museum exhibition that Michele had co-curated, he discovered a designer who looks like a guru, has the passion of an artist, and speaks like a philosopher. But examine his perfectly crafted clothes and statement accessories—fur-lined horse-bit loafer, anyone?—and it becomes clear that Michele is also a real insider who understands the fashion landscape better than most.
Tara Subkoff has been obsessed with stardom practically since birth. You may remember her as half of the controversial fashion duo Imitation of Christ, which staged some of the most inventive shows of the early aughts, or as an actress, appearing in films such as The Cell and The Last Days of Disco. Subkoff is very much back on the scene, straddling the worlds of art and Hollywood since marrying the blue-chip artist Urs Fischer and directing the film #Horror, now in theaters. As Lynn Hirschberg discovered in "The Art of Being Tara", Subkoff has pursued her artistic desires with unflinching determination, allowing nothing to stand in her way.
Similarly (though perhaps less intentionally), one of her generational peers, Harmony Korine, has moved seamlessly between art and cinema, breaking all the rules—or, rather, creating his own. Korine shot to fame 20 years ago as the screenwriter of the infamous movie Kids and made a splash again in 2012 as the director of the box office surprise Spring Breakers. All along, he has been quietly making and collecting art; he also recently bought a warehouse in Nashville, where he will host exhibitions and nurture an artistic community. Even the mega dealer Larry Gagosian has taken notice, bringing Korine into his prestigious stable of artists.
This month, during Art Basel Miami Beach, everyone will wonder how the hotelier Alan Faena, in his flowing white linen outfits and fedoras, managed to transform a large swath of Miami Beach into an ultra-luxurious real estate empire that encompasses a hotel, private residences, stores, and an arts center. As writer Holly Brubach discovered, Faena did it his way. He started out as a fashion designer in his native Argentina, where he eventually transformed a decrepit Buenos Aires neighborhood into a vibrant cultural destination. For his infinitely more ambitious Miami project, Faena and his wife, the art consultant Ximena Caminos, managed to enlist talents as diverse as Rem Koolhaas and Baz Luhrmann to make their extravagant fantasies a reality.
Who better than Cate Blanchett to round out this group of dreamers? She has taken on such varied roles—Queen Elizabeth, Bob Dylan, a modern-day Blanche DuBois in Blue Jasmine—that it's impossible to pigeonhole her. She currently plays the lead in Todd Haynes's movie Carol: a high-society lady who falls in love with a much younger, working-­class woman, played by Rooney Mara, in the ultra-­conservative 1950s. Blanchett brings to light all the identity and social issues of an era when being different, and showing it in public, had far more painful consequences than not being liked on Instagram.