December Release: GEORGE CLOONEY AND RENEE ZELLWEGER
George Clooney and Renee Zellweger discuss finally working together, prostitutes and imitating other directors
---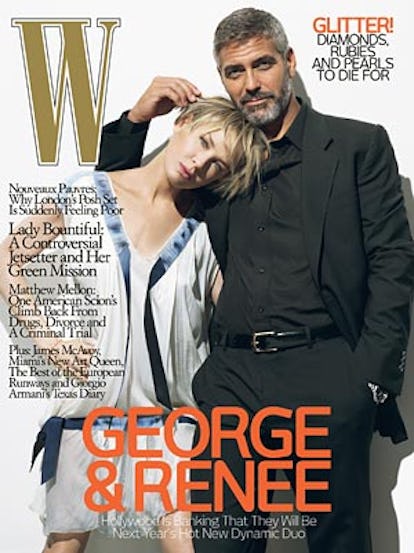 (November 12, 2007, New York, NY) George Clooney tells W magazine that he didn't know what prostitutes were until he cruised around in a Porsche with his cousin, actor Miguel Ferrer, when he first moved to California: "I didn't know what hookers were. We pulled up at the stoplight, and all of these girls came over, and they were like, 'Hey, do you want to party?' I looked at Miguel and I said, 'Chicks love me, man! I'm on fire here!'"
Following are other comments from George Clooney and Renee Zellweger's interview found in the December issue of W:
George Clooney
ON BACKING BARACK OBAMA IN THE NEXT PRESIDENTIAL ELECTION…"I spoke to him two days ago for a half hour. I think that he's in that sort of doldrums, that midelection run, where you're still trying to define what it is that you want to be."
ON BORROWING SHOTS FROM DIRECTORS HE ADMIRES…"I sent apology letters to Mike Nichols and Sidney Lumet after Confessions because I just directly stole shots. But then I told Joel and Ethan that I've stolen shots from them, and they're like, 'Yeah, we stole that shot from Capra.'"
ON REWRITNG THE SCRIPT OF LEATHERHEADS TO ACCOMMODATE HIS AGE…"You can't try to hide your age and you can't try to pretend it isn't there. You have to use it as a tool."
ON ZELLWEGER'S ROLE IN THE UPOMING FILM LEATHERHEADS…"In movies, so often the guy gets to be the one with all the answers. In this one, she's the smart one. Which was incredible acting on her part."
ON DIRECTING ZELLWEGER IN LEATHERHEADS…"She's my friend, so I can be really direct. I can say, 'That's not a good angle,' and not try to manipulate her, saying, 'Well, maybe you'd be looking off over there because the moon is shining."
ON ENCOURAGING GAWKER READERS TO POST FAKE SIGHTINGS OF HIM…"They had 6,000 locations for me in the first day."
ON WORKING WITH MASTER DIRECTORS LIKE JOEL AND ETHAN COEN AND STEVEN SODERBERGH…"[They] taught me everything I know. If you plan it out and work really hard, then it's much easier to make films."
Renee Zellweger
ON HER FEAR OF LETTING CLOONEY DOWN IN LEATHERHEADS…"…He doesn't even know how important his opinion has been to me over the years. I don't want to disappoint him."
ON CLOONEY'S DIRECTION IN LEATHERHEADS…"I just get so proud that my head pops off. George is such a confident director, and he has no idea. And he's a nice person. It gets boring hearing that, but it's true. Every once in a while you get the real good guy. You've got your Jimmy Stewart. You've got your Paul Newman. Now you've got your George Clooney."
ON GAWKER ENCOURAGING READERS TO POST STARS' PRECISE WHEREABOUTS…"Oh, I log on every day to see where George is. Oh my God, get your things! He's at Barneys!…The problem with that is with his schedule these days, the sightings were all true. He was in all 6,000 places that morning – before lunch.."
Please credit the December issue of W for the above. For additional information or to schedule an interview with a W editor, please contact Engelman & Co. at 212.645.9222. Thank you.