Deia in the Sun
Every summer in the small Spanish beach town of Deià, fashion bigwigs, boho locals, and assorted celebs party like there's no mañana. Julia Chaplin joins the fun.
---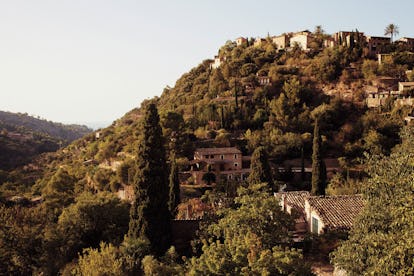 It's cocktail hour at Sa Fonda, a bar in the village of Deià, on the northwest coast of Majorca, Spain. With its fluorescent lights and stacks of beer crates in the corner, the place looks nothing like a typical jet-set watering hole. The crowd, however, tells a different story. Tonight Bob Geldof, Kate Moss—wearing denim cutoffs and no makeup—and a bunch of their friends are gearing up for an open mic night hosted by some fellow Brits. After knocking back a good amount of syrupy Spanish rosé, the group parades down a narrow winding road, led by Geldof, who is strumming a guitar, and arrives at a whitewashed farmhouse, where a crowded party is under way. On a makeshift stage by the pool, an opera singer is performing in a drunken baritone. Next, a local man with long gray frizzy hair does a gravelly spoken-word. And then Pixie Geldof, the youngest daughter of Sir Bob, appears with her pet Chihuahua and begins singing a ballad in a high-pitched squeak she claims is the voice of the dog.
"My son played a Clash song here last year," says Alexandre de Betak, an events producer and art director, making himself a drink in the kitchen. "It was so funny because afterward, one of the actual guys from the Clash walked over and congratulated me!"
Funny but not particularly unexpected in Deià, where summer brings an influx of celebrities and fashion folk looking to socialize—often frenetically—with a mix of understated aristos and eccentric bohemians. The Clash bassist, Paul Simonon, can often be found here with Agent Provocateur cofounder Serena Rees. Michael Douglas and Catherine Zeta-Jones, Richard Branson, Rhys Ifans, Anna Friel, Mario Sorrenti, and Ellen Von Unwerth are regulars.
De Betak discovered the village about 20 years ago, when he visited his first client, the Spanish designer Sybilla, who owns a 13th-century monastery on a hill. He bought a villa a few years ago and made it over as a luxe party cave complete with custom iPod docks built into the stonework and a spigot that dispenses wine out of a wall. At his late-night soirees, it's not uncommon to see his houseguests—Natalia Vodianova or his girlfriend, the art director Sofia Sanchez Barrenechea—crashed out on the piles of pillows that stand in for a living room couch.
De Betak comes every year for the entire month of August, when the village swells in population from 800 to several thousand. Still, even in high season, Deià remains intimate enough that parties and dinners are open to any and all who can find them. It's an exclusive inclusivity that's extinct in most Mediterranean hot spots—which makes Deià frequenters understandably paranoid about word getting out.
"Please, don't write about this place!" is the plea I hear over and over again, as if the social equilibrium could be tipped if one more London stylist in a caftan crammed onto a rock at the cala, the small swimming cove at the base of the Serra de Tramuntana mountains that's already wall-to-wall with waifish, honey-colored bodies.
To the guidebook eye, Deià is a quaint Moorish-era farming village with limestone buildings and terra-cotta roofs that disappear into the terraced, olive-tree-dotted mountains. There's just one taxi and one road weaving through town. For better or worse, you run into the same people several times a day. Because driving is precarious and parking practically nonexistent, hitchhiking or walking in the scalding sun or pitch-dark is the norm.
"Deià reminds me a lot of Saint-Tropez in the '70s," says Laure Klarwein, whose late husband, Mati Klarwein, a psychedelic artist who created album covers for Santana and Miles Davis, was part of Deià's early scene in the '50s. "The town has always had a rare camaraderie. If my car broke down, I could walk into Sa Fonda and someone would help me fix it. If I was looking for my kids, I could stand on top of the hill and shout into the valley, and someone would answer: 'They're at my house!' " The actress Sadie Frost started coming to Deià with her hippie parents in the '70s and returned in the '90s with then husband Jude Law and their friend Jade Jagger. "To me, this simplicity is an antidote to more glamorous holidays," Frost says.
Despite such high-wattage devotees, Deià has largely avoided the spotlight, thanks in part to the glare of its high-profile neighbors. Ibiza, the international hub for clubbers and partiers, is nearby. And Palma de Mallorca, just 20 miles away, is one of Europe's most popular bargain tourist haunts, with its package tours and concrete mega resorts.
There are no such all-inclusives in Deià. The fashion flock checks in to the Hostal Villaverde, a small hotel furnished with eclectic antiques and Majorcan ikat textiles. Moss stays at La Residencia hotel, which was once owned by Richard Branson and occupies two stately vine-covered houses surrounded by lush vegetation.
In typical Spanish fashion, the social scene starts late in the day. Many people don't venture outdoors until 4 p.m., when the searing sun mellows incrementally and crowds begin to migrate down the mountainside, through the donkey fields and violet morning glories, to the cala for a swim. Seven is cocktail hour at Sa Fonda, followed by a marathon of paella dinners, house parties, and jam sessions with flutes and guitars. By 2 a.m., everyone gathers again at Sa Fonda for drunken dancing.
Deià's freewheeling vibe dates back to 1929, when the English poet Robert Graves, on the heels of a scandalous divorce, arrived with his lover Laura Riding. They built a house on the village outskirts, where they also set up a printing press. (A few years later, his best-seller I, Claudius paid off the mortgage.) Graves invited friends like Alec Guinness, Peter Ustinov, and Gabriel García Márquez. In the '50s and '60s, Deià was filled with writers, painters, and musicians, including Jimmy Page and Jimi Hendrix.
"They all ended up here after hearing about this marvelous little village in the middle of the mountains by the sea," says Aureliano "Oro" del Negro, a local architect. Del Negro's father moved to Deià in the '50s from New York, where he had been an assistant to Willem de Kooning. "Some brought their wives and made their lives here. Everyone drank a lot." With so much alcohol and a reigning philosophy of free love, there were lots of affairs, breakups, and offspring; every local you meet is someone else's stepbrother, half-sister, or ex-spouse.
Models, photographers, and stylists, who were attracted by the vintage boho aesthetic and liberal attitude, arrived in the '90s. "Deià is a very grounding place for them," del Negro says. "They just want to get their espadrilles on and forget everything." Still, not everything about the area is so easygoing. Even the most glamorous arrivistes must pay their respects to the old guard. And to get just about anywhere, one must traverse steep, rocky footpaths. Scrapes and gashes swabbed with bright-red iodine are a familiar sight in town—particularly after big parties at which, inevitably, an inebriated guest suggests a midnight swim. "Deià will spit you out if it doesn't like you," says Simon Gough, the great-nephew of Graves, during a reception for his grandson's christening. "I remember an American lady wearing a huge diamond, complaining about Deià by the pool at La Residencia. By midday she was dead. She had tripped on the rocks and split her head open."
But this is all too easy to forget once you are in on the fun. Gough is serving paella for 80 from a giant iron pan, and by 3 a.m., the scene tips into its usual hedonism: revelers cannonballing into the pool and dancing to blaring music in soaking-wet see-through party dresses.
Happily, in Deià, the neighbors don't complain.