Deliciously Ella Adds Skin Care to Her Menu
Food blogger Ella Woodward and organic beauty line Neal's Yard come together for a new skincare line, to deliciously scented effect.
---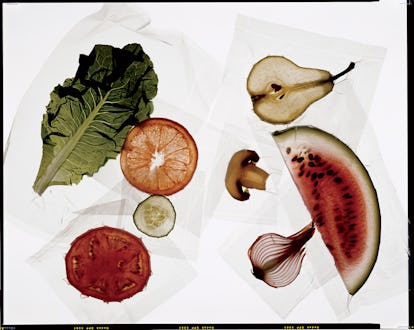 Irving Penn
When a healthy food blogger (whose raw brownies are beyond) collaborates with an organic beauty brand, the likelihood of gentle and effective products that smell divine is very high. Such is the case with Neal's Yard Remedies x Deliciously Ella Rose, Lime & Cucumber Facial Wash and Moisturizer that Brit online sensation Ella Woodward created with the brand (out in early September) The New York Times best selling author share her beauty and foodie tips, here.
Congrats on the collaboration! Was this your first foray into designing a skin care product? Thank you so much! Yes, this is my first and I've absolutely loved it so far. I'm so proud of what we've created; they're really beautiful products.
What mandates did you have for the products, aside from being organic? They had to smell amazing. I think the smell of something is so important, especially when you're putting it on your face. I also wanted it to include lots of my favorite beauty ingredients, like avocado oil and turmeric.
Have you had your own skin issues? I've always been pretty lucky with my skin. I did notice a big change when I changed my diet and started to eat more natural foods, in that my skin just got clearer and brighter.
When you decided to change your lifestyle habits for your health, did your beauty habits change much, too? Absolutely. About five years ago I changed the way I ate to try and manage the symptoms of a chronic illness. As I started eating more natural foods and thinking about what I was putting into my body, I became more interested in what I was putting on it too. I started doing research around the ingredients in what I was using, and looking at alternatives. That was when I started using Neal's Yard products, and over the next few months I slowly started swapping products that I finished to natural alternatives.
If someone wants to change to healthier eating habits, what are the five things they should take off the menu? I think it's less about focusing what you take off and much more about what you put onto the menu – lots of fruit and vegetables, beans, brown rice, herbs, spices, vats of guacamole and mountains of hummus! Eating well isn't about dieting or deprivation, so you shouldn't feel that you're bound to certain rules.
And what are the five things to definitely ADD to the menu? My five go-to's are avocados (can't get enough of avocado on rye toast with lots of chili, lemon and rocket-arugula), sweet potatoes, bananas, blueberries and carrots.
What is your exercise routine? I try to exercise most mornings before work, as I find it helps me to clear my head and start the day in a positive way. I love yoga, spinning, boxing, and Pilates. I've just started working with a personal trainer who is putting me through circuits and weights. It's so hard, but I'm loving it.
What do you always bring with you when you travel, beauty and/or health-wise? Easy snacks like energy balls for food and little jars of coconut oil for beauty, as it's so multi purpose I use it for everything from a make up remover to a hair mask, even for after sun.
Do you have a food weakness? What constitutes "cheating" for you? I don't believe in the concept of cheating or anything that inflicts guilt when it comes to food. You should always enjoy what you're eating, no matter what it is! It's all about finding the right balance for you that makes you feel your best.
Your book has the quick recipes section, but what dish do you find you make the most for your friends or that your friends ask for most? I normally make big bowls of veggie curries which are cooked in coconut milk with lots of herbs and spices. Then I fill them with whatever I have in my house–sweet potatoes, potatoes, chickpeas and spinach. I serve it over brown rice, which I mix with a little sesame oil and tamari for extra flavor. It's so easy to make, really filling and everyone loves it!
What is your current beauty routine? My routine is pretty simple! I use the Neal's Yard moisturizer and face wash that we created, and then I use their argon oil at night time, which is amazing, and coconut oil to take off my make up in the evening. For makeup I love brands like RMS, Ilia, W3ll People and Neal's Yard.
What was your worst beauty blunder? I love playing around with DIY facemasks and I recently did one with turmeric but didn't add any oil to it, so the turmeric just stuck to my face and I looked like a Simpson cartoon character for the next day or so!
What beauty products are currently in your purse? An RMS vanilla lip balm, Neal's Yard Remedies deodorant, a hairbrush and a small pot of my Neal's Yard Remedies face moisturizer.
Which beauty trend makes no sense to you? I think beauty shouldn't really be about trends, for me it's more about finding what suits you and your routine and feeling good about that. So often I see trends that look so incredible on a model and then when I try it on myself I think I look completely ridiculous!
What "health food" do you think is really unhealthy? There's a lot of products in shops labelled as gluten free or raw and so often they're full of rubbish despite being really expensive, which just feels like a total con to the customer.
Is there a next cookbook in the works? Other projects you can share? There are so many projects! I'm just launching a line of my energy balls for supermarkets, we're opening our next deli in London next month and I've got two more books coming out over the next few months. I'm loving the challenge of it all, though. It's amazing to watch the business grow.
Finally, what are you currently obsessed with? Peanut butter. It's nothing new or revolutionary but I just can't stop with it! Nothing currently makes me happier than eating a jar of peanut butter!
Watch W's most popular videos here: