Demi Lovato Speaks Out About Loving Her Cellulite, Fat, and Stretch Marks in Body-Positive Posts
The pop star spoke out about loving her cellulite, fat, and stretch marks.
---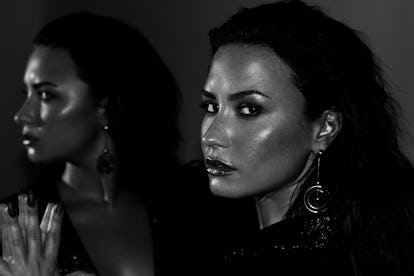 Angelo Kritikos
Demi Lovato is making good on her New Year's resolution. The artist, who has become a self-love icon to her fans, is all about treating her body with kindness and embracing stretch marks and cellulite.
Lovato opened up about just that in a series of posts to her Instagram stories. "No thigh gap for me and yet I still love myself," she wrote in the caption of a full-length photo where Lovato bared her stomach in a T-shirt she tied up and a pair of shorts. Lovato continued that message across a few other posts, writing, "Stretch marks and extra fat… and yet I still love myself… Cellulite…and yet I still love myself…" Lovato also wisely pointed out the discrepancy between social media and reality.
"The boomerang smoothed out my legs," she wrote. "The point is, I have cellulite just like the other 93% of women do. What you see on Instagram isn't always what it seems to be. Let's embrace our real selves. #iloveme."
This isn't the first time Lovato has addressed her insecurities head-on. At the top of the year, Lovato posted a photo of herself looking carefree in a striped swimsuit, writing in the caption, "So, I'm insecure about my legs in this picture but I'm posting it because I look so happy and this year I've decided I'm letting go of my perfectionism and embracing freedom from self criticism. Learning to love my body the way it is is challenging but life changing. Giving up my eating disorder has been the most challenging journey of my life but I work every day towards solid recovery even if I mess up sometimes. Today I'm feeling strong. You all can do it too. It IS possible. Thank you God for this new chapter in my life. #EDrecovery #happyAF."
What Lovato didn't mention on Instagram is exactly how she's able to practice self-love: She is a firm believer in positive affirmations. "When I'm really down, I do a positive self-affirmation," she told People. "I talk positively to myself in the mirror. As awkward and uncomfortable as it can be, it can be really self-assuring. I also talk to people around me. But getting in the gym makes me feel the best I possibly can, so I make sure I get that in."