Demi Goddess
She's no longer the larger-than-life box office star of the Eighties and Nineties, but with a slate of quirky indie roles and a horde of digital followers, Demi Moore is reinventing her career. Call it Demi 2.0.
---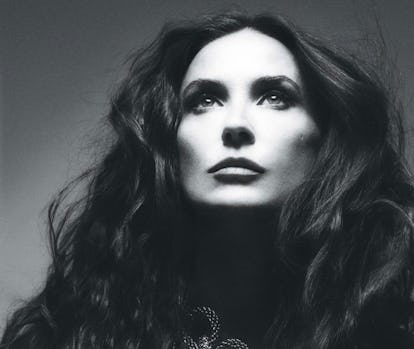 Great actors, those most capable of galvanizing attention onscreen, are often reclusive or even entirely humdrum in daily life—Meryl Streep and Daniel Day-Lewis come to mind. And then there are movie stars, who, thanks to some rare inborn quality, shine just as vibrantly, often even more so, offscreen. The former live in the public eye thanks to their roles, whereas the latter do not owe their fame to any given performance. Private antics, public spats and provocative media images risk distracting from an actor's talent, but for a movie star they are fully half of what her biography consists of.
Few contemporary celebrities illustrate the distinction more clearly than Demi Moore. For 25 years now, she has made a career—and a fortune—from being stared at by the public. Her body of work has been notable in no small part because of her notable body. Which is why it's impossible not to study every inch of her famous face and well-documented curves when she pounces on a sofa at 7:30 p.m. after a long fashion shoot in a Hollywood photo studio.
At 47, she looks changed, although more by time than by the surgeon's knife. One might say she looks her age, although hers is an undeniably striking version of midlife. The skin of her forehead and around her eyes does indeed wrinkle as she expresses emotion, its surface less dewy fresh than it once was. Beneath her haystack of wavy black hair, Moore is thinner than expected, which emphasizes the prominent bone structure that still photographs so well but also gives her a slightly gaunt appearance in person. Her chopstick legs are sheathed in skinny dark jeans, and her oversize cashmere sweatshirt looks as if it could have been borrowed from husband Ashton Kutcher's side of the closet.
In the midst of a slow-motion movie comeback some six years after returning from semi-retirement in Idaho, where she lived with her three daughters by ex-husband Bruce Willis, Moore no longer commands eight-figure paychecks. She has nonetheless been busy. She'll soon be back onscreen in two indie films: Happy Tears, opposite Parker Posey, and The Joneses, a dark comedy costarring David Duchovny about a seemingly perfect family who are in fact pitchmen hired by a guerrilla marketing firm to promote pricey consumer goods.
"The Joneses has an extremely relevant topic," says Moore, who has always shown a knack for being right in the middle of the zeitgeist, from her days as an initial investor in Planet Hollywood to her current status as a Twitter queen. "It deals with people leveraging their lives for stuff." Moore seems to relish the self-referential quality of working on a film that pokes fun at materialism and marketing. "In a weird way, I was already participating in that dynamic," she notes in reference to her implicit red-carpet endorsements of this bag or that dress.
But the meatier issue is how her age now affects her career. Asked how she likes the indie circuit after spending so many years as a star in big-­budget studio movies, she analyzes the question with surprising self-awareness. "The frustrating part is that the type of roles I'd be interested in are not really coming to me," says Moore, who fidgets and balls herself into various contortions like a kid but speaks in her signature hoarse whisper. "I hate to say it's a function of my age—but yes, I think in some ways it is. The majority of [female] roles are geared between 25 and 35."
A dearth of star vehicles, though, clearly hasn't hurt Moore's fame, which throughout her career has been stoked less by reviews of her screen work than by chatter about such happenings as her two nude Vanity Fair covers—one taken in 1991 while she was seven months pregnant—and her marriages to fellow stars Willis and Kutcher, who was a barely pubescent 12 years old when Ghost debuted. (He's now 31.)
In fact, critical kudos have never been Moore's calling card—and she has never needed them. (She did receive a Golden Globe nomination for 1990's Ghost despite the film's tepid reviews; its most notable accomplishment was half a billion dollars in box office returns.) A surprising number of Moore's movies continue to loom large in America's collective memory—and on the Blockbuster shelf, a Darwinian environment that ruthlessly weeds out anything the public no longer cares to take home. Throughout the Nineties, Moore embodied a sort of heroic femininity—rare beauty, great ambition and enough brains—that mirrored a pre-9/11, prerecession confidence in American exceptionalism. Her Hollywood ascendancy gained momentum from A Few Good Men and Indecent Proposal and steamrolled over such career speed bumps as The Scarlet Letter, in which she took a thespian turn that earned her much critical disdain. In 1996 she became the highest-paid actress to date with her $12 million paycheck for the unloved Striptease. Then, at the height of her prowess, Moore produced and starred in Ridley Scott's G.I. Jane, a film that put forward the then radical notion that women should have the right to serve in active combat. Or at least women as buff as Moore. For the part, Moore shaved her head and mastered a one-armed push-up; during a brutal fight scene with Viggo Mortensen, she growled the jaw-dropping line "Suck my dick!" The movie, as she puts it, "got slammed."
"I think G.I. Jane got hit because I was paid $12 million to do Striptease," says Moore. "In a sense, Striptease was a film where women felt I betrayed them. G.I. Jane is a film where men felt I betrayed them. The focus went on that paycheck."
Today, as women are actively serving in two wars, Moore stands by the project, calling it "a wonderful film." In retrospect it is hard to fathom why it caused such hubbub. Moore's physical tenacity as a Navy SEAL trainee is truly impressive, and even her notorious taunt to Mortensen now seems like just a gamy critique of Clinton-era gender stereotypes—a campy pop-cultural update on Lady Macbeth's fierce cry against femininity's softer side, "Unsex me here." Even so, the criticism prompted her to "step back" from the movie industry and retreat to Hailey, Idaho. "One of the things that hit me very strongly was the realization that what we do is not who we are," Moore explains. "I had worked my whole life. Until I became a mother, that's the only way I measured my value."
Somewhat unexpectedly, perhaps, the spur that urged her back to work six years later also came from one of her daughters. "Out of true innocence, one of my girls piped up and said, 'Are you ever going to work again?'" Moore recalls. "[I realized] my cocoon away from criticism had gotten really cozy for me."
The roles she has found upon her return to Hollywood are markedly different from the ones she left behind. In 2003's Charlie's Angels: Full Throttle, her character of an Angel gone bad was like a parody of her old heroic self. The performance she gave as an over-the-hill lounge singer in the ensemble movie Bobby (2006) was small but potent. "I know I have an eccentric, obsessive-compulsive side," Moore acknowledges. "I'm looking for roles that reach into that quirkier place."
Duchovny says of her performance in The Joneses, "She [plays] the head of this perfect family, a successful working mother. But underneath there's damage. The really smart move for Demi is to combine those two things."
Happy Tears is about two sisters, portrayed by Moore and Posey, who have to deal with their father's dementia and his homeless girlfriend, played by a grubby Ellen Barkin. Directed by Mitchell Lichtenstein—whose strange debut, Teeth, is a Freudian nightmare about a vagina dentata come to life—Happy Tears was shot in an aging Philadelphia suburb. The shoestring production was a universe apart from the days when Moore's megapaychecks and rich perks earned her the back-lot nickname Gimme Moore. "It was made for, like, 10 cents," she jokes. "But there's something amazing when you do these projects with limited resources; magical things come out of that."
Lichtenstein says Moore proved to be a "grounded" presence, both onscreen and off. "She has full self-knowledge and was really positive on set," he says. "She was always in these high-concept movies which took advantage of her sexuality and beauty. I wanted to see her play a normal person." He adds that her performance harks back to her Brat Pack days, when she fit into ensemble casts, before Hollywood gave her the "iconic parts" that painted her into a high-paid corner. "This period for her is more interesting than 10 years ago," he says.
One of the ironies of Moore's life now is that she receives far more attention from the media than she does from casting directors. Known around town as a savvy businesswoman—she produced the Austin Powers franchise, as well as the Emmy-nominated television movie If These Walls Could Talk—Moore has found other ways to harness her free-floating fame. For the past two years, for instance, she has been the international public face of Helena Rubinstein cosmetics; in December the brand is introducing a perfume, Wanted, developed with Moore's input. There's something about Moore that makes her ripe as a spokesperson of all sorts. Her infamous Vanity Fair pregnancy cover pulled back the veil on the beauty of the female body in full bloom and arguably opened the door for other celebrities and women everywhere to freely celebrate their pregnant shape. Likewise, her relationship with Kutcher, begun when she was 40 and he was 25, launched a media fascination with "cougars."
"I'm certainly not the first person to be in a relationship with a younger man, but somehow I was plucked out as a bit of a poster girl," Moore says. She continues in a vein that sounds suspiciously as if it were taken from the Kabbalah playbook on the power of positive thinking: "I don't know why that is. But I just kind of step back sometimes and say, 'There is some reason, and what is it that I have to share in a positive way?'" (In 2002 Moore began her ongoing Kabbalah study, which she telegraphs with the red string prominently displayed on her left wrist.) What she objects to with regard to the whole cougar thing, though, is the label.
"I'd prefer to be called a puma," she says, explaining how she came up with the new designation and "Twittered it out. People wrote back hilarious stuff, saying, 'I'm going to get T-shirts that say puma power.'"
Twitter is serious stuff for Moore, who seems to think the public wants to read frequent posts about the trivial details of her life. Still, her obsessive tweeting has made her into one of the highest-profile celebrities of the new-media realm, with 2.2 million Twitter fans. (Kutcher, the first person to reach 1 million followers, is now approaching 4 million.) She says she was initially hesitant about opening up her private life, but Kutcher encouraged her. Now she praises the platform's potential to create a "dialogue" between herself and fans. "You post something and get your finger on the pulse," she says like a shrewd media marketer. "You know what people are interested in."
"When we were at the Berlin Film Festival," says Posey, "she was like, 'You have to Twitter!' [For Ashton and her,] it's a way to create the terrain of who they are, to take charge of it." For Posey, however, Twitter "makes me want to become a Mennonite."
A cynic may note that it also allows Moore to thrust herself into the public sphere during lulls between movies, although she prefers to emphasize her good works through Twitter, such as raising awareness about human trafficking and the sexual exploitation of children. Moore openly acknowledges that the platform enables her to bypass the meddling media, which, in the past, came between her and the world at large. "People are much more interested in what I have to say directly," she says, "and that really changed the whole dynamic I have with fans."
But it remains to be seen if Moore can mobilize her followers to the box office. So far they seem content to just read about her for free. And there have been times when Moore's online presence has caused trouble—such as this fall, after blogger Perez Hilton linked to photos of her 15-year-old daughter, Tallulah, and posted comments about her "boobs" and "ass." Moore blasted the post in a tweet, saying, "Clearly Perez Hilton isn't taking violating child pornography laws very seriously." Hilton fired back on his site by calling her tweet "libelous, defamatory, inaccurate and stupid." The whole subject clearly continues to inflame Moore's sensitivities, turning her from cougar to mama grizzly bear. Vaguely citing legal limitations, she carefully chooses her words. "We were away for my daughter's birthday," she explains. "When I came back, thousands upon thousands of people were writing to me, outraged about what had been posted about my 15-year-old daughter. I felt like I needed to acknowledge it."
Moore visibly relaxes—she gets a bit moony, in fact—when talking about everyday life with her unusual blended family, which famously includes Kutcher and her three daughters, as well as her ex-husband and his new wife, 32-year-old Emma Willis. (Moore attended their 2009 wedding and calls Emma "a wonderful girl.") Just two days before this interview, Moore had returned from celebrating her fourth anniversary with Kutcher on a romantic couples' safari in Kenya. "It was just the two of us, with a guide," she reports. "Having that time with just one another, disconnected from the cell phones, is important." (Moore did, of course, tweet pictures throughout the trip of Kutcher and herself with elephants.)
The couple first met six and a half years ago. "The most overwhelming part of meeting someone that you already felt you had such a deep and old connection with is that your feelings are greater than the time you've had to actually be with one another," she says. "Now we've had the physical time together. The love he has for me makes me a better person by giving me the courage to take risks. I can fail and have someone who loves me just the same. I never knew it was quite possible."
Moore adds that their home life centers on dinners with the girls every weeknight and frequent family vacations to Idaho. She notes that she does not, however, plan to be billed as Demi Kutcher, as has been widely reported in the press. ("Moore" is the legacy of her first marriage, from 1981 to 1983, to singer Freddy Moore.) The confusion perhaps stems from her Twitter handle, Mrskutcher. "As a married woman, I am and will always be Mrs. Kutcher," says Moore. "But I have my career as Demi Moore."
Paradoxically, the confusion about who Demi Moore actually is allows her to continue to thrive in the public eye despite being middle-aged and years past her last blockbuster film. She is riding high on the new-media wave as it crashes down over Hollywood's studio system, and though she may not have figured out how to monetize her followers just yet, they are out there exactly where she wants them to be: with their eyes fixed steadily on her. "I can't impress enough the difference in how people are perceiving me," says Moore as she muses on the power of her Twitter life as Mrskutcher. "They're getting to see who I am."