The Truth About Fat Injections from a Celebrity Derm
Fat injections? Risky. Laser technology? A good bet. New York dermatologist Dendy Engelman tells it like it is.
---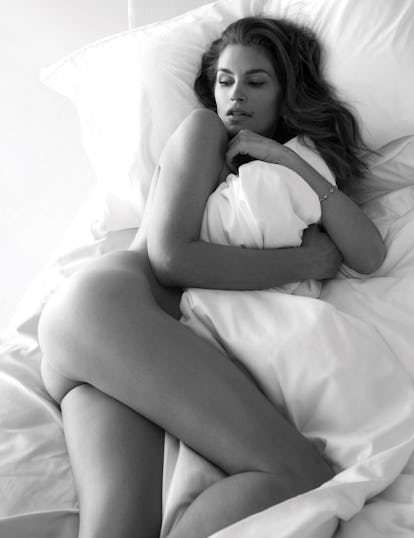 When Dendy Engelman was little, she wanted to be Elizabeth Arden. The Charleston, South Carolina native grew up down the street from Arden's summer house (complete with a red door!), but by the time she reached high school, she was focused on med school and the rigorous dermatology track. Ever the consummate pro, the New York derm won't inject and tell, but patients of the television, film, music, and social variety fill her datebook. Here, she talks fat injections, laser technology, and what's in her purse.
Did you always know you wanted to be a dermatologist? In tenth grade, my dad [a doctor] took my chemistry class to the hospital, and I was like, "Oh. I could do this." I thought I'd do general medicine, even though I always loved dermatology, the ability to see what you're treating. But in medical school, dermatology is so competitive. You're shooting for the moon. In the state of South Carolina, there are 3 spots a year and 600 applicants, and they're all equally qualified.
So what did you do? Well, I also loved internal medicine. Think about it: People are about to die in the ER and you're doing chest compressions and bringing them back to life! Versus, "Here's a cream." The chairman of internal medicine at Mt. Sinai flew down to my home in Charleston and said, "You're a healer. You don't need to be doing all this dermatology. We'll open a spot for you." My life almost took a huge change, but I stayed with dermatology. My dad jokes that he's the only parent disappointed that his daughter matched in dermatology.
What are your thoughts on fat injections? I love the way they look. I think they look very natural, and it's very affordable in that we all have fat. The problem is that what takes is unpredictable. Some people have many cells that take and many have few cells that take and the rest die, so the results are disappointing. There's no way to know who will respond well. And you have to go through a lot to harvest it, then wait, then get it processed and injected. Then to have to do it all over again?! Fat is very labile. That's why we can Coolsculpt it or radiofrequency it away. And so by removing it and the way we process it, frequently it doesn't last. It's very pretty in fine lines and for people who are really young, but I want a workhorse with my patients. I can't do that with fat.
Let's talk about BTL Vanquish ME, the laser technology utilizing radiofrequency energy to heat and eliminate fat on the body. Where are you doing Vanquish most? On bellies? Yes. We have both hand pieces, so there's one device that's basically a panel that does flanks and love handles. You just lie there for 45 minutes and it's super easy. It's just warm.
In other words, bring a book. Yes. There's a thigh hand piece as well.
Does it work on cellulite or is it more for circumference? If you're thin already, you're not going to see a ton of circumferential reduction. It's more that my patients tell me they feel that their pants are looser. But it can certainly work on cellulite, too. You can increase the distance of the machine from the skin, so that the radiofrequency penetrates to the dermis to tighten, vs. the fat layer, which is deeper and is targeted when the panel is closer to the skin. You can cater it to what you need.
And arms? I'm sure you can finagle the panel. It's not approved for that, but I'm sure some technicians do arms.
What can I do about my uneven skin texture? Let's do the Fraxel instead of monkeying around with the stuff that doesn't work. It smoothes out the texture and fills in all the fine wrinkles.
Enough about me. What about you? What beauty products are in your purse? Oh, I try so many things. Elizabeth Arden lipstick in Nude 43 and Tom Ford lipstick in Indian Rose. I also have Chanel Levres Scintillantes lip gloss in #119. And concealers! When you're a new mom and you're not sleeping, you need concealer! I've been using Cover FX Cover Drops as concealer because I'm so dark right now. Givenchy Teint Couture Concealer is also in there! And I love Clé de Peau radiant fluid foundation. O 20 is my shade.
What's your first beauty memory? It sounds so contrived, since I consult with them, but Elizabeth Arden. I grew up around the corner from her home in South Carolina. She wasn't there—it was her summer home—but it was a beautiful house. She had a butler and on Halloween they'd give these huge king-sized candy bars. It conjured up this whole idea of this big house, owned by this fancy woman from New York. And it had a red door. She sold it to another couple, but everyone in town called it the Elizabeth Arden house. When we were little, we would do fake TV news videos, interviewing famous people who had lived in South Carolina. And I would always be Elizabeth Arden. (We had pretty slim pickings. It was between her, Vanna White, and James Brown!)
What was your worst beauty blunder? In ninth grade, I had some pretty awful bangs. My dad, who doesn't really care about aesthetics, came upstairs to my bedroom and told me he'd pay me to grow them out. Personally, I thought they were a work of art. I played all these different sports—full games of basketball, then cheerleading, for hours and hours—and they did not ever move. Everyone on my team was amazed.
What discontinued beauty products or shades do you mourn? Chanel foundation in Honey.
What's your beauty peeve? All my patients who still go out in the sun and say, "But I wore SPF!" As if a pea-size amount of sunscreen on their entire body will do the trick. And then they turn mahogany. Even those who have a family history of melanoma think that if they're wearing a little sunscreen, they're not getting damage. I'd rather you say "I love the sun and I'm not wearing sunblock" and own up to it.
Who do you think is over 40 and looks fantastic? Cindy Crawford is pretty timeless. She looks almost identical from pictures of her 20 years ago. And, of course, Sofia [Vergara]. I swear she gets prettier every time I see her.
What's your beauty hack? I use coconut oil to take off my eye makeup. Does that count? Just as its good for scalp health and hair, it also strengthens and conditions my eyelashes.
What are you currently obsessed with? Honestly? My son Gadsden! He's so precious, I feel like my heart will explode most days. Oh, and skin wise? Sleep masks!
Watch W's most popular videos here:
Photos: The Truth About Fat Injections from a Celebrity Derm
Dendy Engelman at the Opportunity Networks annual Night of Opportunity in New York, New York, April 2014. Photo by Getty Images.
Dendy Engelman at Douglas Hannant Fall 2013 during New York Fashion Week, February 2013. Photo by Getty Images.
The red door at Elizabeth Arden's home. Photo courtesy Dendy Engelman.