Destry Allyn, Steven Spielberg's Youngest Daughter, Gets Into Modeling
The 20-year-old aspiring comedic-actress gets candid about why she's much more than a famous last name.
---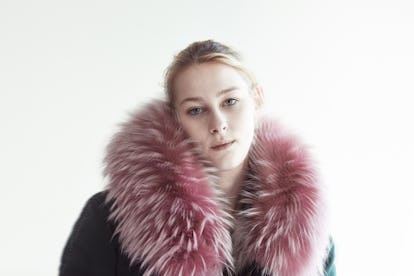 If you want to see the next generation of Hollywood royalty, look no further than the Dolce & Gabbana runway. Past shows in Milan have featured Cindy Crawford's son, Pamela Anderson's sons, Lionel Richie's daughter, the Stallone kids, and Bob Dylan's grandson—to name a few. And this season, director Steven Spielberg's youngest daughter, Destry Allyn, will make her debut.
Recently signed to DT Model Management, the 20-year-old Los Angeles native has never been to fashion week nor Milan, but she isn't nervous. She's an aspiring photographer and film buff, so she's comfortable in front of the camera, and she's also comfortable in her own skin. Her ultimate goal is to be a comedic actress like the women in Bridesmaids. And she arrived at the W magazine offices with little makeup on and worked her puffy pink Mr. and Mrs. Italy fur coat like it was any other afternoon. As for Milan, it also helps that she'll be walking with longtime family friend, Gabriel Kane Day-Lewis—who is the son of Daniel Day-Lewis, who won his third Oscar (!!!) for starring in—wait for it—Spielberg's Lincoln.
What were you like as a kid? I was crazy. I was always really goofy and weird. I've always been into comedy. I'm very, very honest. Sometimes it bites me in the butt, but I'd rather be honest than filtered. I just like making people laugh. I grew up with learning disabilities and Tourette, so that was tough for me. Horses were my life. This is my first year really not doing it and I miss it so much.
What's your style like, then and now? I've never been a girly girl. I'm not neat or organized. I hardly have makeup on right now. I look like I just died. But I don't care, that's the thing. I like being myself within my personality. But coming into modeling, you kinda gotta look good. But how do you show personality in photos? Aesthetic-wise, I'm really into pink. But not the girly pink. Like that pastel Elle Fanning pink.
What are some designers you like? I love the classics like Chanel and Dior. Also, Alexander Wang. But I like runway shows that are actually a performance, like Alexander McQueen, Rick Owens, and like Dolce & Gabbana will be. But in terms of my own style, I'm a tomboy most days, but if I went to the Oscars or something, I would die to be dressed like a princess. But you can't be a princess every day. Like Marie Antoinette!
Have you ever been to the Oscars? Yes, I have, when I was 13. I don't know why my mom picked it, but I wore Lanvin. It was really elegant and simple, but I was 13, so what can you pull off?
Have you seen any movies that you liked recently? Moonlight was amazing. Lion. I watched Split last night and I actually really liked it. I feel like I've seen so much, but I can tell you one thing: I didn't like La La Land. I feel like it's just another movie that is very white and "artistic" and "original," but I don't think it's original at all. Sorry. There were so many movies that I think should be respected a lot more.
Do you have favorite movies of all time? My favorite classic movie that spoke to me in high school was Splendor in the Grass, which was made in 1961. It's depressing and super long, but it's so good. It speaks to girls in high school dealing with boys and falling in love. And then Bridesmaids. It has every single one of my favorite actresses in it. Like, I would love to be a comedic actor.
Have you ever done stand up comedy? No, but I've spoken at weddings? I feel like that's close? I get a lot of laughs, and it feels good. But I don't think I could stand up and have something organized.
What do you like to do for fun? I'll put it out there, I don't really go out out. If I go out, it'll be for movie nights and game nights. My friends are all film geeks and artistic people. L.A. is hard because it's not really a place to explore your fashion taste. Unless you're in Silver Lake and you're a hipster.
What's something you would never wear? Black and orange together. I would never wear short body-con dresses. I did in 9th grade and it was so gross.
Have your parents influenced your style at all? My mom [Kate Capshaw] is super stylish, but she won't let me borrow her stuff. I remember I asked to borrow a white tank top, and she said no because it was like $400 or something like that.
Have your parents given you any advise about putting yourself out there? My parents support me, but I know what I'm doing. I got this!
Do you have a prized possession in your closet? I collect bathing suits. Like old Eres that you can't buy anymore. I'm a fanatic. I troll on Instagram. I love late-'70s and '80s high-rise bathing suits.
Have you been dealing with getting more followers lately? I love social media, but I'm not a part of the competition. I'm very much myself on social media. If people don't want me because I'm weird or too crazy, I don't want to work for them.
How is it having a last name that everyone knows? To be honest, I've been somewhat frustrated. I go into things feeling like, did I get this because I'm really up for it, or because of who I am? It's hard, because if people are just going to take me for my name, then this isn't the right industry for me. I'm trying to be myself, but I'm really trying to just go by Destry Allyn now. Everyone has stage names, and Destry Allyn is my stage name. It's not about self-confidence; it's more about frustration. It even goes for making friends; how do I find true friends? I don't know, maybe it's going to suck even more being more in the spotlight. I have high school friends messaging me who bullied me in high school, and they're like, 'Oh my god, fashion week! Let's get lunch!' And I'm like, no! You weren't nice to me! It's weird and hard, but it's a blessing and a curse.
Meet the 10 Breakout Models of New York Fashion Week
Agency: Wilhelmina; from: Florida; Age: 17

Photo Courtesy of Wilhelmina
Age: 18 From: France Agency: The Society

Photo by Biel Parklee
Age: 18 From: Brazil Agency: Ford Paris

Courtesy of Ford Paris
Age:18 From: Ukraine Agency: Elite

Photo by Biel Parklee
Age: 17 From: Wisconsin Agency: Ford Models

Courtesy of Ford Models
Age: 24 From: Vermont Agency: Next Models

Photo by Biel Parklee
Age: 19 From: Russia Agency: The Society

Courtesy of the Society
Age: 21 From: Australia Agency: Women Management

Photo by Biel Parklee
Age: 19 From: New York, US Agency: MC2

Courtesy of MC2
Age: 20 From: South Korea Agency: The Lions

Courtesy of the Lions
Go to know Pamela Anderson's son, Dylan Jagger Lee, below.