The Fast and LeFlufy
Up-and-coming designer Devon Halfnight LeFlufy talks about his new women's wear line.
---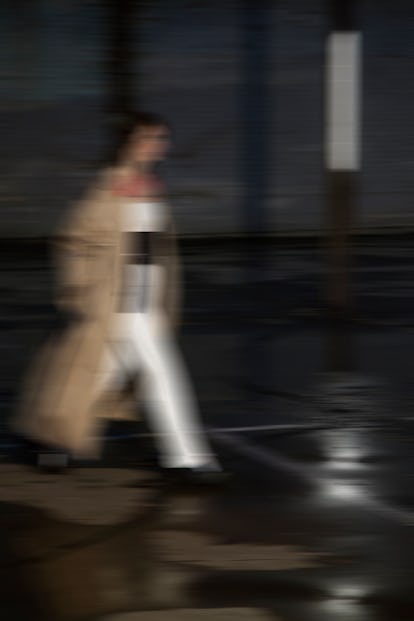 Still riding the high of being included on LVMH's young designer shortlist, Devon Halfnight LeFlufy will debut his first women's collection at New York Fashion Week this Sunday. A native of Antwerp, Belgium, the fashion designer follows in the footsteps of avant-garde masters like Dries van Noten, Martin Margiela, and Ann Demeulemeester, with his own twist, of course. Here, LeFlufy talks about his new collection, his inspiration, and what it's like to live up to the Antwerp legacy.
What prompted you to create a women's wear line? Starting my women's wear range was a very natural decision. Not only, are a large portion of our clients already women, but the way I approach design revolves around visual and textural ideas, instead of gender specifics. The image is my goal.
You were selected to be a part of LVMH young designers this year, what was that process like? I was very honored to be a member for the 2015 LVMH shortlist. As a designer straight out of school it was very enlightening to speak with such a high level of industry experts and get meaningful and intimate feedback from them in such a condensed period of time. I believe this is the most unique thing the contest offers to it candidates. Being selected did not cause me to change my practice in anyway. It actually reaffirmed that, though building your own brand is a trying process, I need to continue to cultivate my vision and believe that I am doing exactly what I am supposed to be doing.
Where do you find inspiration? What were the influences that went into this new collection? I am addicted to new things, information and experiences, so my inspiration always comes out of an effort to synthesize all of the things I see and feel. This season is a soft homage to the dying breed of subcultures. With the propagation of media acting as it does, the incubation period for profound social or aesthetic change via youth culture, does not exist like it used to. The art of reference has become obscured and the vital knowledge behind it is no longer needed (in some people eyes). Metarelx portrays a cultural numbness, myself and others around me have been feeling. Things are juxtaposed without thorough research or context – just put the cool things together and it has to work – I think this is a pity because forward movement is always based on what has already been done. I tried to articulate this state of mind in Metarelx, while being sure not to make the mistake of taking the stance of an evangelist. I simply want to use it as a capsule as I move forward.
Antwerp is known for its designers—what's it like working in such a creative city? Antwerp has a magic to it. It is a village but it manages to produce some of the most progressive artist of our time. You are surrounded by heritage, Flemish primitives, Gothic architecture and the legacy of the Antwerp six, but you never feel bogged down by it. Instead it grants you the space you need to decide what you want to do and what you want to contribute to your craft. Antwerp is the perfect place to hide and focus on what you truly want to do.
As gender lines become increasingly fluid, does this influence how you design clothes for women vs. men? I think the blurring of the borders between men's wear and women's wear have become part of how any relevant designer thinks today.
Who do you imagine as your women's customer? My women's customer is an extension of my men's customer. They might even date each other. They are looking for empowering clothing that offers them an air of subversion, but still captures the deep seeded interest in contemporary art and new media. The most important thing for my client is that they are granted access into a world where they can be empowered to surprise themselves with their choices and views. The true luxury is time and ideas.
Photos: The Fast and LeFlufy
Photo by Quentin De Wispelaere; editing by Devon Halfnight LeFlufy Studio.
Photo by Quentin De Wispelaere; editing by Devon Halfnight LeFlufy Studio.
Photo by Quentin De Wispelaere; editing by Devon Halfnight LeFlufy Studio.