All for Al-Hadid
The art crowd went to Montauk to celebrate the artist's new exhibition at the Surf Lodge.
---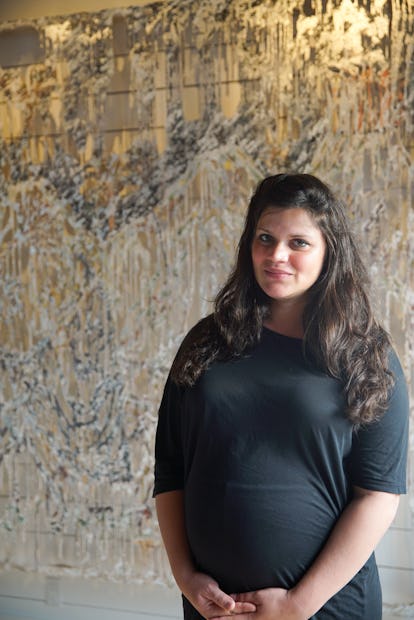 Out east on Long Island, it was a typically arty weekend: Larry Gagosian was spotted walking by Halsey McKay gallery in East Hampton on Saturday. He glanced at Graham Collins' puzzle-piece canvases through the window, but did not slow his stride. Later that night, a crowd spilled into Harper's Books down the block, where Marilyn Minter was signing copies of her new tome "Pretty/Dirty." Some then migrated to a backyard cookout at the Fireplace Project, which was hosting an opening for the painter Dashiell Manley (pretty if slightly decorative abstractions). But on Sunday night, all the noise concentrated around the Surf Lodge in Montauk, which was opening a show at their in-house gallery, an airy little cabin off the lobby, by the Syrian-American artist Diana Al-Hadid. (The work will be shown around the property until August 28th.) She had been working there all week at the hotel's visiting artist program, which has in the past hosted the likes of Daniel Arsham, Dustin Yellin, and Jen Stark. (It can take fortitude to turn down a week at the Surf Lodge.) The very pregnant artist seemed to be enjoying herself, as the sun and a light breeze filtered in off the banks of Fort Pond, on which the Surf Lodge sits. The gallery had a seamlessness between indoor and out, water and land, that nicely mirrored Al-Hadid's work, which exists somewhere between sculpture and painting. (The lacey quality of her gold-leaf paintings feel especially right for the summery setting.) Then we sat down to dinner at a long table on the back deck, whereupon the shellfish platters rolled in. (Al-Hadid, who is vegetarian, had largely been subsisting on avocado toast while she was producing a new set of mylar drawings during her residency.) At some point, the artist Lucien Smith materialized at the table. Coming off a self-imposed hiatus, he was in Montauk surfing and slowly getting back into the painting studio. He heard about a gig the art-world rock band TV Baby was playing nearby, so off we went in search of the next thing.
Diana Al-Hadid. Photo by bfanyc.com.
Randy Scott and Alice Aycock. Photo by bfanyc.com.
Ellie Rines and Kristine Felix. Photo by bfanyc.com.
Sarah Hallock, Rohan Oza and Serra Pradhan. Photo by bfanyc.com.
Michelle von Mandel. Photo by bfanyc.com.
The Surf Lodge. Photo by bfanyc.com.
Randy Scott and Diana Al-Hadid. Photo by bfanyc.com.