Diane Keaton's Instagram Set Off a Weird Mystery About a Stolen Ring
Diane Keaton's Instagram has always been a conversation starter.
---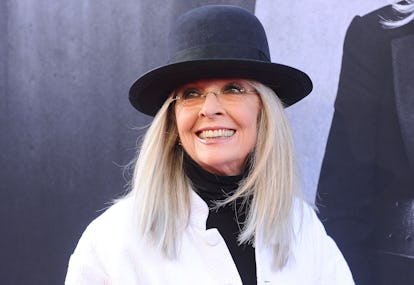 Jason LaVeris
Sometime last fall, when the world was normal, Diane Keaton was in Santa Barbra when, at some point, she saw a fortune teller with long black nails and decided she absolutely needed to take a picture and share it on Instagram. If you're familiar with Keaton's Instagram habits, this is not a particularly out of character move for her.
Where things get strange, however, is when a Real Housewife saw the picture on Instagram.
Kyle Richards, the longest serving cast member of Real Housewives of Beverly Hills and aunt of Paris Hilton, happened to come across the post and thought the ring looked awfully familiar.
In late 2017, Richards's Encino home was robbed while she was spending the Holidays in Aspen with her family. About $1 million in jewelry was taken, including numerous pieces that belonged to her late mother. Richards was shaken by the incident, and the case remains unsolved. So it is understandable that she would hold out hope that one day she might recover the stolen items.
Indeed, Richards believes that one of the rings in Keaton's Instagram was one and the same with her mother's ring that was stolen.
"I had the craziest thing happen," Richards revealed in an episode of Housewives. "I was looking on Instagram and I saw Diane Keaton — she posted a picture of a psychic's hands on the 3rd Street Promenade and they had my ring on her hand."
Richards further elaborated that she had her people contact Keaton's people to try to get information on the psychic, and even hired a private investigator. Though, the reality star says she didn't necessarily assume that the psychic herself stole the ring, but might have purchased it at a pawnshop. Richards further elaborated on her Instagram, alleging that she thought the ring was the same because they showed similar wear and tear. Of course, it stands to reason that rings of the same design may age in similar ways.
The story might have ended there: three women—a boardwalk psychic, a noted "Bravolebrity," and a beloved Oscar-winning actress—all linked by the mystery surrounding one ring. Then, in a twist, TikTok became involved.
A young woman claiming to be the granddaughter of the boardwalk psychic, hopped on to the video sharing social media network to clarify that her grandmother was neither a thief nor a connoisseur of shady pawn shop jewelry.
"Hey Kyle Richards, I see this post on Diane Keaton's story about your mother's stolen rings," says the woman. "I just want to clear things up. This ring right there, that's my grandma's ring."
The user confirms that her grandmother had the ring for decades (and also has had similar nails for decades, if you're curious). It does seem likely that the rings are of the same design, and not the exact same specimen.
Still, we can't imagine that Keaton, who has yet to comment on these developments, thought she'd be setting off such a complicated chain of events by posting a picture of some nails that caught her eye. Though, one kind of figures that the psychic might have.
Related: Diane Keaton, 71, Is the Most Underrated Celebrity on Instagram