Star Makeup Artist Dick Page Has Sass for Days
In a playful exchange with Jane Larkworthy, fashion's go-to makeup artist recalls his early days working with Calvin Klein and Marc Jacobs. At one point, he coyly goes: "We're veering near the tired question pit where all the boring questions fall."
---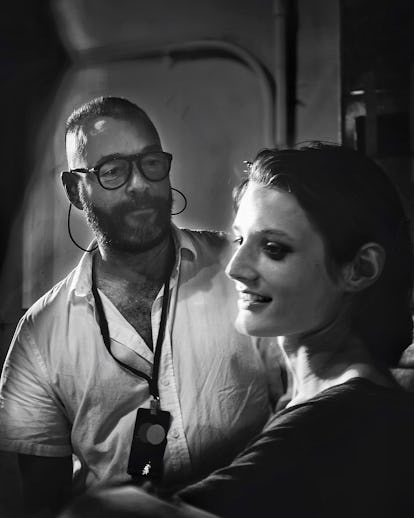 Makeup artist Dick Page is one cheeky dude. And lippy. Lashy? Not as much. With an impressive roster of shows from the fall collections (including Zero Maria Cornejo, Narciso Rodriguez, Creatures of Comfort, Hermès, and Jacquemus), the Shiseido artistic director tells the story of how he got into this whacky business and why he loves—and hates—parts of it so much. Hint: Before he worked on some of fashion's biggest faces, Kate Moss included, he spent his days as a butcher and then London's version of a One-Hour Photo.
Let's just dive right in. What did you want to be when you grew up? A fireman.
Really? No! But you know, the usual. Grew up in the country, three sisters, extended, sort of rented sisters that my grandmother adopted. With my uncle's kids, as well. It was very Wes Anderson. Do a cross-section of the house, and you had all the families living on five floors. Eventually we moved outside of Bristol in '77, which was the best part. It was the Queen's Jubilee.
Are you pro royal family? I'm not really pro monarchy, but I like the idea of her, because I think it's so demented. I like the fantasia of it. I went through the whole post punk anarchic thing.
Was that one of the reasons you got into the business? Sort of, because of the homemade thing. You had no money, so you cut your friends' hair, did your own makeup, made your own clothes, went to the thrift stores and you could do that because you're young, skinny and everything fits. So, punk, New Wave, fashion DIY, makeup, hair…blah blah blah. And at that time, when I was 13, I was working in a slaughterhouse.
How'd you get into the slaughterhouse? It's what you do if you live in the country. You can deliver papers or you can work on the farm, but most of the farm work is taken up by the farm families. So, that's my medium: butchery.
That explains all the food Instagrams. But…you should have seen me with yesterday's pork roast. It was (whispers) pathetic. I haven't tied a roast in so long, it took 45 minutes. It was sad.
So you're at the slaughterhouse… And I'm doing makeup on the weekends. Music was so tight with fashion. I probably wouldn't have been into it if it weren't for the music. And because Bristol is a college town, every band that was doing a record tour through Bristol.
Cool. Anyway, it never occurred to me that [being a makeup artist] could be a proper job.
How were you making money? I worked nights at Pronto Print, a photo lab in Boreham Wood in North London. My job was to take the big rolls of printed pictures and then scan them. Spinning them on the machine to make sure they were trimmed in the right place.
So it was like One-Hour Photo? Well, at that time, more like three or four days. And the genius was, when you got wedding rolls, you got the whole wedding timeline, including f—ed up bachelor parties, then the wedding, honeymoon, and the sex pictures.
What was your first show? Stephen Jones, the milliner. He did shows in his little atelier. I think it was on the top floor of a five-floor walkup. He'd serve tea and cakes and show his collection of hats. I'd do makeup on the girls, as well as the hair, which was basically 'Put it somewhere so it doesn't get in the way of the hat!' Stephen was already consulting with Shiseido at the time.
Was that your entree with Shiseido? No. That was way earlier. So Stephen was my first runway show, and then Calvin Klein.
Wait. We just skipped all over the i-D and The Face stuff. Oh, sorry. I met Melanie Ward in 1987 at Debbie Walters' agency, the same year I met [Juergen [Teller]](juergen%20teller w magazine 2013). Melanie first introduced me to Paula Bullwinkel, an American photographer who was living in England at the time. We did all this work for i-D, then with Nina Schultz, also an American photographer. We did the Yohji Yamamoto catalog through Peter Saville at Pentagram. Then working with Corinne Day and David Sims. Then Polly Hamilton, who was a stylist for Calvin Klein at the time, saw the stuff we were doing and called the agency. When Polly asked Debbie, "So, how's Dick about shows?" Debbie famously said, "Oh, he loves fashion shows! Does them all the time!" and they said, "We'd love him to the Calvin show in New York." She thought she was being pranked.
So you go to Calvin. He was still the designer, yes? Yes. He was very sweet and Polly [Hamilton] was great. She was the stylist. I want to give Polly her due: She was the one who said, "Bring these people! Do this stuff!"
She's a great discoverer of talent. She sure was. So! I went to a meeting, I did my thing.
So you had your test… Yes, and of course, Kate [Moss] was there, because she was the girl for Calvin. They'd brought her in a year before, and she did stuff with Patrick [DeMarchelier], before they brought me and Guido [Palau] and David Sims in. Later, Melanie came in. So, I got there and Calvin said, "Let's see the makeup."
What did you do? I put Vaseline on her eyelids and a little bit of lipstick on her cheeks and nose, like I do.
So you just trusted your own taste of what a Calvin look would be. I had no idea what a Calvin look was!
I'm saying, it's not Versace. Well, I mean, the ad is from the Seventies, so I had the idea of it. But think about this for a second: You couldn't Google it. If someone said Calvin Klein, you'd have to find a magazine and go to a secondhand store.
So you did the Vaseline and lipstick. He looked at it and said, "That's it?" And I said, "Uh, yeah. Pretty much." I'd never assisted anybody and never worked on a show. It worked and he loved it. Then we did a bunch of ad campaigns. I did Calvin for seven or eight years. That's where I met Narciso [Rodriguez], back when he was on the Calvin team, '92 or '93.
So tell me about Juergen. I worked with him on his Marc Jacobs campaigns in the late '90s, early Aughts. Those were the golden ad campaign years. Marc never came to the shoots.
Wow. He would sometimes send a stylist, sometimes an editor, sometimes someone from the office. More often than not, he'd send someone to make sure the clothes fit because they were celebrities, like Poppy Kain, the stylist. She was great at making the clothes work, because if you have someone who's not a model size, she'd fix it. She knew how it would work on camera, but still give the subjects some freedom. Marc never came. He was like, "I trust you." Winona [Ryder], Jennifer Jason Leigh, we'd just shoot and do it. Sometimes I was doing hair as well. They were very free. But ultimately, I don't give a shit. I'm not a social worker. What I'm doing is temporary. It's transparent. It washes off. You hope you're there for a reason.
They want you for what you do. It's disheartening when you're at a job and everything's laid out already. Here's the color, this is the stuff, this direction…
These are your lines… Yeah, I'm like, 'What am I bringing to this?' The deeper level is if you have a relationship with the people you're working with, you're informing the picture in ways that no one will ever know. You'd rather be a little part of something fantastic, an invisible part of a great, great picture, than a big part of a huge cockup. Because no one really cares. If it's all about the makeup and it's a bad picture, no one cares. Same thing with the clothes. Better to be invisible and have been present.
Let's talk about Maria Cornejo's show [Zero Maria Cornejo]. The fun thing with Maria was that she wanted "the girls coming in from the cold," and I'm like, that's my stock and trade. I've been doing that since God was a boy, but I knew Maria would let me do it in a way that would fly. I'm so happy about it. To me, it's borderline film makeup, or character makeup.
So cute! What is the Dick Page look? There isn't one. Best advice I ever got was from Paul Cavaco: You may not have to do everything, but you should be able to. So if it turns out that they want a Peggy Moffit eye or whatever, you should be able to do it.
I'm thinking about that look you did on Sofia [Copolla, for W's Summer 2014 supplement]. Did she have mascara on? No.
Mascara would be one of the first things out of your makeup lifeboat, it seems. But that's the funny thing. I feel like people want their little beauty crutches.
Crutches? Like mascara? Yes! Why?
Because…we believe it makes us prettier. Why?
I think I look more awake when I put mascara on. But that's the thing. I've become the two-year-old in makeup. I'm the one who says 'Why?'
You're also becoming the anti-makeup man. That's how I started.
Then what do you think every woman should use makeup-wise? Which woman? Are we talking about the pig farmer in Montana or the pig farmer in New York?
Yes. But you've got to be careful because we're veering near the tired question pit where all the boring questions fall.
But the reader wants to know! What is the healthy way to think about makeup then? Question everything. Why?
That's a little too nebulous. It's not. It's not. "Why" is a great place to start. "Why am I seasoning the skin this way?" "Why am I seasoning the food this way?" "Why am I applying mascara?"
Because I look better when I do. We've lost sight of the fact that makeup is temporary. It's ephemeral, versus the pair of shoes that are going to mock you for the next year because you spent a thousand dollars on them. You know what I mean? But why are we investing in it with so much importance when all we're doing is decoration? I love the word 'superficial.' I'd love to make a makeup line called Superficial. It sounds like a Zoolander joke, but it works. It has no judgement in the purest sense.
Do you have any opinions about all the YouTube makeup videos? I can sort of get into them as entertainment and distraction. Here's the thing: I don't care enough to say. The perfection thing is endlessly fascinating to me. I like the vernacular of the Internet, the flawlessness, perfection, which is basically handed down through drag queens. It's been filtered though the Kardashians and it's come back to hit everyone else. And the idea of beauty to my mind is the huge mistake of thinking that beauty is the result of the absence of imperfection.
So what got you into the displacement of makeup? Boredom? No, interest. The opposite. I like the idea of things being a little bit off or wonk, but not studied. The obsessiveness is a problem. Which happens with shows, designers, with product development. Don't lean on the idea too long. It doesn't generally ferment into something more interesting. It's not like writing or painting. It's not a creative process that can withstand that much scrutiny.
It's transitory. Exactly. It has to happen. And then, of course, the grace of it is that you can wipe it off and start again. Build and break, build and break. It's malleable. What we do is ephemeral. That's the most interesting thing. And we don't have to take responsibility because it washes off, which I think is great. Versus the whole plastic surgery thing—which doesn't wash off.
Watch W's most popular videos here:
Photos: Star Makeup Artist Dick Page Has Sass for Days
Dick Page and Sofia Coppola, W magazine, 2014.
Makeup by Dick Page. Photo by Hannelore Knuts, Dick Page, and James Gibbs.