Holiday Etiquette Tips From Social Media Emily Posts
The right way to send e-vites, the rules of reply-all, and what clichés to avoid on Instagram over the holidays.
---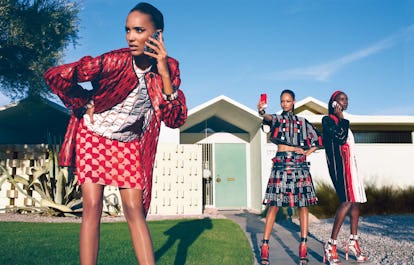 While holiday traditions may be as old as time, the digital etiquette rulebook for this time of year has yet to be written. So, we asked some familiar experts – @KillerAndASweetThang, (a.k.a. Eileen Kelly), Vine sensation @ParkerKitHill, photographer @OliviaLocher, and @AGuyNamedPatrick – for their tips on the right way to handle holiday e-vites, the rules of reply-all, Instagram faux-pas to avoid, and more. Take [iPhone] notes. Think of the below as Emily Post for the social media age.
What's the best way to invite people to a holiday party? @VaJiaJia: E-mail invitation, but bcc: all invitees. @ParkerKitHill: A group text. That's always the best way to reach a lot of people at once. @AGuyNamedPatrick: I prefer email and individual text messages, even if you just personalize a template for everyone. Both of those are much more personal (and tend to yield slightly better RSVP's) than e-vites or Facebook event invites. @KillerAndASweetThang: It depends on the formality! If it's a formal holiday party I would think invitations sent in the mail or e-vites would be the way to go. However, if it's more of a casual thing, Facebook or group text is perfect!
Do you ever hit "reply-all" to holiday party e-vites? @VaJiaJia: Never. Unsubscribe and get out of that e-mail chain the minute other people do! @AGuyNamedPatrick: No. Unless a .gif exchange is involved. Then yes, definitely. @OliviaLocher: Maybe by accident, but generally, no. @ParkerKitHill: This is kind of funny. I've honestly never been invited to a holiday party…. :/
How do you respond to a holiday party group text? @VaJiaJia: Reply if you know everyone on the text. If not, just ghost. @AGuyNamedPatrick: A group text is meant to be replied all. Which can get annoying, depending on the group—in which case you simply start texting your favorite person from the group and making your own plans… Am I the only one who does that? @OliviaLocher: In that situation, I will send a new text to the original sender.
How do you talk to someone you haven't seen in a while but whom you follow on Instagram? @KillerAndASweetThang: I feel like in this day and age there's a lot of that. You mutually follow someone you haven't met before then you end up running into each other. If we have never met before but both follow each other, then it usually gets brought up and it's like 'Hey, nice to finally meet you.' If I saw them post about some cool vacation or something, I'll bring that up. I'm not going to pretend that I don't know those things about them. @ParkerKitHill: I would 100 percent admit to knowing everything about them just so they knew that even though we don't see each other a lot I'm still supporting them as much as I humanly can. @VaJiaJia: Instagram citations are the best way to catch up! It means you care. @AGuyNamedPatrick: The best thing about Instagram as communication is that it gives us a shorthand for conversation. As a person with a good number of Instagram followers, people often preface comments about my lifestyle with, "I'm sure this is creepy, but…I know what you've been up to!" Hey, I put my life out there to see, and I love when you keep tabs.
Holiday party Instagram faux pas: @KillerAndASweetThang: Uh, no faux pas. I don't really think about it that much. Just post what I want , when I want. @ParkerKitHill: Honestly, photos of Christmas trees. It's just like how many times do I have to see a photo of a tree in a living room. I see trees enough outside. @VaJiaJia: Blurry group photos from parties with bad lighting. Find your light! @AGuyNamedPatrick: We live in the world of social media. It's all fair game.