Model Dilone Shaved Her Head "Impulsively," Has Zero Regrets
"No need for hair products really, and I can show up much later to shows."
---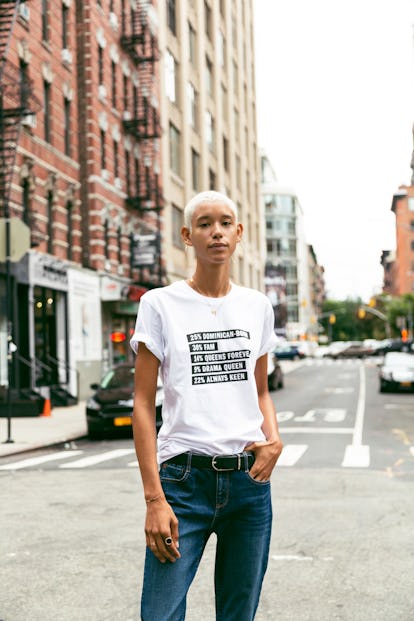 At Marc Jacobs's spring 2019 runway show, which closed New York Fashion Week last week, 37 models underwent a dramatic hair transformation before hitting the runway. The model Dilone was already way ahead of them. Though she did dye her hair green for the show, the 24-year-old had already made a major hair change before Fashion Week even started, shearing off her signature curly pixie cut in favor of a close-cropped shave—a decision she made basically on a whim. It's that kind of spunk and charm that has made Dilone one of the most in-demand models in the world. Most recently, she signed on as the face of DKNY's fall 2018 campaign, a celebration of New York City's individuality and diversity. Here, the model breaks down her favorite runway moments, and reveals why Rihanna is her ultimate style icon.
What made you decide to go super short with your hair?
I always wanted to do it, then did it impulsively. I figured, "Why not?" It's actually been easier! No need for hair products really, and I can show up much later to shows.
Favorite moments of fashion month so far:
Marc Jacobs, which just happened. I was so emotional. The show is so phenomenal and such an honor to be a part of.
Favorite runway moments of your career:
Marc Jacobs was definitely one. I was able to sport my own look. I buzzed my own head, then we decided to dye it green to match my look, which is my favorite color. Also, Versace. I wore a really short dress, and the catwalk was a spiral—it was sick! The heel I was wearing created a huge blister on my heel that started gushing when I took my shoe off, but I was just so happy and excited I didn't even notice until someone pointed it out. I love the powerful shows.
Describe your style in three words:
Laid-back, colorful, ambiguous.
What is your go-to outfit for a day off:
Comfy pants, tee, and Nikes.
Who is your ultimate style icon, and why?
Rihanna. She's not afraid to just go for it, and she really takes you in every direction; she ranges from masculine to feminine, covered up and showing it off! I also love that her hair is constantly a different style.
Best fashion advice you ever received:
You should be comfortable.
Most prized possession in your closet:
I have this amazing Prada jacket I just got. I haven't worn it yet, but I can't wait. It's from their last collection, leather with beads and a comic strip across the chest—very Black Panther vibes. Will definitely be something I pass down to my kids one day.
What was the last thing you purchased?
A Prada orange tracksuit made of nylon material.
Currently on your shopping wish list:
Belt bags.
Friend whose style you most admire:
Frederikke Sofie, Adesuwa, and Sora Choi.
Best fashion tip picked up on set:
It's incredible what you can do with a rubber band! Roll your sleeves up, pick up your pants. Also, just because a look is given to you, don't be afraid to mess around with it and make it your own.
What was your style like as a teenager?
Preppy but also sporty.
Biggest fashion regret?
My birthday in high school, I got a new outfit from Forever 21 and was so excited to rock it. I wore heels, a peplum skirt with a tank top, and this headband with a gigantic feather on top.
Where are you favorite places to shop?
Acne.
Favorite red-carpet outfit you've ever worn:
Victoria's Secret Fashion Show Pink Carpet from 2016 in Paris. The best part was I got to wear sneakers.
Favorite fashion moment from pop culture:
Rihanna wore this sick oversize blazer with kicks, a veil, and bright red lip. She looked so beautiful.
Song to listen to when getting ready:
Bob Marley.