To Everyone's Delight, Dionne Warwick Has Figured Out Twitter
Yes, that's really Dionne Warwick behind her Twitter account. And yes, she really can see your replies.
---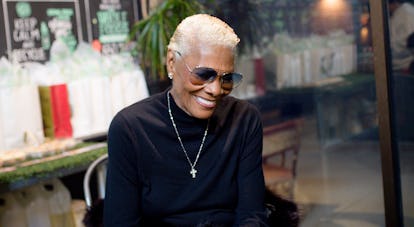 Photo courtesy of Getty Images.
When it comes to legendary celebrities on Twitter, we've all questioned the veracity of the personality behind the tweets. Is it a team running things for them, or could they really be that well versed in meme language and the mechanics of social media, publicly engaging with their followers and fans? Cher has had no problem letting us know (typos and all) she's behind her own Twitter account, and Jackée Harry's occasionally out of pocket online remarks have left some of us wondering if there's a close family member pulling the trigger on the Tweet button, but Dionne Warwick has taken that bird app to a new level.
The musician has recently learned not only how to send out quick little 240 character messages, but she has figured out memes, gifs, Internet vernacular, and more, in such a way that many of her followers have called into question the real person behind the tweets.
It all seemingly started weeks ago, when someone made a joke about slowness of the 2020 Presidential Election vote counting system. Referring to Warwick's time on The Celebrity Apprentice, when she steadily counted the cash in a register, the tweet suggested that election results were coming in slowly because Warwick was the one slowly counting the votes. The musician found the tweet, quoted it, and added her take.
She later sent out a tweet suggesting that you're not slick and she knows exactly what you've been up to when you add her songs to horny playlists.
You might be following her account, waiting for the Oz-like reveal and wondering, "Is that really Dionne Warwick behind this thing?" Well, she confirmed that she does have a social media team, but most of the tweets are coming directly from Warwick herself, unless noted otherwise. (She also noted that her social media team has the same personality she has online anyway—that's why she hired them.)
While her niece may have crafted a meme for her out of the Sue Sylvester "I am going to create" quote from Glee, the majority of the content you see on Warwick's account is really coming from the musician, and she'll happily let you know that if you have any doubts, you're simply not doing your research.
And don't worry, merch commemorating Warwick's sharp tongue is on the way.
Related: Comrade Carey: The Meaning Behind Mariah Carey's Newest Meme