Dior and Burberry Are Already Reviving Runway Shows
In exactly a month from now, Dior will present its cruise 2021 collection in Italy—a country that had the world's highest coronavirus death rate just a few months ago.
---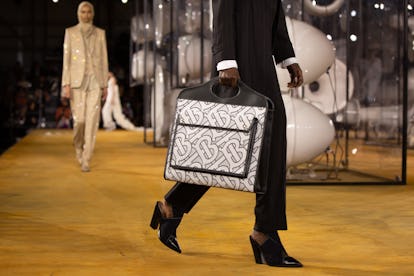 Serichai Traipoom
In exactly a month from now, Dior will become the first major fashion brand to return to the runway. On July 22, the house will present its cruise 2021 collection, marking its first show since late February. It's set to take place in the Puglia region of Italy—a country that had the world's highest coronavirus death rate just a few months ago.
"Mr. Dior had the courage to launch his line after World War II; this is in our DNA," Pietro Beccari, the CEO and president of Dior, said in a virtual press conference on Monday. He pointed to several reasons why he and the house's artistic director, Maria Grazia Chiuri, place such importance on live runway shows: "The first one is that for Maria Grazia and I, luxury is emotions. When it comes to fashion, nothing carries the emotion of a real fashion show," Beccari continued. "We would like with this to send a message of hope, of optimism, and for some people, rebirth after this period of difficulty."
"I think it's also important to remember that Fashion Week is not only important for fashion family. It's also important for the city where the fashion shows are," Chiuri said, noting that Dior has tapped local Italian artists to work on aspects of the show like lighting. "This is also our idea: Don't forget that we are important for others."
At roughly the same time on Monday morning, Burberry announced that it's also getting back into the runway game. On September 17, the house will present its spring 2021 collection via "an immersive show experience set in the British outdoors." The latter detail is key, as air circulation makes for a lower risk of coronavirus transmission. (To date, the U.K. has seen more than 304,000 cases of the virus, and more than 42,000 deaths, though Prime Minister Boris Johnson is expected to announce relaxed social distancing guidelines for July as early as this Tuesday.)
Both Burberry and Dior are keeping things audience-free. But Dior will hold its show "behind closed doors," albeit "rigorously respect[ing]" the region's security measures such as social distancing.
That's only one of the ways Dior is returning to pre-pandemic operations. While details remain scarce, Beccari confirmed that Dior will present its fall 2020 couture collection (likely virtually) on July 6. Unlike Marc Jacobs, Michael Kors, and several other major brands, it's also preparing for a business-as-usual Fashion Week in the fall. "We hope to have some audience in September, if not a full room," Beccari said of his plans for a live spring 2021 Dior show in Paris.
Related: Eckhaus Latta's New Ugg Campaign Is a Glimpse at Fashion's Future