Five Minutes With Francois Ozon
The director discusses the perils of creativity, his vampiric tendencies and Woody Allen's immortal status.
---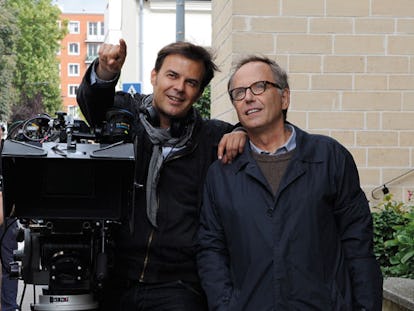 Considered an auteur in France, and one of a group often referred to as the "New New Wave," writer and director Francois Ozon has amassed a diverse and internationally visible body of work. His musical murder mystery 8 Women (2000) had a literally killer cast that included Catherine Deneuve, Fanny Ardant and Isabelle Huppert. In 2003, he explored writer's block and the blurring between imagination and reality in the sexually-charged Swimming Pool, with Charlotte Rampling and Ludivine Sagnier.
At the center of Ozon's latest movie In the House, which opens in New York on April 19, is Claude (Ernst Umhauer), a 16 year-old student who is teeming with ideas but totally lacking in structure. (The film was loosely adapted from the Spanish play The Boy in the Last Row.) Claude catches the eye of a literature professor, Germain (Fabrice Luchini), who encourages his writing endeavors, which entail infiltrating a bourgeois family's home and penning their secrets. As Claude's short stories build, he becomes increasingly invested in their events—as does Germain—and soon his literary narrative becomes indecipherable from reality. Here, Ozon, 45, discusses the perils of creativity, his vampiric tendencies and Woody Allen's immortal status.
In an interview about Swimming Pool, you said you felt Charlotte Rampling's writer character was somewhat autobiographical. Do you feel the same way about either Claude or Germain in this film? Yes, when I discovered the play I thought it could be the right material to speak about my work, like a self-portrait of my process of working, the questions you can have when you are writing, doing a film, what do I do with this character? In which direction do I go? I thought it could be a good opportunity to share all these questions with the audience. And to put really the audience in this process of creating a story.
Yes, you really put a lot of onus on the audience. There are so many moments as the film progresses where we can't distinguish between what is happening and what Claude is making up. It's up to us to make that decision. That's the danger of creation. It's a kind of madness. Because that moment when you are totally obsessed with your story, you can confuse reality and fiction. I tried in my mise-en-scene in the beginning of the film to be very clear what is real and what is fiction. But step-by-step as we go through the film, you realize you don't know anymore what is fiction and what is reality and it was the idea and challenge of the film to mix them and decide myself in my mise-en -scene to show everything in the same way. To decide that everything is true. But at the end, for me it's an opportunity for me to say, 'I don't care if it's real or fiction.' Everything is the same story.
If this is a self-portrait of your work process, does that mean Claude or Germain is representative of you? I have the feeling still to be a student. I don't consider myself as a teacher at all. I still need to learn and I'm still learning. I feel closer to Claude. Maybe when I was younger I was like him.
When you were a student, did you have a similar relationship with a mentor, though without the dark undertones in this film? I was not good at school at all. I didn't like to learn. And when I decided I wanted to make movies, suddenly I became a very good student. And I had some very important teachers in university and film school in France. Eric Rhomer was my teacher at university and was very important for me. But I didn't have a teacher like Germain, not so close. But with directors like [Rainer Werner] Fassbinder and Ingmar Bergman, you don't know them in reality but you learn a lot watching all their films and sometimes you have the feeling they talk to you. There is a link between the films and you and when you see all the films of a director you have a feeling to learn some good lessons so it's like a very good teacher.
Speaking of other directors, it was interesting when Germain entered the narrative of Claude's story and began speaking to him. It was reminiscent of Woody Allen. Of course. But everybody speaks of Woody Allen, but Ingmar Bergman did that first in Wild Strawberries. Actually it's a tradition that comes from theater, you see that very often in theater. It was a risk. I didn't know if it would work. It's not so usual. Especially when it's not really comedy. But I think it works very well and it shows how much Germain is involved in the story, he wants to know so much what will happen. I thought my reference to Woody Allen was more in the couple of Jeanne (Kristin Scott Thomas) and Germain, I had in mind Diane Keaton and Woody Allen in the films they did in the Nineties. But I don't know, in France Woody Allen and Diane Keaton are like gods. I don't know if in America it's the same thing?
I think it's fair to say it's the same thing. When you are working on a project, do reality and fiction blur for you the way they do in this film? Yes, when you are obsessed with a story, you are thinking about it all the time, you are dreaming about it. I don't know if it's dangerous for me, but it's dangerous for other people in my life. Because I'm like a vampire, I can eat the blood of all the people around me. So it's dangerous for my family and the people around me because when you're obsessed with something, the story is more important than everything.
What next project are you working on? I finished a new film called Jeune et Jolie. Which means "Young and Beautiful" in English. And it's a portrait of a girl of 17 who discovers her sexuality. And maybe will be in Cannes. It will be released in France at the end of August.
So you're still dealing with adolescence, but a different strain of it. It was very common for me to work with adolescence when I was younger and I did short films and my first features. But after Under the Sand and 8 Women, actually I worked with very mature actresses. So it's a comeback to my youth, because I feel old. So maybe I need fresh flesh.
Photos: Jean-­Claude Moireau