The Most Soothing DIY Baths Recommended by Celebrity Skin Experts
The go-to aestheticians for Gigi Hadid, Kate Moss, Hailey Bieber, and more share their favorite recipes to create a relaxing at-home bath experience.
---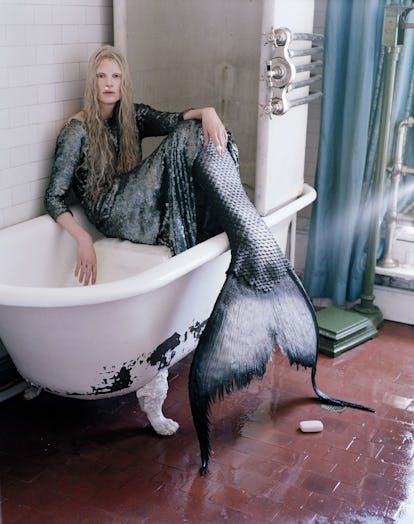 "Far Far From Land" Photographed by Tim Walker. Styled by Jacob K. W Magazine, December 2013/January 2014
For the past several weeks, the majority of us have spent inordinate amounts of time sifting through pandemic-related memes, or group chats about someone's cousin's brother who claims to have inside information from the government about COVID-19 and the state of the world's future. While intended to make us feel better, the influx of information we receive daily, even from our well-meaning peers, can not only be unnerving, but over time, soul-crushing. The great unknown—currently on the minds of many—can add stress to an already frightening situation. In these moments, making time for self-care should not just be a fleeting trend, but a priority for our sanity. Regardless of however many hundreds of skin tutorials you watch, or maniacal squats you push yourself to keep up with online, your body will never be at peace if your mind is not.
The home bath is one of the most underrated self-care options that exists to calm, center, and quiet the mind. Below are some simple, holistic DIY bath recipes from respected skin experts that will soothe, restore, and balance your body and brain.
Dr. Barbara Sturm: Milk and Honey Bath for Nourishment
The model favorite who tends to the skin of Gigi Hadid, Hailey Bieber, and Shanina Shaik is a proponent of the milk bath. "A great DIY bath approach during quarantine is a milk bath infused with honey. Whole milk is full of nourishing vitamins and minerals, especially vitamin E—which is an antioxidant that helps support cell function and skin health—as well as zinc, which holds not just anti-inflammatory, but anti-bacterial and anti-acne properties which are ideal for soothing and healing skin. Whole milk also contains lactic acid, which acts as a mild exfoliant by loosening the conjunctions between dead skin cells. It's an easy, DIY skin fix that usually costs less than ten dollars. For best results, take one carton of whole organic milk and pour into your bath until fully combined into the water. I also recommend that you add honey, which contains amino acids, antioxidants and anti-bacterial properties, to add an extra hydrating and calming effect. Dissolve one cup of honey in hot water before adding it to your bath so it evenly distributes. Another important tip for your best bath: the darker the honey, the higher the antioxidant content."
Teresa Tarmey: Magnesium-Infused Bath for Relaxation and Skin Health
Tarmey, the London-based go-to skin savior for Kate Moss, Sienna Miller and Suki Waterhouse recommends a bath routine relying on the benefits of magnesium chloride. "For the most beneficial at-home bath, I first start by body brushing. This softens the skin and makes you feel extra clean and refreshed. Then I prepare a magnesium salt bath. Magnesium salts are an important part of a relaxing at-home bath because the transdermal absorption helps relieve any muscle aches and also is beneficial for skin health overall. After the bath, I finish with my favorite body oil, Hayo'u Revive Body Oil. I find it very calming. If I'm feeling like a real treat, I use the Gua Sha tool on my face and body afterward, too."
Dr. Patricia Wexler: Essential Oils for Healing
The renowned New York dermatologist on speed dial for Hollywood A-listers and fashion icons touts the benefits of essential oils for moisturizing and healing. "When I am lucky enough to grab time for a relaxing bath, I set the mood first with candles and calming essential oils. I have always found lavender to a be light and soothing scent. I associate it with relaxation, calm, and sleep. Other essential oils associated with a sense of calm and well-being that I use for the bath from time to time to help decrease anxiety and improve my sleep are ylang ylang and even the citrus oils such as orange, grapefruit and lemon. It is important to point out that when using oils for bathing, you also need a carrier oil such as jojoba or coconut oil to even the distribution in the bath and prevent irritation. For my personal favorite, I add several drops of ylang ylang mixed with grapefruit and blue tansy, mixed with water before I add it into the tub. During the bath, once I feel the need for another bath, I know it's a success."
Angela Caglia: Coconut Oil and Lavender Bath for Calming
The aesthetician of choice for Helena Christensen, Minnie Driver, and Sting emphasizes that ambience is just as important as the elements you put into your bath. "I encourage a dim-lit room for tranquility, soy lavender candles as the scent is very calming, and even fresh-cut flowers for aesthetics. I also line the bath with healing crystals and I even put some into the bath. I'm a fan of Goop bath salts—I'll use that—some essential lavender oil, a bit of organic coconut milk for extra moisturizing and Epsom salts as well. I like to be efficient too, so I'll make a DIY mask for my face, which consists of half a cup of Greek yogurt, a tablespoon of honey, half an avocado, and a tablespoon of cornmeal if I want a light exfoliant in the mask. I do small circular movements on my face toward the end of the bath—by then, not only is my skin glowing all-around, but my body is super relaxed."
Joanna Vargas: Herbal Bath for Hydration
The celebrity facialist responsible for the immaculate complexions of Elisabeth Moss, Julianne Moore, and Maggie Gyllenhaal recommends an herbal mix of elements for hydrating and skin brightening for the bath. "Take one cup of Epsom salt to promote muscle relaxation, ¼ cup of green tea leaves for skin brightening and oxygenation, and one cup of rose petals for hydration."
Related: DIY Face Masks for Your Self-Contained Self-Care Days