DJ Khaled and Goyard Are In a Twitter Fight Over a Jacket
Special Cloth Alert: The 163-year-old French Luxury Brand and the Snapchat icon were feuding over a very attractive dark blue zip-up.
---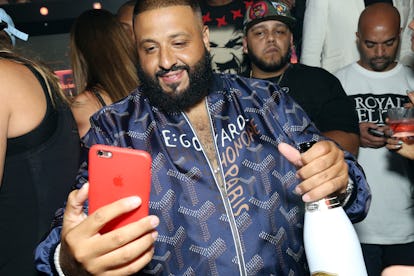 WireImage
Beloved human meme and record producer DJ Khaled was one of the highlights of Sunday's VMA spectacle with his exuberant hosting of the awards' preshow. He was looking fly, too, in a dark blue zip-up jacket in French leather goods maker Goyard's trademark print.
Here's the thing, though, save for a few special collaborations throughout its history, Goyard doesn't actually make jackets. Or any clothing, actually. The 163-year-old french company keeps its focus strictly on luggage and classic accessories. In fact, the brand has taken to Twitter multiple times to explain the fact that it doesn't offer clothes or more casual wares.
So anyone inspired by Khaled's style on Sunday who typed in "blue Goyard jacket" into Google would have come up empty handed. Some eager style hunters started @-ing the brand on Twitter either asking where the could buy it or for clarification that the jacket might have been a special official one-off made for Khaled.
Understandably, the brand is pretty protective of its intellectual property and wary of encouraging counterfeiting, so was quick to point out that Khaled's jacket wasn't an official product.
"Not at all an official Goyard item, that's for sure," tweeted the brand at one point.
"Hopefully DJ Khaled used official Goyard silk scarves, out of respect for Goyard and as not to promote counterfeiting," read a followup tweet.
It's not unheard of for celebs to be caught with counterfeits. Riff Raff has been called out for wearing fake watches, and Khaled's fellow Floridian and frequent collaborator Rick Ross was once criticized for wearing knock-off Louis Vuitton sunglasses on an XXL magazine cover. Khaled, however, takes special pleasure in his clothing, and often highlights new additions to his wardrobe on Snapchat with his "special cloth alerts." Counterfeits aren't a major key to success.
Thankfully, Khaled clarified on Twitter that his jacket was in fact made out of real Goyard scarfs.
To be particular, Goyard actually did want to make sure he was using genuine scarves.
With that clarified, Goyard deleted their original tweets, but some watchful observers did manage to archive a few.
Khaled would have been in legal hot water if he had commissioned a special designer knockoff, but there aren't laws forbidding people from modifying designer goods after they buy them. So, everything was on the up and up.
An unfortunate scuffle, but Khaled has vowed to buy more Goyard, the brand made an anti-counterfeit statement, and educated quite a few people about what it does and does not actually make. Most importantly, Khaled seemed to really like his outfit.
In fact, he ended up wearing the jacket during the rounds of VMA after parties. By that point, without a shirt on underneath, which was actually very on trend for the evening.
Update: Both Khaled and Goyard have officially buried the beef.
Watch W's most popular videos here: