Tattoo Artist Dr. Woo's New Skincare Line is For Everyone, Inked or Not
The tattoo artist talks about his new line, PROJECT WOO, and the challenges of launching a business in the middle of a pandemic.
---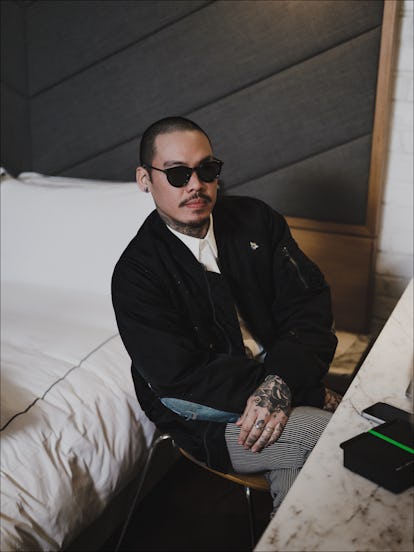 With a three-year waiting list and a coterie of celebrity clientele, tattoo artist Dr. Woo has bridged the gap between ink and high-fashion. In the past few years alone, he's flown to Paris to sit in the front row at Fashion Weeks, had an intimate two-week residency at the Freehand Hotel, produced a capsule collection with Sacai, and opened Hideaway at Suite X, his secretive LA atelier. Lately, he's been setting his sights on skincare.
Project Woo, touted as a "purveyor of quality goods from the curious mind of Dr. Woo," and it's eponymous skincare line, Woo, is about taking care of all types of skin, tattooed or not. Today, he debuted an after/care kit, containing a soap and moisturizer combo, and gentle hand sanitizer, rounding out a lineup that includes his gentle cleansing soap set, which was released in March, and moisturizing sun shield SPF 30, a sunscreen available for preorder for November.
Launching a skincare line almost two years in the making in the midst of a pandemic might deter the most seasoned entrepreneurs, and even the world's most infamous single needle artist is feeling the changes of lockdown. But instead of shying away from the pandemic, Woo has faced it—and it's effects—head-on. The brand pivoted it's initial launch back in March into a giveback product that raised $276,000 for the non-profit Baby2Baby, proving philanthropy is in the brand's DNA and will continue to be so with a rotating cast of initiatives.
"The pandemic changed my work in a huge way. Before this, I was on a plane traveling around at least twice a month. That was a big part of the brand, and who I was, and what kind of work I did." The work he has managed to do in the past few months has been meaningful—a tattoo for Kid Cudi of his daughter Vada, and more recently, a tattoo of the late Nick Cordero, who lost his months long battle with Coronavirus this July, on Cordero's friend Zack Braff.
Here, Woo discusses the inspiration behind his line and the challenges of launching a business during a pandemic—plus, he shares his advice for whether you should get that tattoo you've been thinking about.
First off, what inspired you to create a skincare line?
All the many years I spent tattooing, I've been in such close proximity working with the skin. Being a kid that grew up with sensitive skin, I was always aware of skincare and self care at an early age. To me, it was a perfect time to create something that was a solution for helping take care of brand new tattoos, but more importantly also provide awesome skincare for everyone, whether you have a tattoo or not.
Would you say there are unique challenges to formulating a skincare line specifically for a tattoo care?
I didn't want to create products specifically for tattoos. I wanted to create products that were specifically for enhancing skin in general, keeping the skin nourished, and taking care of and protecting it. If your skin is at the best it can be, the tattoos that live in your skin will also be portrayed on the best canvas. When I was getting tattooed and trying to figure out the best way to heal my work, it would get inflamed and infected. I was really nervous about getting a tattoo every time I got one. Using products that were just really simple, minimal, fragrance-free ended up working for me. With my own mind, I wanted to take it to the next step and just create a whole line that followed that code, but also make it for everyone. This line is super safe for everyone because there's nothing in it that could trigger anything. And on top of that, if you do have tattoos, it's perfect for that because of the line of ingredients that we follow.
Can you speak a little bit about how you landed on these particular products for your line?
The first products in our line, the after/care kit, are the first iterations of the most important aspects of taking care of a new tattoo. Throughout the years, I've found that a lot of these antibacterial soaps carry unnecessary ingredients. If you have sensitive skin, they can irritate it, make it more inflamed, and cause more risk of infection. So, we formulated a soap that's as simple and as clean as we possibly could, using the least amount of ingredients. That was actually really hard for me and the product development team, because we went back and forth, and I was striking out any ingredients that they had that I didn't feel were needed.
And the after/care moisturizer is for the second stage of healing to keep a tattoo moisturized and clean for the first 14 days. Every other product that we have are essential skincare items—I travel a lot and I have a family, and I just try to knock those all off the list of things that I have personally.
So actually, I wrote about Project Woo in a roundup a few months ago after you decided to pivot the launch of your soap to raise money for Baby2Baby. What made you choose to partner with Baby2Baby?
Our launch was set in April and we were super excited about it. We spent almost two years working on this project, and when we all got hit with the shutdown we were like, "Okay, we have to push the launch back because we're all sitting stagnant." That first week, there was a lot of fear, there was a lot of anxiety. We were all together in this weird time that was unprecedented. So, the focus for me wasn't really thinking about any business things. It wasn't thinking about how we could keep our careers going, it was more about: How can we take care of each other? And the team brought up an idea. We have all this soap that we were going to sell and right now it's more important that we're teaching our kids and we're teaching people in our community that we have to stay clean, and wash our hands, and stop the spread.
So, we thought, "Hey, why don't we sell all the soap, it's amazing soap, and push the initiative of watching your hands, staying home, staying clean. And let's donate all the proceeds to a charity or an organization that's helping people that need it the most at this time." That's how we started the idea of pivoting it to working with Baby2Baby. We chose Baby2Baby because I wanted to work with a team that was in my own backyard. Baby2Baby is an amazing organization out of Los Angeles and they're helping so many kids and families that were hit very hard. As a family man, that struck a chord with me.
I also read that going forward, 100% of the net profits of the gentle soap set will benefit summaeverything.org. How exactly did you pick that organization to align with?
I think a big part of what our message is taking care of ourselves and taking care of those around us. And me personally in all my projects and endeavors, I try to give back or spread awareness of how we can all help and be better. SummaEverything is an amazing food bank in South Central LA, and they bring organic produce, and vegetables, and healthier food options that some people don't have access to. I thought that was an amazing way to educate people, not only about what our words and actions can do, but how some of these communities are affected by simple things such as food—that can make or break a lot of growth.
You've spoken a lot about how the pandemic has affected your community, but can you speak to how the pandemic has changed your work?
I've been at home, which has been a blessing in disguise. I got to re-meet my family in a way. Obviously, I love them and we're close, but now that we're all together under the same roof 24/7, it's been nice to re-get to know my kids, and my wife, and we are participating in things that we may normally not have enough time to. So that's been a really cool thing to see and develop. I've been honing my other crafts, painting and doing some more work with my hands that I don't get a chance to, and focusing more on my other entrepreneurial projects that require my attention.
Have you been able to do any tattoo work in quarantine?
I definitely slowed down. For me, tattooing has been very selective. And like I said before, I've had so many other projects looming that I tried to make time for it. So now I work with trusted clients and friends that I've known for a long time. I definitely count my blessings because I've been able to make it work in this time, but I think for the tattoo community, it's been pretty tough, the same way it has been with our friends in the restaurant businesses and a lot of independently-owned small businesses.
I've noticed a lot of people want to get tattoos post-coronavirus, do you have any suggestions on how to not make a serious mistake when they're going in?
I think now it depends on what city you're in. I never saw the problem when the coronavirus hit because trusted, reputable shops were always very on top of cleanliness and keeping the shop sanitary and sterile. So, I believe that tattoo shops were the cleanest places that anyone can go to. That being said, there are shops open around people that want tattoos. Go through the process of researching and making sure they're a reputable shop. Chances are they're probably very clean and they're taking the pandemic very seriously, but I would just dig a little bit deeper than you normally would and test your comfort level with these artists.
You're also teasing a sunscreen which isn't going to come out until later this fall, but can you share any other plans you have for Project Woo?
We're going to have many side projects and maybe different home goods and things that relate to our essential needs and daily life. The Sun Shield is coming in November—that's going to be an amazing, fragrance-free product with clean, simple ingredients. And we're going to have many side projects, maybe different home goods and things that relate to our essential needs and daily life coming up. Anything that you may think of that you reach into your pocket or your purse, and you're like, "Oh, I have this," we'll probably be making that bridge.
I mean, you said you were painting in quarantine. Is it possible there'd be Project Woo fine arts?
We could make Project Woo brushes, and pallets, and maybe some fun easels, and things like that. Anything to help motivate and help create and inspire others.
Related: DIY Face Masks for Your Self-Contained Self-Care Days