Does Black Friday Live Up to the Hype? 6 Fashion Designers Weigh In
Some of New York's top fashion designers can't handle the pressure. Here, they recount their memories waking up early on Black Friday to hit the mall, and share their plans for this year.
---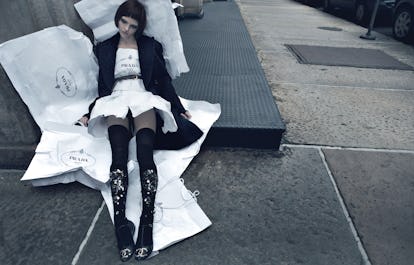 Photographed by Craig McDean, styled by Alex White; W Magazine September 2009.
While some shoppers have already been lined up for hours Black Friday shopping is not for the faint of heart. It requires endurance, focus, and an early alarm clock. Some people live for that type of shopping experience. For others, it's too much.
"The countdown and the rush gives me way too much anxiety," says Sylvie Millstein, the fashion designer behind New York-based women's wear label Hellessy. "I've never participated in Black Friday – I have little hope that I could get things I truly want through those major sales, as they are usually sold out long before."
Novis designer Jordana Warmflash agreed, and pointed out that getting what you want isn't only a problem when it comes to fashion. "One year I really wanted to get my friend the Avedon The Sixties coffee table book, and every site I looked at had only one left," she said. "So I ended up ordering from three different sites since I was sure they would get sold out quickly and I didn't think my order would go through on all of the sites." Believe it or not, Jordana ended up with three books. "Luckily, I decided to give the extras to my mom and sister and they loved it too!"
For Laura Kim, one half of the design duo behind the hit new line Monse, Black Friday just isn't what it used to be. "Black Friday used to be so much more fun and dramatic before Internet shopping became popular," she said. "One year, I remember going to Saks Fifth Avenue with my sister at 8 a.m. When we were in college, we went to the Woodbury Common Outlets at midnight! I can't wake up that early anymore, especially after a big dinner on Thanksgiving day. Now, it's all about Cyber Monday."
What Are W's Editors Buying on Black Friday? Kitten Heels, Cozy Knits, and Lux Accessories
Designer Jonathan Simkhai is also nostalgic for the good-old days of Black Friday. "Back in 1996, I was obsessed with having the Apple Quicktake 150 digital camera – which was very expensive at the time. After much begging, I convinced my mother to wake up early on Black Friday and take me to the mall to find one," he recalls. "Of course, I fell asleep in the car on the way there. My mother turned around and drove me back home. I was very upset that didn't get the camera that day, but it turned out well in the end. I got one for Hanukah a few months later!"
CFDA/Vogue Fashion Fund nominee Ji Oh had a more disappointing experience at Barneys' Black Friday sale. "About 10 years ago when I was in school I went to Barneys for Black Friday and bought a Comme des Garçons top," she said. "But the sales person ended up putting a wrong top (same brand) in my bag. I only found out when I got home but was never able to take it back to Barneys so I still have it. I've not worn it since I got it, but I keep trying to change it a little bit, to make it work for me." Sadly, it's still in the back of her closet. "It didn't work out!" Oh said, laughing.
Needless to say, she'll be skipping Black Friday this year, too. Designer Tanya Taylor will be out there, though. Not that you'll see her. "You won't 'find' me anywhere on Black Friday," Taylor said, pulling a fur hat over her eyes. "I'm an incognito shopping ninja!"
Watch W's most popular videos here: