Dolce & Gabbana's List of Models Has to Be Seen to Be Believed
Dolce & Gabbana has recruited everyone from Lucky Blue Smith and family to actress Jennifer Tilly to Stephen Speilberg's daughter to walk their next show.
---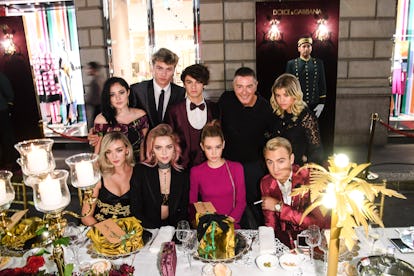 Venturelli
Dolce & Gabbana just released a minute-long video listing the dozens upon dozens of people who will be walking their Fall 2017 women's show on Sunday during Milan Fashion Week. One could spend well over an hour Googling all of these names while muttering to oneself, "What? Really? Huh. Wow!"
The list includes celebrities, influencers, YouTubers, bloggers and tons of celebritys' children. In many cases, entire generations of famous families will be walking together, along with multiple sibling duos. Bu notably light on the list? "Traditional" models.
Seriously, the list includes everyone from Lady Kitty Spencer, niece of the late Princess Diana, to Jennifer Tilly, the 58-year-old Academy Award-nominated actress best known as "The Bride of Chucky." (As the actress quipped on Twitter, "In case you don't have patience to read the whole scroll: a bunch of random people… and me!!!")
Dominik, Daniella and Alessandra Garcia-Lorido, the daughters of actor Andy Garcia, will all walk (notably, Alessandra has a career as a plus sized model). So will Marjorie, Lori, Amanda and Jason Harvey, the wife and stepchildren of Family Feud host Steve Harvey. Lucky Blue Smith and his three model sisters will be on hand.
Other celebrity scions include Destry Allyn Spielberg (daughter of Steven Speilberg), Renee Stewart (daugther of Rachel Hunter and Rod Stewart), Rafferty Law (son of Jude), Corinne Foxx (daughter of Jamie) and Gabriel-Kane Day-Lewis (son of Daniel) .
Influencers and social media stars include Vine star Lele Pons, YouTubers Juanpa Zurita and Marcus Butler, blogger Aimee Song, and Instagram cool kid Luka Sabbat.
Somehow, this is only scratching the surface. Take a look for yourself. Not even Philipp Plein has anything on Dolce & Gabanna when it comes to packing the runway with famous folks.
For its last womenswear show, Dolce & Gabbana notably flew in a who's who of young celebrity scions and influencer to sit front row (many would go on to appear in their latest ad campaign). For the latest menswear show, the Italian house packed its runway with many of those young notables, and they're definitely doubling down on the trend with this list.
While this list is certainly eye-popping and sure to cause some snarky responses amongst the fashion set, there is actually quite a lot of diversity in terms of race and ethnicity, age and body types to be found. The brand deserves some props for that.
The only question is, with all these famous faces on the runway, who will be left to sit front row? Actual editors, buyers, and clients, perhaps? What a novel idea.
Want more Dolce & Gabbana millennial madness? Here's a pictorial reminder of what the fashion house's favored set of scions and influencers did to the city of Milan last year.
Millennial Scions Run Amok In Milan
Zhang Huiwen, Sistine Stallone, Thylane Blondeau, Leon Else, Sonia Ben Ammar, Luka Sabbat, Pyper America Smith, Sofia Richie, Talita Von Furstenberg, Brandon Thomas Lee,Cameron Dallas, Isabel Getty, Rafferty Law, Zoey Deutch, Dylan Jagger Lee, Starlie Smith, Daisie Smith and Sarah Snyder attend the Dolce & Gabbana dinner during Milan Fashion Week Spring 2017.

Getty Images
Thylane Blondeau, Pyper America Smith, Brandon Thomas Lee, Cameron Dallas, Isabel Getty, Dylan Jagge, Zhang Huiwen and Daisie Smith.

Getty Images
Thylane Blondeau, daughter of model Veronica Loubry and Patrick Blonde, Sistine Stallone, daughter of Sylvester Stallone, and Sonia Ben Ammar.

Photo by @sistinestallone.
Sofia Richie, daughter of Lionel Richie, and Sarah Snyder.

Photo by @sarahfuckingsnyder.
Brandon Thomas Lee, son of Pamela Anderson and Tommy Lee.

Photo by @brandonthomaslee.
Sofia Richie, Pyper America Smith, Sarah Snyder, and Dylan Thomas Lee, son of Pamela Anderson and Tommy Lee.

Photo by @dylanjaggerlee.
Isabel Getty, great-granddaughter of American oil tycoon, Jean Paul Getty, and Talita Von Furstenberg, daughter of Alexander and Alexandra von Fürstenberg.

Photo by @isabelgetty.
Model and girlfriend of Jaden Smith, Sarah Snyder.

Photo by @sarahfuckingsnyder.
Luka Sabbat and Sonia Ben Ammar, daughter of international movie producer Tarak Ben Ammar and actress Beata Ben Ammar.

Photo by @itsnotsonia.
Hailey Baldwin and Zoey Deutch, daughter of director Howard Deutch.

Getty Images
Rafferty Law, son of Sadie Frost and Jude Law.

Getty Images
New York's Best Street Style Gets a Technicolor, Electrified, Animated Treatment