Domino Kirke, After Life as a Doula and Wedding Penn Badgley, Is Returning to Her First Love
With the release of her first solo album, Jemima and Lola Kirke's big sister finally has her moment.
---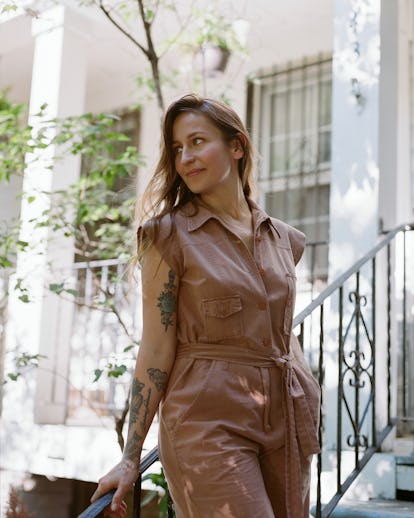 "I have very old neighbors," Domino Kirke said with a laugh. She was calling from Brooklyn, and explaining that she and her new husband, Penn Badgley, still have to keep the racket down in the recording studio they now share at home in Clinton Hill, Brooklyn, along with Kirke's eight-year-old son Cassius.
Lowering the volume is new for Kirke, who's been a musician practically her entire life, but at-home studios have been a constant. Growing up, her mother, the interior designer Lorraine Kirke, always fostered her children's bohemian proclivities, including art studios for Domino's sister Jemima Kirke, of Girls fame, or the acting career of their sister Lola. That was true no matter where the family moved, which was something they did frequently with Domino's father, the drummer Simon Kirke, always on the road with his bands Free and Bad Company.
Domino didn't love how the rock star lifestyle often uprooted the family, bringing them everywhere from London, where the sisters were raised, to Brooklyn, where they eventually ended up, but it did ultimately foster her own career. "We moved so much, but in every house we ever had, there was always a piano," Kirke recalled earlier this summer. "There was always music and always musicians in and out."
Kirke first started writing her own songs at home to play her father, and with a move from England to New York—where she attended the famous performing arts school LaGuardia High—that became a full-fledged career. A 17-year-old Kirke had solo gigs at venues like Joe's Pub and the Knitting Factory; by the time she was in her early twenties, Kirke was recording with Mark Ronson; not long after that, Kirke's band DOMINO began touring with the likes of Lily Allen and Gang of Four.
These heady developments should have launched Kirke's career. Instead, working and partying with famous artists, she recalled, "kind of scared me off." So when she returned from touring and was about to finish recording with Ronson, she instead decided to take a break: "Being in a band was so fun and exciting, but I was just kind of focusing more on performance and wasn't really writing the songs—I didn't really think I had a voice," she recalled. "Something in me knew I needed to take a step back to come back at it on my terms."
It was during that time off that Kirke also found out she was pregnant, at which point her son Cassius, rather than music, became her top priority—not that she ever exactly abandoned the latter. And now that Cassius is eight years old, Kirke, to her delight, is finally able to manage both: This Friday, almost three decades after she first started sat down at the piano, Kirke is at last releasing her debut solo album, a collection of 11 synth-driven songs that showcase how she's "come into [her] own" as an artist, with a folky, bohemian sound.
"It was kind of all or nothing," Kirke said of the album, Beyond Waves, which was co-written by Luke Temple of Here We Go Magic and produced by Joan Wasser of Joan As Police Woman during a two-year long frenzy when Kirke, 34, felt that "a career in music was going to pass me by."
In response, Kirke decided to throw all of herself into the recording studio—the "most transparent I've ever been in music." This time around, her deeply personal lyrics stem directly from stories she's told Temple over the course of their long friendship. "It was just really therapeutic for me to write these songs, like a cathartic experience," she said. "I didn't set out to write pop hits. This wasn't about getting the record deal. I just needed to get these words out, you know?"
Those words represent everything from anthems Kirke wrote as a teen about "feeling high off" moving to New York to heavier subjects she's only recently been able to parse. The album's opener, "Friend of the Family," is about her parents' divorce, and its closer, "O'Kane," details Kirke's experience as a single mom, even calling out Cassius's father by name.
Those days are, of course, long gone. Kirke's new partner, Badgley, is very present (if you couldn't tell by their not one, but two weddings this year), especially since he's something of "a homebody at the moment," working on a screenplay before he's set to star in a new Lifetime series. The two have even been contemplating releasing music as a duo, now that they share a studio and both have time to write; in the meantime, though, Badgley seems more than happy to simply star in Kirke's music videos, like the one for "Half-Blood," which also features Kirke's rarely seen half-brother.
If there's anyone who could get away without the help, though, it's likely Kirke, who's also worked as a doula for the last eight years, ever since her own "very traumatic" birth finally pushed her to pursue her "secret wish to become a midwife." Within a year, her personal practice had evolved into Carriage House Birth, a doula collective and agency that Kirke still co-owns, and that's expanding to Austin (and even publishing a book) next year.
The explosion of her business has actually helped Kirke to revisit the career she put on pause. "As the collective grew, I was able to let go of kind of raising my doula baby and focus more on music, because I was really missing it at that point," Kirke said. At the time, she was still on call for the seven families she's working with this summer. Now, Kirke is officially off-duty for the first time in ages—just in time for the record release, and for the tour that follows it.
"It's been tough being a musician and trying to get projects out there, because I'm going to be playing shows at 10 at night, when the moms [I work with] are relaxed," Kirke said. "I've definitely gone from a show, where I'm in full makeup, the whole thing, straight to a birth, and I've come home from those births being like, I don't know if I can do this anymore. I feel like a double agent."
She'll have plenty of backup around, though, in the crowd. "If it's not my mom, it's Jemima or my dad," Kirke said. Lately, Cassius has showing up, too—though somewhat begrudgingly. "He's always trying to get me to come offstage—he's like, Don't do that, mom, it's weird," she added with a laugh.
Kirke knows the feeling. Years watching her dad perform onstage has taught her a thing or two. "He makes weird drummer faces," Kirke said. "So I'm always like, Note to self: Do not make a monster face."
Related: Inside Jemima Kirke's Faraway Brooklyn Studio, Where She's Just Restarting Life After Girls
See W's most popular videos: