Donald Glover's Deadpool FX Show Was Cancelled Because of a Taylor Swift Joke
A joke about Swift was the "last straw."
---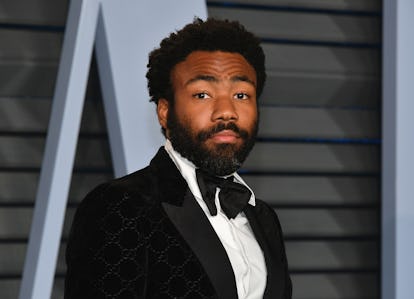 Dia Dipasupil/Getty Images
Much to the dismay of Deadpool and Donald Glover fans, the actor and writer's attempt to bring the franchise to live as an animated series on FX has been permanently cancelled—and Taylor Swift is all to blame. While Swift didn't personally have anything to do with FX shutting down Glover and his brother Stephen Glover's Deadpool show, it was a joke about her that led the network to cancel it.
"There really was a Taylor Swift episode," Stephen Glover wrote on Twitter in a since-deleted tweet, which The Wrap posted a screenshot of. "It was HILARIOUS. And it definitely was the last straw lol."
The brother of the Atlanta star also added that, "Our show wasn't too black. It wasn't really that black at all. But we definitely wanted to give Rick and Morty a run for their money and I think we would have. Proud of the gang."
There has been a lot of misinformation about the Glover brothers' Deadpool show, ever since FX first ordered 10 episodes of it back in May 2017, making them the writers, executive producers, and showrunners. Earlier this week, Donald Glover attempted to set the record straight by issuing a statement about it.
"For the record: I wasn't too busy to work on Deadpool," he wrote on Twitter, a tweet which has aslo since been deleted, as The Hollywood Reporter noted. In the thread, Glover shared excerpts from one of the scripts, which have also now been deleted. In one them, Deadpool wonders, "Do you think they canceled the show because of racism?! All the writers were black. The references were pretty black, too. I heard they went over lunch budget ordering Jamaican food at least once a week."
The network, however, has since issued a statement confirming that "creative differences" were the reason the Deadpool show was cancelled. "Due to creative differences, FX, Donald Glover, Stephen Glover and Marvel Television have agreed to part ways on Marvel's 'Deadpool' animated series," FX said in a statement, as The Wrap points out. "FX will no longer be involved with the project. FX and Marvel have an ongoing relationship through our partnership on 'Legion,' which will continue."