Tiffany Trump's Relationship With Her Dad Has Gotten "Much Worse" Since He Became President
Their relationship has gotten even worse since Donald Trump became president.
---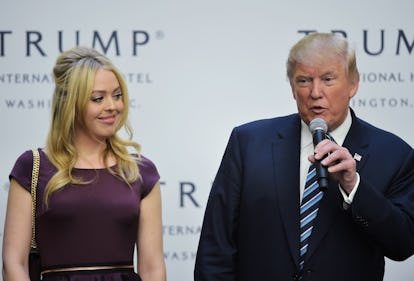 MANDEL NGAN/AFP/Getty Images
Ever since Donald Trump announced his run for presidency, his second-youngest child, Tiffany Trump, has been the subject of much speculation. It didn't help that she was seen seemingly dodging a kiss from her dad at his second presidential debate against Hillary Clinton, as Us Weekly noted at the time. Now, though, the status of their relationship has become more apparent: Tiffany rarely speaks to her dad, according to a new report from People.
"Since the inauguration, Tiffany and her father have sometimes gone for months without speaking and she went a very long time without seeing him," a source close to the Georgetown law student told the publication. "The last time she was at a family function with him, it was awkward for her and she didn't feel totally welcome."
That event may have been Easter weekend, as Tiffany accompanied her father and the first lady, Melania Trump, to church services in Palm Beach, Florida as well as the Easter Egg Roll at the White House. While Tiffany and the Trump patriarch were seen together during the holiday, it's not necessarily indicative of the state of their relationship.
"They always had a strained relationship her whole life, and it got exacerbated by the presidency," the source says. "It's gotten much worse now."
Apparently, one reason Tiffany isn't as close to Donald Trump as half-sister Ivanka is that the president doesn't get along with Tiffany's mother, Marla Maples, who essentially raised her daughter as a single mother. "Her daddy is a good provider with education and such, but as far as time, it was just me," Maples told People in 2016. "Her father wasn't able to be there with day-to-day skills as a parent. He loves his kids. There's no doubt. But everything was a bit of a negotiation." Maples added that she nevertheless encouraged Tiffany to have a relationship with her father.
Growing up, Tiffany only saw her father sporadically. "I would bring her into New York a couple times a year and let her go see her dad in the office and let her go have dinner with him and [Donald's wife] Melania," Maples recalled.
It doesn't help that Trump has referred to Tiffany's birth as an accident, either. Back in 2004, Trump did just that in an interview with Howard Stern, telling him, per Newsweek, "I'm glad it happened. I have a great little daughter, Tiffany. But, you know, at the time it was like, 'Excuse me, what happened?' And then I said, 'Well, what are we going to do about this?' [Marla] said, 'Are you serious? It's the most beautiful day of our lives.' I said, 'Oh, great.'"