A Brief History of Donald Trump's Obsession with Models on Television
When it comes to models, the President of the United States has never let the word "no" stop him.
---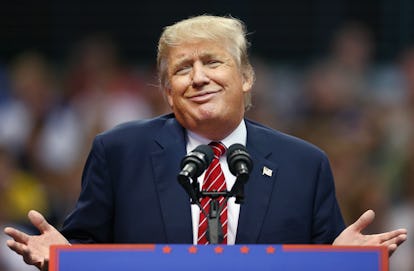 Tom Pennington/Getty Images
Donald Trump does not have the best track record when it comes to getting up-close with models, from the allegations that resulted from his curious wanderings into teen pageant changing rooms to the time he sat next to the model Vendela Kirsebom at the 1993 White House Correspondents dinner and conducted such a downright objectifying conversation that Kirsebom fled the scene in tears. She couldn't even make it through dinner with Donald.
Still, that's not to say Trump doesn't have his talents. He's a noted master of presenting his unsolicited opinions on women's appearances, and a self-styled baron of Nielsen ratings—two qualities that have seen some overlap in the last two decades of Trumpian entrepreneurial forays. Amidst his namesake modeling agency's apparent impending failure—and his defense of Bill O'Reilly, that other onscreen predator—a new piece of information about another of Trump's TV ventures has emerged: He once pitched a fictional Dynasty-style show for which, even before a script existed, Trump had a specific prerequisite: The big-haired cat fights of '80s yore must take place between real models, not actresses.
Given Trump's history, that specification was hardly a peculiar request. Trump pitched The Tower, about a group of models living in a Manhattan skyscraper (Trump Tower, probably), to the then-head of NBC Entertainment Jeff Zucker. Because The Apprentice was doing so well ratings-wise then for NBC, Zucker told his team to purchase the show, even though he had zero intention of ever putting it on the air.
But that wasn't the only model-centric TV pitch Trump ever made: In 1993, he wrote a letter to the then-ABC News president Roone Arledge, proposing a slightly more clunkily titled show: Donald Trump Presents the Most Beautiful Women in the World.
There, too, Trump insisted on "the real thing," asking for the participation of Claudia Schiffer, Linda Evangelista, Christy Turlington, and more prime-time supermodels (whom Trump helpfully insisted would ensure the show yuge ratings).
That one didn't pan out, either. But, clearly undeterred by rejection, the formula became stuck in Trump's mind. In 2013, he got the ball rolling on Trump Town Girls, a show about beauty pageant contestants tapped to work at Trump International, which Trump allegedly came up with in order to create some on-screen time for his daughter Ivanka.
Fail! The show never saw the glow of a TV screen, falling apart due to network worries about the size and, well, quality of the cast.
To be fair, though, Trump did at one point find some success. Aside from his Miss USA and Miss Universe pageants (some winners of which he signed to Trump Models), as well as the Trump models who have appeared on The Apprentice, he was also an executive producer on the reality show Pageant Place, a series that followed the lives of three pageant winners and found reasonable ratings on MTV. That utter triumph came in 2007—a full six years after Trump appeared in Zoolander. In that movie, he played himself, an industry expert.
See Model Gigi Hadid Reveal the Secret to Her Signature Runway Walk: