Donatella Versace Says Versace Will Stop Using Fur in Designs
"I don't want to kill animals to make fashion."
---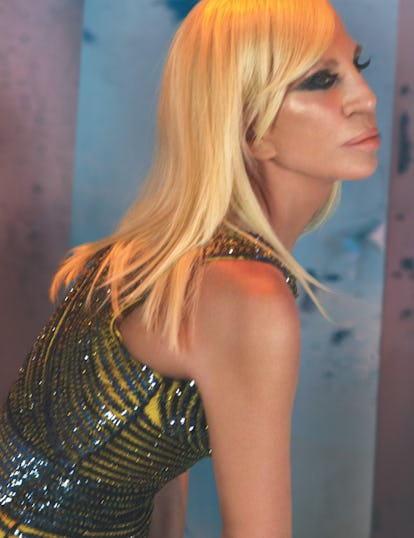 Photograph by Mert Alas & Marcus Piggott, Styled by Edward Enninful; Hair by Kiril Vasilev; makeup by Renato Bernardi; manicure by Adam Slee for Rimmel London at Streeters. Set design by Andrea Stanley and Emma Roach at Streeters. Produced by Across Media Productions; Fashion Assistants Ryann Foulke, Dena Gianni; Hair assistants: Taichi Saito, Sean Mikael, Rebekah Calo, Katie Schember, Cat Wyman, James Oxley; Makeup Assistants: Taylor Treadwell, Lauren Aiello, Anete Salinieka, Sergio Alvarez; Manicure assistant: Chiharu; Set-design assistants: Devin Rutz, Colin Lytton, Nathan Smith, Chloe Park, Amy Bairstow, Philip Doucedame, Warwick Turner-Noakes.
Twenty-one years after her brother Gianni's death, Donatella Versace is still evolving his iconic fashion line. The designer announced in an interview on Wednesday that she will no longer include fur in any of her designs for Versace. "Fur? I am out of that," she says in an interview with The Economist's 1843 magazine. "I don't want to kill animals to make fashion. It doesn't feel right." Versace has long been a symbol of excess, luxury, and glamour, and even currently sells a $1,450 rabbit fur pillow on the brand's website. The news comes as a surprise and the company has yet to put out an official statement or pull any fur products.
Versace follows in the footsteps of Gucci and Michael Kors who have both recently pledged to go fur-free. Furla, the Italian accessories company, also vowed on Wednesday to go fur-free starting with its cruise 2019 collection. In the past few decades, many other brands, including Tommy Hilfiger, the Net-A-Porter Group, Calvin Klein, Donna Karan, and, of course, Stella McCartney, have all also pledged to stop using fur.
When asked about rumors that Versace is searching for a new creative director to help ease the burden on Donatella's shoulders, she neither confirmed nor denied it, but suggested that Versace is embracing the changing times in every way. "Somebody came up to me recently and said, 'there will be a huge crisis if you leave – it will be a fashion disaster!' Can you believe that?," she says. "Yes I am Versace. But also Versace needs to mean change. And it needs to be an opportunity for others to express themselves." Soon, it seems, those who do include fur in their designs will be in the minority rather than the majority.
Related: Donatella Versace's Instagram Is Uniquely, Deliciously Ostentatious
The Evolution of Donatella Versace's Powerful and Bold Personal Style
Donatella Versace and Paul Beck at a dinner party honoring Richard Avedon, September 27th, 1993

Getty
Donatella Versace and Gianni Versace at the Costume Institute Gala, 1995

Getty
Matt Dillon and Donatella Versace at the Costume Institute Gala, 1999

Getty
Versace at the VH1 Vogue Fashion Awards, 2000

Getty
Versace at a fashion show and gala at Waddesdon Manor in Buckinghamshire.

Getty Images
Versace at the Vanity Fair Oscar Party, March 24th, 2002

Getty
Versace at the Giorgio Armani Retrospective Cocktail Party, October 14th, 2003

Getty
Versace at the Fashion Rocks For Princes Trust, October 16th, 2003

Getty
Versace at the Women's World Awards.

Getty
Versace at the Whitney Museum Gala, October 19th, 2009

Getty
Versace at the 20th Annual Glamour Women of the Year Awards, November 8th, 2010

Getty
At the Versace for H&M Launch, November 17th, 2011

Getty
At the Palazzo Versace with Lady Gaga, October 1st, 2012

Getty
At the Versace Runway: Paris Fashion Week Haute-Couture FW 2013-2014, June 30th, 2013

Getty
Versace at the Costume Institute Gala, May 5th, 2014

George Pimentel
Versace at the Costume Institute Benefit Gala, May 4th, 2015

Getty
Versace at the Amfar Paris Dinner, July 3rd, 2016

Getty
At the Versus Versace Runway at London Fashion Week Spring 2017, September 17th, 2016

Getty
With Gigi Had at the Fashion Awards 2016, December 5th, 2016

Getty